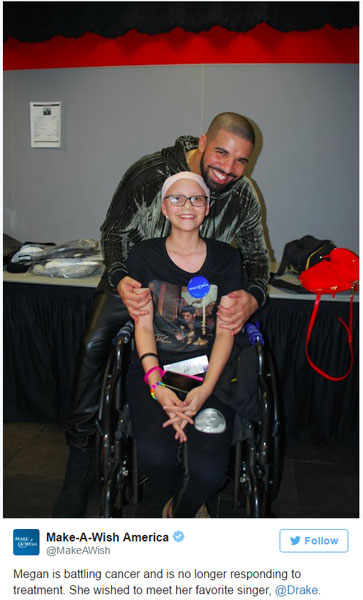 Fans of Drake are celebrating the release of his fourth studio album Views, but one fan in particular has been given special distinction.
While the album is in essence a love letter to Drake's native Toronto, a recently released digital version of the liner notes proves it's also somewhat of a gift to a young cancer patient.
Megan Flores, an avid fan of the rapper, is courageously fighting the ruthless disease. However, according to the Make-A-Wish foundation, she "is no longer responding to treatment."
It was Megan's wish to meet the "Hotline Bling" artist, one that was granted in late March 2016.
But the 29-year-old former Degrassi star also gave Megan a shout-out this week by devoting Views to her. Superimposed over an image of Drake on the balcony of a Toronto building reads the text, "This body of work is dedicated to Megan Flores. I pray for your well being every day."
Joining Drake last month to meet Megan was Rihanna.
Nielsen Music reports that Views sold over 770,000 copies in its first four days of release. It's predicted that the album will debut at No. 1 on the May 21-dated Billboard 200 chart. ~Matthew Pariselli