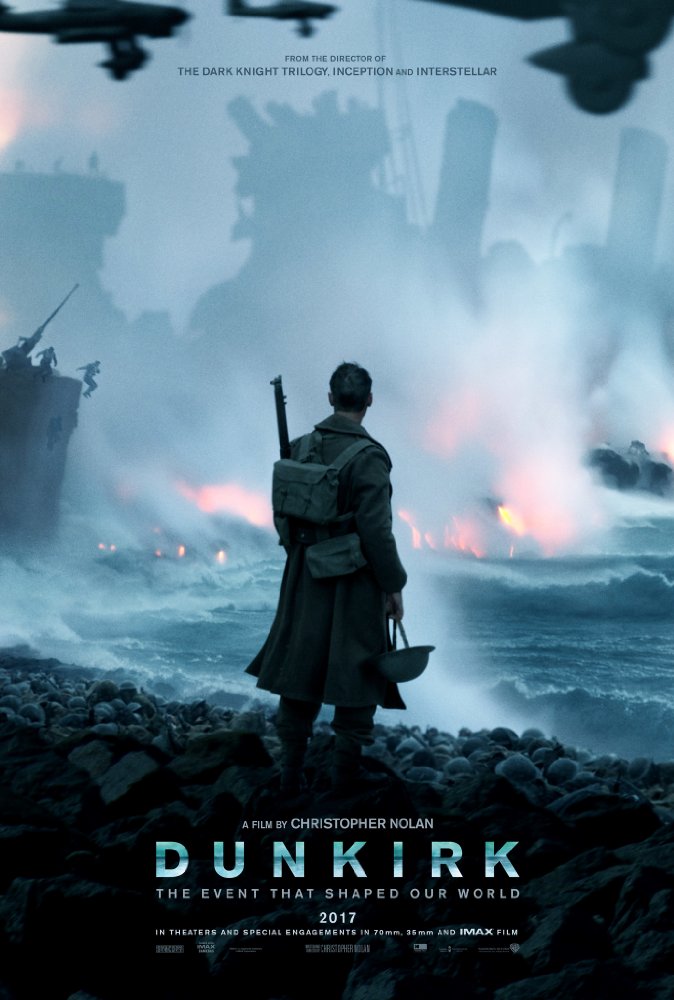 Epic battle sequences from a WWII drama, explosive car chases from a high-octane action-adventure, and a former child star dancing to Michael Jackson from an animated comedy are a few of the offerings among this week's new trailers.
Dunkirk, based on the miraculous evacuation of allied troops during one of WWII's fiercest battles, dropped its first trailer this week. The Christopher Nolan film is stacked with A-list talent including Tom Hardy, Cillian Murphy and Mark Rylance.
Shifting gears, The Fate of the Furious also released its first trailer. The film stars Vin Diesel, Dwayne Johnson and Charlize Theron, and is the eighth picture in the Fast and Furious franchise.
The comedic trailer for Despicable Me 3 hit the web as well, featuring a shoulder pad-wearing supervillain named Balthazar Bratt (voice of Trey Parker). Kristin Wiig and Steve Carell lend their vocal talents to the animated film, too.
There's more in store, though, so check out this week's full batch of new trailers below! ~Matthew Pariselli
1. Dunkirk
2. The Fate of the Furious
3. Despicable Me 3
4. Assassin's Creed
5. The Wall
Dunkirk- In 1940, during the early days of World War II, hundreds of thousands of Allied soldiers from Britain, Belgium and Canada find themselves trapped on the beach of the French coastal town of Dunkirk as they face an impossible crisis. They've been cut off and surrounded by ruthless German Nazi troops. Over the course of eight days, the men must struggle to survive and hope for rescue.

The Fate of the Furious- The Fate of the Furious, the eighth installment of the Fast and Furious franchise, now has Dom (Vin Diesel), Letty (Michelle Rodriguez), Roman (Tyrese Gibson), Tej (Ludacris), and Luke (Dwayne Johnson), settling into their new team dynamic, without Brian (Paul Walker) or Mia (Jordana Brewster). However, when Dom suddenly betrays them — and sends Luke to jail — to team up with a dangerous criminal terrorist named Cipher (Charlize Theron), their "family" as they know it is thrown into disarray. Now the Fast and Furious crew has been recruited by a top-secret government ops team, led by Frank Petty (Kurt Russell), in order to help stop Dom and his new boss from committing unspeakable acts of terror.

Despicable Me 3- Former '80s child star Balthazar Bratt (Trey Parker) has been bitter since puberty when his TV series was abruptly cancelled. To exact revenge for what he sees were unjustified wrongdoings, he hatches a plan for world domination. To stop him, Gru (Steve Carell), Lucy (Kristen Wiig), their children, Gru's long-lost twin brother (also Steve Carell) and the Minions must band together.

Assassin's Creed- Based on the popular video game series of the same name, the film adaptation revolves around criminal Callum Lynch (Michael Fassbender), who is rescued from his own execution by Abstergo Industries, the modern-day incarnation of the Templar Order organization. He is then forced to participate in the Animus Project and relive the memories of his ancestor Aguilar de Nerha, in 15th century Spain. Through these memories, Callum discovers he's a descendant of the secret Assassins society, and gains incredible knowledge and skills that will help him confront the oppressive and powerful enemies of the Assassins — the Knights Templar organization of the present day.

The Wall- In this psychological thriller based on a Black List script, an epic stand-off between an Iraqi sniper and two American soldiers (John Cena and Aaron Taylor-Johnson), armed only with regulation rifles, is featured. The Iraqi sniper has the two Americans pinned down with nothing but a crumbling wall between them. As the Americans are mentally and physically tested, their will to survive burns stronger than ever.