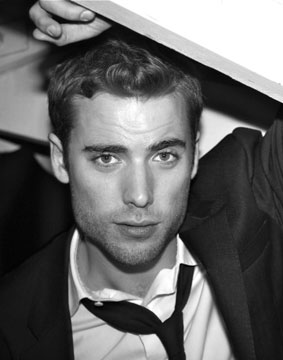 90210 alum Dustin Milligan is leaving the teen drama behind for an intense showdown with some fierce creatures in Shark Night 3D. Here, the Canadian star talks about his new thriller, what it was like filming with mechanical sharks, and being the "hot guy."
Congratulations on your career so far Dustin, we're always proud of Canadian talent.
Milligan: Thank you very much, I feel even excited to have gotten this far. Hopefully Shark Night gives a little more pop as well.
Obviously you gained a huge fan base from 90210 and you have a great mix of TV and movies on your resumé. Are you conscious about what you're picking now?
Milligan: My one concern is doing what I feel is good and what I feel is different. Most importantly, what I feel I can learn from. I can honestly say I've been blessed to have the mixture of film and television and that every single job has been a learning experience and truly the opportunity to get better is always there so I couldn't be happier about that.
Has 90210 opened doors for you?
Milligan: Oh without a doubt. It's certainly the largest audience I've been exposed to so far. That kind of show was so much fun to work on and to be a part of that sort of hype and hoopla, it was quite exceptional for a Northern Canadian boy like myself. 
How cool is it to be in a movie like Shark Night 3D?
Milligan: I can't tell you how excited I am to actually see this. But again, being from Yellowknife, to have been shooting in Louisiana in the swamps, in the water with mechanical sharks for two months, was unreal. It was unbelievable. I've never done a thriller like this, and I've never done a sexy beach movie like this and certainly never have punched sharks in the face!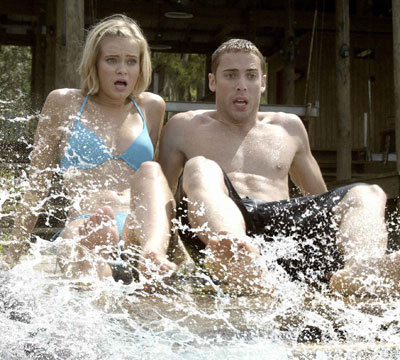 It doesn't hurt to be sexy in a movie, and to be known as the "hot guy."
Milligan: Well, they're certainly going to try to portray me as such. I'm quite confident that my true dorky nature will inevitably peek through.
Well being hot and dorky equals charming, I would say.
Milligan: Well let's hope so, who's to say? But it was an unbelievable experience, you know. It's going to be a lot of fun for audiences I think.
When you first read the script what was it about it that really grabbed you?
Milligan: Well just in the sense of the film, the way we explain it, it's not totally preposterous or ridiculous. But you know, it's a lot of fun and I think that's what audiences want to see in a shark movie. People die, but it's exciting, it's intense and it's really fast paced which is always good. But yeah, it was a nice mixture of the thrasher horror and a lot of light moments, a lot of comedy with Joel David Moore and Chris Zylka and myself, we have some nice, fun, light moments. I think it will be pretty, pretty sweet!
Why do you think people love thriller/horror movies so much?
Milligan: Well I can say specifically to the shark genre that it has a lot to do with the fear of the unknown, whereas with a horror movie it may be like the fear of the dark and with this, it's the fear of just what's below your feet in the water. Even when I was growing up in lakes, there's constantly this fear that there's some kind of monster just below your feet underwater and I think that's just what we tap into with this movie.
You play Nick. What's he's like?
Milligan: Nick is a sort of shy, reclusive. I hesitate to use the word nerdy but for simplicity sake it's the easiest term to use. He's a pre-med student and follows a group of his friends to this lake house and as the events unfold he comes out of his shell and reluctantly accepts his role as hero of the night.
You mentioned that you filmed in Louisiana, what was it like filming there? Milligan: It's always nice to do a location shoot, somewhere that's very different from where you are and I'm currently in L.A., but wow, it was the heat they have in common. The culture, the southern hospitality—I can't say enough how nice the people were, it was very Canadian and it actually made me feel very much at home being around so many people that weren't as apologetic but certainly as accommodating and friendly. It was a really, really beautiful city. We shot in Shreveport and hats off to the people there because we all had a great time.
What was it like filming in the water? Was that challenging at all?
Milligan: My gosh! For the first whole week, there was a lot of me underwater alone and I remember my very first day we had to breathe underwater in this large swimming pool size tank where a lot of the underwater 3D was shot. We had to breathe on scuba rigs and then the director would call action and we'd be eight feet deep, they'd remove the rig, then I'd swim and do our little scene and just off camera we would go grab another rig to keep breathing. They gave us training, but my very first time I choked and I got scared because I couldn't breathe properly. I had to surface and  I was gasping and they were like, "It's okay Dustin,  alright we'll just do one more take and try this again," and I looked around and saw everybody, a lot of these seasoned veterans who had been shooting underwater for years in the business and they were all kind of looking at each other like, "Is this kid going to do it or what?"
Well it always looks beautiful in the end, but I can imagine how hard it was.
Milligan: It was really tough so after I saw how people were reacting to it I was like, "Okay Dustin, time to buck up," and it was pretty smooth sailing after that. But I never thought I would ever do action movies and I absolutely loved it, it was phenomenal.
Do you get to scream at all in this movie or is it just the girls?
Milligan: There is some screaming that I do, but if you're not paying attention you might just confuse my screaming for girlish screaming.
What was it like working with mechanical sharks?
Milligan: I can't tell you how scary these things were. The effects team that put these sharks together made them hyper-realistic; they used real shark teeth in their mouths. There were some instances where we had to physically fight with the shark and it was like a mechanical bull underwater with a heavy metal frame, it's very dangerous and very terrifying even though you know they're controlled by remotes, by a team off shore, you still can't help but have a bit of a Terminator moment where you think this is where the rise of the machine begins and I'm about to be the first victim of the mechanical machine shark. Yeah, we were quite scared at times.
You have a pretty good cast that you worked with—Sara Paxton and everybody, what was it like working all together and being on location, did you bond?
Milligan: You know there's always potential for drama and for ego to tarnish a group shoot like this, but it was quite beautiful how quickly we all bonded and how quickly we all just sort of threw our L.A.-ness out the window and we were just kind of a bunch of kids having fun in the pool and I think that's because we were all forced to get in the pool together and start swimming. There's a lot of group training that we had to do that allowed us to very quickly bond. It was great, though. I can't say enough about that cast. We all had a lot of fun and a lot of us still keep in touch constantly to this day.
What do you think of the 3D movement?
Milligan: You know, for an action movie or for like a fun summer thing, especially if you're underwater and you've got a mouth full of shark-teeth coming at you, I say why not in 3D? I think it's a fun way to go see a movie and it adds that extra bit of oomph. I think for this film in particular I'm glad it's in 3D and I'm very, very excited to see it with those glasses right on my face.
What else you have on the horizon?
Milligan: Well, I've got a couple of things. I recently completed in Montreal Canada's first ever fully 3D animated feature length film called Sarila. I'm really excited about it; I got to work with Tim Rozon and Rachelle Lefevre. It's probably a few years away from actually being finished and we're really excited about it and very happy to be part of such a Canadian story as it is set in Canada's Arctic where I was born and raised.
It's nice to know that you're still involved in a lot of the home-grown Canadian films.
Milligan: Oh yeah, I wouldn't have it any other way. When I first started acting, I obviously wanted to break into the American industry, you want to make an impact as globally as you can, but I especially want to do my best to be a part of Canadian content and if there's any way to do my part in nourishing the Canadian industry then I will hands down do it every time. As well I have a film I shot with my Repeaters director Carl Bessai, it's an improv type movie called Sisters & Brothers where myself and Corey Monteith play brothers and reunite briefly for a few hours in L.A. I'm really excited about that too because again it's another type of film I hadn't yet had the chance to do. I learned a lot and bonded with the cast—it was wonderful—very, very Canadian. ~Toni-Mari Ippolito