Dwayne Johnson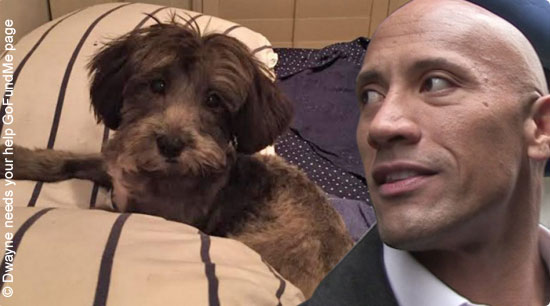 , 43, has donated $1,500 to save an abandoned puppy named after him.
The actor found out about the miserable situation of "Dwayne 'The Rock' Johnson" after actress Michelle Trachtenberg tweeted the San Andreas star to alert him about the ordeal the four-month-old puppy had been through after the animal was abandoned with wire wrapped around his mouth.
Michelle's Twitter message read: "This puppy named after @TheRock was tortured, abandoned! … He needs our help for life saving surgery"
Dwayne found it "rough" hearing about the small pup's plight and promised to "help" save the "tortured" young canine.
The part-time WWE wrestler – who was recently left heartbroken after his own French bulldog Brutus died from eating a poisonous mushroom – replied: "This is rough to read about. Poor lil' pup abandoned w/ a wire wrapped around his mouth. I'll help. Stay strong pup"
Dwayne then paid the generous $1,500 sum to a GoFundMe page set up to save the dog which bumped up the total $5,000 goal.
The Saving SPOT shelter in Los Angeles which set up the fund revealed with the Hollywood hunk's backing Dwayne the dog stands a good chance of surviving.
A post from the shelter read: "Knowing that 'The Rock' has got Dwayne the puppy's back, we are confident he will be a fighter and make it through this. Thank you all for your generous donations- thanks to you we have met our goal."