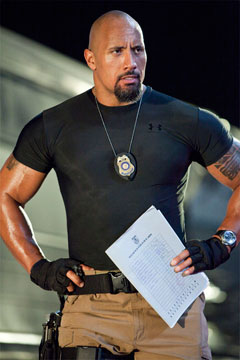 While initial reports suggested the next installments in the Fast & Furious series would be shot back-to-back, Dwayne Johnson told MTV in a recent interview that that's no longer likely.
"I don't think we're going to shoot them back-to-back," he said. "We were going to try that because it wouldn't make sense to have the same crew and have everybody there in one place, but I think we're dealing with some weather issues, so from what I know, we're going to shoot 'Fast 6' first and then worry about 'Fast 7' a little later."
Dwayne's character, security service agent Luke Hobbs, joined the cast in Fast Five, possibly the most well received of the Fast & Furious series.
Johnson also talked about the location of the next movies. "We're going to be in the U.K., we're going to be in Germany, from what I know. That's the early talks," he revealed. "And we're going to start shooting in May."