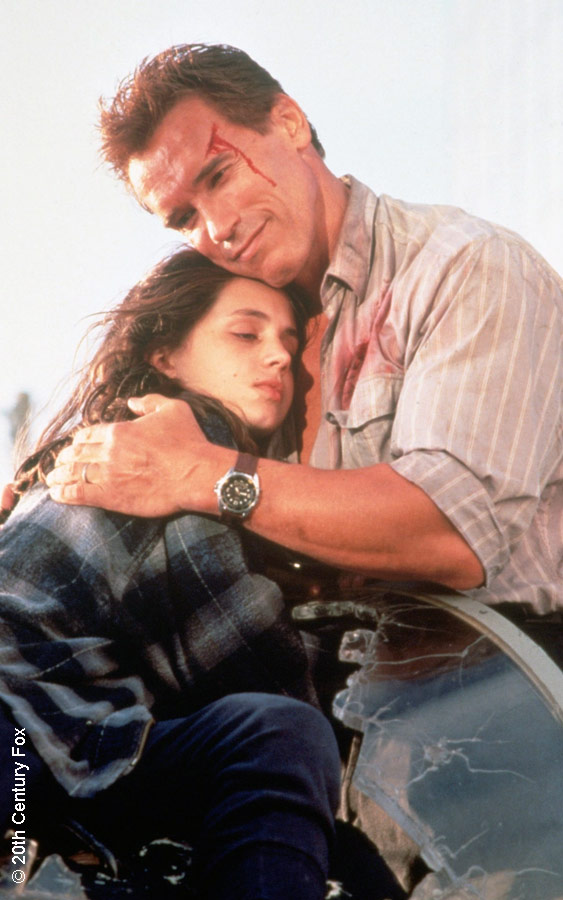 Eliza Dushku, who played the daughter of Arnold Schwarzenegger and Jamie Lee Curtis in True Lies (1994) when she was 12 years old, says she was "sexually molested" by stunt co-ordinator Joel Kramer while working on the film. Not only that, but when she told a female adult friend about it at the time, who then confronted Kramer, a stunt Dushku performed went wrong and she wound up in hospital with broken ribs.
Dushku wrote in a Facebook post: "On a daily basis he rigged wires and harnesses on my 12 year old body. My life was literally in his hands: he hung me in the open air, from a tower crane, atop an office tower, 25+ stories high. Whereas he was supposed to be my protector, he was my abuser."
She also detailed how Kramer groomed her for months and "made me feel special." She added that he earned her parents' trust, then lured her to his hotel room, promising her family he would take her for a swim at the stunt crew's hotel pool and then out for her first sushi meal.
She wrote: "I remember vividly…. where exactly he placed me on one of the two hotel room beds, what movie he put on the television (Coneheads); how he disappeared in the bathroom and emerged, naked, bearing nothing but a small hand towel held flimsy at his mid-section. I remember what I was wearing (my favorite white denim shorts, thankfully, secured enough for me to keep on). I remember how he laid me down on the bed, wrapped me with his gigantic writhing body, and rubbed all over me… When he was 'finished', he suggested, "I think we should be careful…," [about telling anyone] he meant. I was 12, he was 36."
Kramer denied the allegations in an email to CNN, which read in part: "I do not understand what motivated Ms. Dushku to make this statement and I hope that she can find it in her conscious to correct this injustice and return my good name to me."
Meanwhile, Schwarzenegger responded to a tweet from True Lies co-star Tom Arnold, in which Arnold said director James Cameron, co-star Jamie Curtis and he would definitely had done something at the time if they'd known, to which Schwarzenegger responded: "Tom, you bet your ass all of us would have done something. I'm shocked and saddened for Eliza but I am also proud of her – beyond being a great talent and an amazing woman, she is so courageous."
For her part, Jamie Lee Curtis wrote an article about at Huffington Post in regards to Eliza Dushku's experience and about protecting child actors, while James Cameron spoke out at a Television Critics Association panel, saying, "Because Hollywood deals with women who are victims 10, 15, 20 years ago who are famous today, so they get to have a louder voice when they come forward. Bravo for them for doing it and I'm glad Eliza did that. It's just heartbreaking that it happened to her," adding, "had I known about (it) there would have been no mercy." ~Alexandra Heilbron
See the tweets below:
I promise you @JimCameron @Schwarzenegger @jamieleecurtis would've done something too. We all love & are proud of @elizadushku #metoo https://t.co/4rmjfWqj39

— Tom Arnold (@TomArnold) January 14, 2018
Tom, you bet your ass all of us would have done something. I'm shocked and saddened for Eliza but I am also proud of her – beyond being a great talent and an amazing woman, she is so courageous. https://t.co/EJJbkdior2

— Arnold (@Schwarzenegger) January 16, 2018