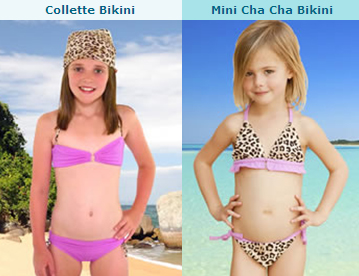 Actress Elizabeth Hurley has designed a line of bikinis for young girls that's being called "disturbing" and "inappropriate." Her website calls the swimwear "fun" and has bikinis aimed at tots under 8 and for girls 8 to 13. But a child protection charity in the U.K. says Hurley is sexualizing children. Claude Knight, the director of Kidscape, told the Daily Mail: "It is very disturbing to see some inappropriate items in this swimwear range."
A number of parents are also speaking out against the line, saying the clothing makes children look like mini-strippers. A study published online last July in the journal Sex Roles showed that girls as young as six years want to look sexy and consider themselves sex objects. Blogger/mother of a four-year-old girl, Jen M.L. wrote to the Huffington Post that when shopping for clothing for her daughter, "I am horrified by the choices we have for her to wear…there were several dresses that looked like they should come with a complimentary pole and hooker heels!" She says if consumers didn't buy this stuff, manufacturers wouldn't make it.
"I don't know who to punch: the manufacturers of this shit, the stars — like Miley Cyrus — who wear this crap, the retailers who stock it, or the consumers who buy it. I think, ultimately, the blame goes to the consumers — US. If we'd just stop buying this misogynistic whore-wear maybe companies would stop trying to sell it to us and Miley would realize she's irrelevant and she'd go away." What do you think? Vote below:

Loading ...