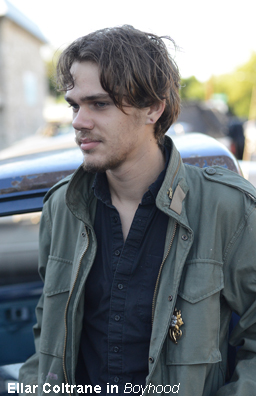 Texas native Ellar Coltrane was chosen at the age of six to play the lead role in the movie Boyhood, which follows his character, Mason, from the age of six to 18. Director Richard Linklater took 12 years to shoot the film, so that Ellar was able to play the same character throughout the film, which also gives the audience the chance to watch Mason literally grow up on film. Tribute had to chance to talk to Ellar about working on the film, in which Patricia Arquette and Ethan Hawke play his parents.
What was the audition process like?
It was lengthy. I was auditioning a lot at the time and I went to an audition and met this unassuming guy in cargo shorts who asked me about my life and who I was and what I was interested in and then eventually I realized this man was Richard Linklater. I think there were between seven and ten callbacks. It was different from most auditions because he didn't have a script written. He very much knew the structure of the film and what he wanted to do but he didn't have any dialogue or sides for me to read so it was more of a conversation that took place over several weeks.
Were you asked to do any improv?
I don't think so. Rick doesn't use any improv, surprisingly.
When it came to filming, was there a script?
Yeah, there was always a script when we shot but it was generated through a workshop process between Richard and the actors in any given scene. He would come to us about a week before filming and he would have an outline of the scenes and a sample or a rough draft of dialogue. We would talk about that and relate our own experiences to the characters and tell stories that our friends had been through; my experience of growing up and their memories of growing up and their relationships with their children and then we would improvise little bits of dialogue and use our own words and just evolve what Rick had written. He would take all of our input and work it into some kind of final draft which, a lot of times was being typed up the morning of shooting but once we were on camera, we did always have a script.
This was a huge commitment, did you give a lot of thought as to whether you wanted to do this for 12 years before signing on?
I think I did. I was just a little bit bashful and being the main character in the film was a bit daunting, but my parents were both artists and big fans of Richard's, so we just really wanted to do it.
Did you ever get to see what you'd filmed before the movie was done?
No, Richard never showed that to us, which I think was a good thing and I never asked.
How much time passed in between filming sections of the film?
It was about eight months to a year.
How long would it take to film each section?
We workshopped it for about a week and then filmed for three to four days each time.
Did you have to keep this film a secret while you were working on it?
No, I mean, we weren't supposed to talk to the media about it but we could tell friends, although it was such a unique project that it was kind of difficult to explain, so I finally just stopped talking about it.
Were you told how to have your hair for any specific section of the movie or however you had it, they'd work with that?
Only the part where I had the stepfather who shaved my head, so they asked me to grow it a bit longer for that part.
Did they really shave it during filming? Because it looked really real.
Yeah, they did, it was done in one take.
Did you find that any parts of your life were similar to Mason's?
Some parts were, but Mason went to public school and I was home schooled so that was pretty different and plus I didn't have an abusive stepdad in real life.
What was the most fun you had during filming?
The most fun was at the very end – being in the desert was magical. Also the scenes where Ethan Hawke, who played our dad, takes us to an Astros game and to the butterfly museum were a lot of fun.
Was there anything you didn't enjoy about being in this movie? Did you ever think, I don't want to do this anymore?
No, I really didn't. I never felt the need to rebel. I didn't have a lot of structure growing up so having the film to do was a little bit of structure and I enjoyed that.
Was this movie the first thing you were hired for as an actor?
No, I'd done some commercials and a role in an independent film.
Is this something you'd like to continue doing as a career?
Definitely, I would really love to continue acting.
Boyhood is currently playing in Toronto and Vancouver. It opens on August 15 in Victoria, Calgary, Edmonton, Winnipeg, Ottawa, Halifax. Check our Tribute.ca Facebook page for a chance to win Run of Engagement passes as well as a copy of the Boyhood soundtrack CD! ~Alexandra Heilbron