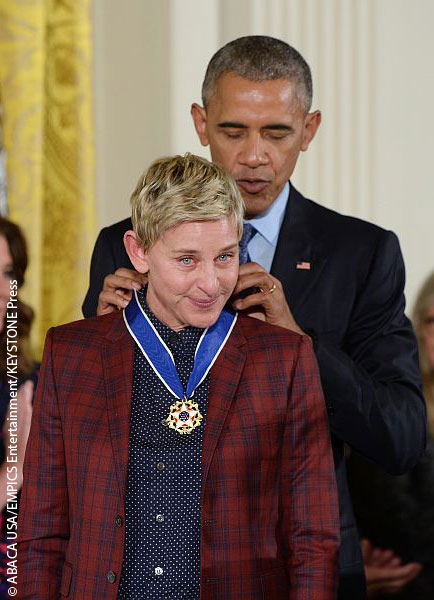 After over 30 years of making millions of people laugh, cry, and laugh some more, Ellen DeGeneres has been awarded the highest honor a U.S. civilian can possibly receive — the Presidential Medal of Freedom.
At a ceremony in the East Room of the White House on Tuesday (Nov. 22), the talk show host was one of 21 stars who received the prestigious medal from President Barack Obama.
It was an emotional moment for the 58-year-old Finding Dory star, who visibly teared up as President Obama placed the medal around her shoulders, following an incredibly moving introduction that praised Ellen's fearless advocacy for equality.
"In a career spanning three decades, Ellen DeGeneres has lifted our spirits and brought joy to our lives as a stand-up comic, actor, and television star. In every role, she reminds us to be kind to one another and to treat people as each of us wants to be treated. At pivotal moments, her courage and candor helped change the minds and hearts of millions of Americans, accelerating our nation's constant drive toward equality and acceptance for all," a White House aide said with Ellen and Obama by his side.
He concluded, "Ellen DeGeneres has shown us that a single individual can make the world a more fun, more open, more loving place, so long as we 'just keep swimming.'"
Although she was one of the guests of honor, the comedy legend almost didn't make it to the ceremony because of a snafu with her ID. Always ready to make light of a situation, she tweeted, "They haven't let me in to the White House yet because I forgot my ID. #NotJoking #PresidentialMedalOfFreedom," along with a photo of herself looking forlorn in her dapper red-checked suit.
However, Ellen was able to join her fellow honorees, which included Tom Hanks, Robert De Niro, Diana Ross, Robert Redford, Bruce Springsteen, Bill and Melinda Gates, NBA star Michael Jordan, Saturday Night Live creator Lorne Michaels, and more. ~Shelby Morton
Watch the emotional moment below. We dare you not to tear up, too!