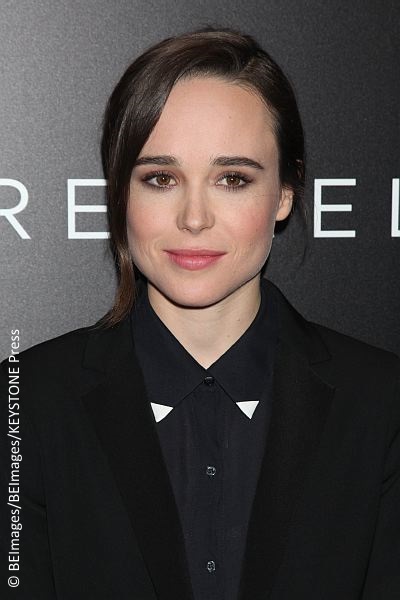 We sat down with producer/actor Ellen Page and director/screenwriter Patricia Rozema to talk about their apocalyptic drama Into the Forest. The film tests the bond of sisterhood and the human spirit when two sisters are left to fend for themselves after a massive power outage. The film also stars Evan Rachel Wood, who plays Ellen's sister, Eva.
At the end of the film, both lead characters have changed from how they started out, they almost switch places in terms of personality. What was it like to play the characters almost in reverse to each other?
Ellen: That's a very interesting take! You know that was one of the things that drew me to the book and to Patricia's take on the story. To have this character go from being very bright with high expectations for her academic self and future, to that future being completely elusive and just going out the window. Her youthfulness, she's very self-absorbed, and all she thinks about is, "Oh my God, I just have to see this boy on Friday," and that changes to "There's no jam or milk!" I mean, I'd be that way too. For her to go on that journey and become the resilient, self-reliant person that she becomes, which is more heart-based, like Evan's character in the beginning of the film.
Patricia: That power flip was prevalent in the book but I emphasized it a bit more in the screenplay. Some would say that's when a scene is good — when a switch like that occurs. I love how, at one point, Eva says, "I'm going to use the gas. I have to use the gas," and Nell says, "No" and it's clear how Nell is so dominant there.
Ellen: And she's right!
Patricia: Yes, but later they use the gas and it's the most perfect thing in the world because they need the sustenance, they need music, warmth and memories of family. It was a decision that was wrong at one point but right the next. The way I understood it, Nell was more mind and Eva was more instinct, and instinct takes over.
Ellen, as a producer what made you want to work with Patricia and how did you get her on board?
Ellen: I'd been a fan of Patricia's work and we had never met personally before, which was remarkable because it's such a small world. Then we met about another project and we immediately connected. We became friends. I sent her Into the Forest and asked her if she could do it. I love her work in every genre, whether it's Mansfield Park or Kit Kittredge, which I absolutely love. She took this family film and elevated it. She gave us more poetry and more soul.
Patricia: For me it was a brilliant book with a brilliant actor. I knew that with her in the film the decisions would be artistically brilliant. I trusted her instincts – she's got really good instincts. Everyone is doing apocalypse but nobody was doing it this way and certainly not with two female leads.
On a film like this it can't be very easy to find a location like that. The house was stunning. What was it like for you as a producer and for Patricia as a filmmaker to find that house?
Ellen: It was hard.
Patricia: I saw hundreds.
Ellen: I saw pictures of hundreds because she did all the hard work. (Laughs)
Patricia: I saw one early on in the process but it was too close to the highway.
Ellen: Yea, because remember you can't have any noise when shooting this movie.
Patricia: Then I saw hundreds more. And then finally found this house and it looked so much like the early house. It was the same architect.
Ellen: We built the dance studio and the interior walls. The house isn't that modern on the inside.
Patricia: It was tricky. It was the large part of the budget.
It is very prevalent and concerning that it is so difficult to get a film with two female leads and a female director financed and released theatrically. In your opinions, how can the system change and how can we catalyze that necessary change?
Patricia: How can we make it easier for that to happen? We just have to keep pushing. Men who hold the purse strings have to be more open and women have to be more vocal, in your job and in my job.
What was the most emotional scene for you to shoot and why?
Ellen: It would have to the one where I'm having a nightmare and I'm sobbing. Then the scene where Evan and I say goodbye to each other, that was really emotional.
Into the Forest is now playing in theaters. If you have seen it and would like to rate it/write a review, please click here.
~Marriska Fernandes