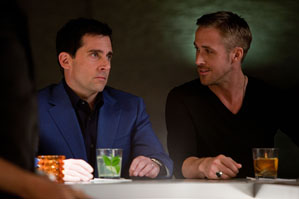 If advance buzz about this film is any indication—not to mention the sensation caused by a shirtless and suave Ryan Gosling (Blue Valentine) making several appearances in the trailer—Crazy, Stupid, Love is going to be the most memorable romantic comedy of the summer. The ensemble cast includes the indomitable funny man Steve Carell (The Office), dreamy Canadian Gosling, gorgeous neophyte Emma Stone (Easy A) and established screen beauty Julianne Moore (The Kids Are All Right). There's also Kevin Bacon and Marisa Tomei—and  even singer Josh Groban makes an appearance.
The movie, as the title indicates, is all about love and its pitfalls. Carell's character is Cal Weaver, a straitlaced 40-something man in the grip of a midlife crisis. When his wife (Moore) tells him that she's been unfaithful and wants a divorce, he's devastated by the betrayal, and caught off-guard by his sudden return to bachelorhood.
So when Cal meets Jacob (Gosling), a playboy who decides to take Cal under his wing and teach him how to have more success in the dating world, his life suddenly changes. Soon, Cal is completely made over, wearing well-cut suits and sporting a new swagger as well as a new haircut—one that wasn't done at Supercuts.
"I like when the situation is funny, and the people within the context of that situation are playing it for real," Gosling told his co-star Carell in a one-on-one article for Interview Magazine. "That, for me, when I'm watching a movie, is what makes it funny: that the characters are completely invested in what's happening and not aware of the humor." During the same interview, Carell complimented Gosling's comedic prowess. "I think what surprised me most when we worked together was how funny you are, because I think you've built such a strong career on your dramatic work. I think being funny as a person and being a really good comedic actor can be separate things, and while I knew you were funny, your strength as a comedic actor caught me off guard."
There's no shortage of laughs to be had while Jacob is making Cal over. And once the task is complete, Cal has his choice of women. But his heart hasn't been changed in the slightest, and he ultimately can't stop thinking about his wife. On the flip side, ladies' man Jacob's desire to play the field is indefinitely thwarted when he falls in love with Hannah (Stone). While critics usually reserve their opinions and comments for opening day, there's one who couldn't hold her tongue. Ellen DeGeneres, who had the opportunity to see an early screening of the movie said: "Julianne Moore is heartbreaking, Emma Stone is hilarious, and Steve Carell is a perfect combination of hilarious and heartbreaking,"  she told Moviefone.com. "Everyone in Crazy, Stupid, Love. is wonderful. Ryan Gosling is spectacular. Not only does he give a thoughtful, nuanced, sincere performance, but I'm pretty sure his torso will be nominated for an Academy Award."
—Marissa Stapley-Ponikowski