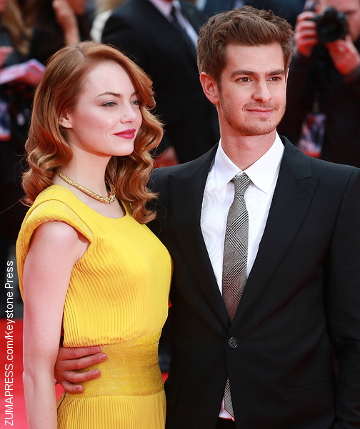 Emma Stone and Andrew Garfield have gone their separate ways after more than three years together, reportedly due to hectic work schedules.
Andrew, 31, is shooting Martin Scorsese's latest film, Silence, in Taiwan and Emma, 26, just wrapped up a stint on Broadway in the revival of the musical, Cabaret.
"He's very into his character… He's lost weight, and he's in a dark place mentally for his performance and he's not boyfriend material right now," one source reportedly told Us Weekly.
Another source said, "They had been fighting a lot and they hadn't seen each other. They have both been working but they weren't getting along."
However, Emma seems to be taking the split in stride. She was recently seen at Disneyland, laughing and smiling with her brother Spencer as they enjoyed the rides. Speculation began that Emma and Andrew were on the outs when she turned up alone at various awards shows where she was nominated for her work in the movie Birdman.
Once Andrew is finished filming in May, there's a possibility that the Amazing Spider-Man stars get back together. People reports  the split is just for the time being and the two will see where things go once they are able to spend more time together. ~Erin Stewart