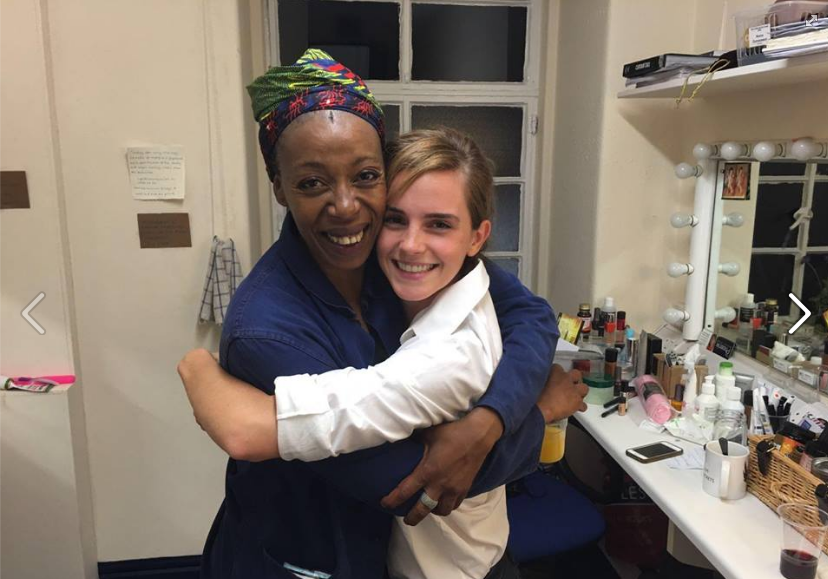 The notion of two Hermiones coming face-to-face sounds like something magical straight out of a Harry Potter story, but that's exactly what happened this week when Emma Watson attended a preview performance of Harry Potter and the Cursed Child.
The actress, 26, was given the opportunity to enjoy the play at London's Palace Theatre on Wednesday and was then welcomed backstage following the performance. She met the cast and crew of the two-part play, including the woman who portrays Hermione, Noma Dumezweni.
Emma, whose breakthrough role came when she tackled the part of Hermione in the Harry Potter films, took to Facebook on Thursday to praise the play and Noma's interpretation of her beloved character. The above photo of Emma and Noma sharing a hug is from a series Emma uploaded to her Facebook page.
She wrote, "I came in with no idea what to expect and it was amazing. Having seen it, I felt more connected to Hermione and the stories than I have since Deathly Hallows came out, which was such a gift."
Emma added, "Some things about the play were, I think, possibly even more beautiful than the films."
She then went on to express that the cast and crew welcomed her like "family" and that connecting with Noma was like meeting her "older self" and that she was everything she "could ever hope she would be." She also called Noma "wonderful."
Emma, who has starred in The Perks of Being A Wallflower, The Bling Ring and Noah since bidding farewell to Hermione, signed off her Facebook post with the hashtag #KeepTheSecrets, a nod to author J.K. Rowling's plea to fans not to reveal spoilers from the play on social media.
Harry Potter and the Cursed Child is in the previews phase and officially opens on July 30, 2016.
Emma's next major project is the highly anticipated live-action adaptation of Disney's Beauty and the Beast, scheduled to hit theaters on March 17, 2017.
She also unveiled the latest poster for the film on her Facebook page this week. Check it out below, as well a photo she posted of her and the Harry Potter and the Cursed Child cast and crew.