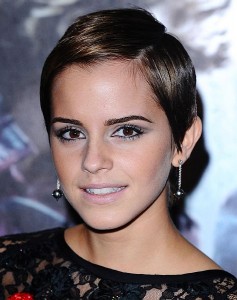 All that hard work Emma Watson put into the Harry Potter films has paid off. The star is now lending her magical beauty talents as the new face of Lancôme.
Watson, 20, announced the news via twitter writing: "It starts with an L and ends with an E. I'm sure you have guessed the new face of Lancôme is me!"  The brand also put out a statement saying, "Thanks to her charm, romanticism and her incredible modernity, Emma Watson has become the icon of her generation," Lancôme president Youcef Nabi said in a statement.  "We are delighted by the new collaboration with Emma, who brings a fresh spirit to Lancôme." Watson follows in the footsteps of other actors such as Julia Roberts, Drew Barrymore, Kate Winslet and Anne Hathaway, and is the brand's youngest ambassador to date.
Watson was also the face of prestigious fashion house Burberry, and recently shared that she's taking a break from her studies at Brown University to focus on her professional career and projects.