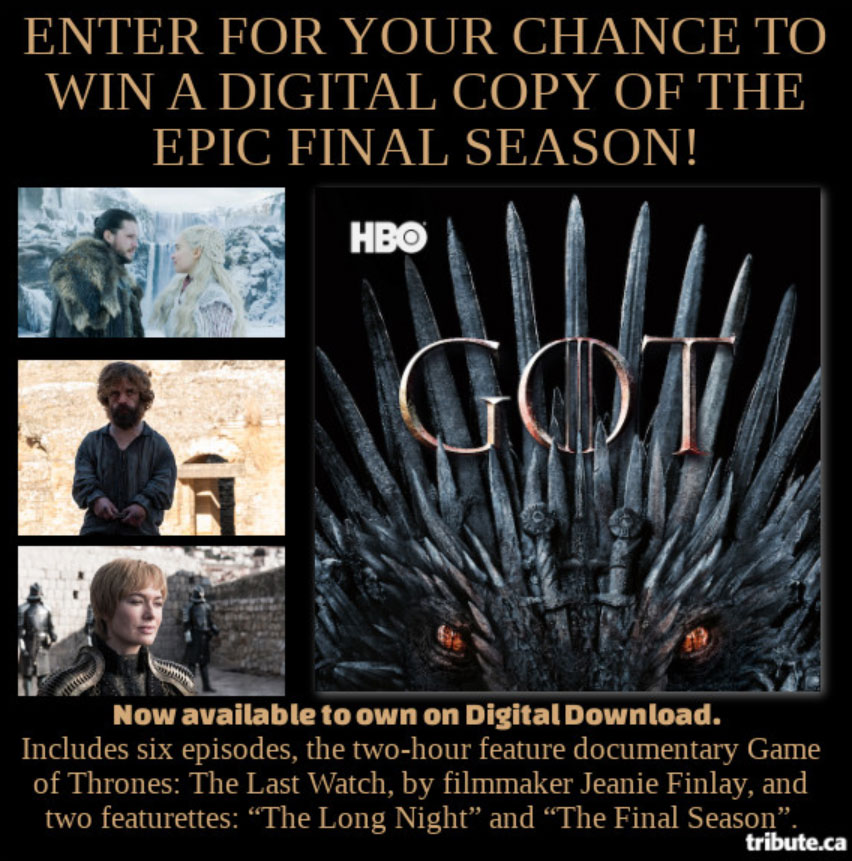 Did you watch the final season of HBO's popular series Game of Thrones? Who defeated the White Walkers? Who survived and who ultimately took the throne? If you have managed to stay away from spoilers, we are giving 10 lucky winners a chance to win Game of Thrones: Season 8 on Digital Download.
Game of Thrones: Season 8 is now available to own on Digital, with not just the entire season of six episodes, but also a few extra goodies for fans. The Digital Download includes Game of Thrones: The Last Watch documentary feature plus two new features: The Long Night and The Final Season.
The Long Night: This takes a look at the epic episode that everyone is still talking about — it even shattered ratings records. In this feature, Game of Thrones showrunners David Benioff and D.B. Weiss, alongside some of the cast members, discuss the colossal filming that was the Battle of Winterfell in Season 8, episode 3. We get a look at the weaponry, the massive lighting, special effects and more that went into the making of this episode — fans will get to dive deep into what went on behind the scenes.
The Final Season: In this feature, the cast and crew reflect on the final season and how it's an epic one. There are some fun interviews with the showrunners and the cast, including Emilia Clarke, Kit Harington, Lena Headey and many more. The cast offer insights on filming, what they'll miss most and more.
To watch our interviews with Maisie Williams and Sophie Turner and the rest of the cast, click here. To read our reviews of each episode in season 8, click here.
To enter Game of Thrones: Season 8 Digital Download contest, click here.
Good luck!