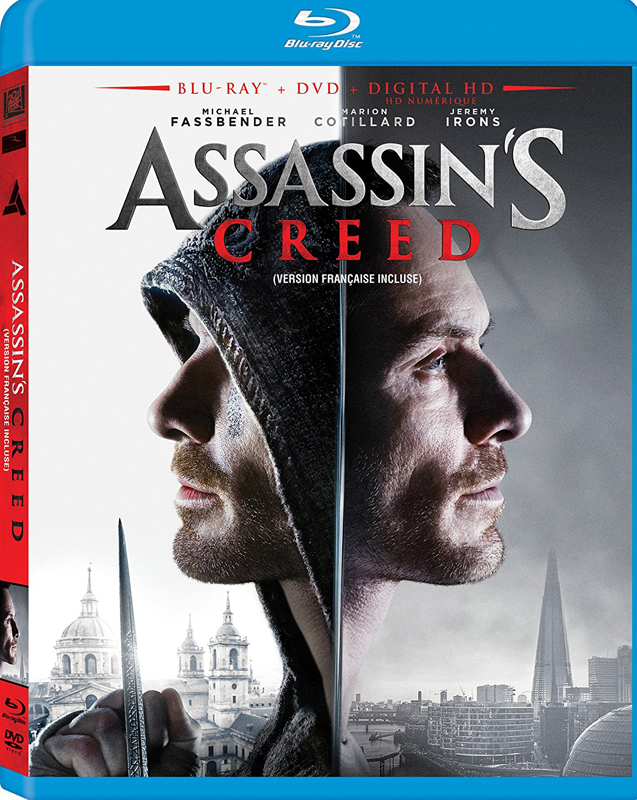 Assassin's Creed, the live-action film based on the popular video game series, is ready to make the leap to take its place among your movie collection on Blu-ray, DVD and Digital HD.
The Justin Kurzel film stars Michael Fassbender as Cal Lynch, a convicted criminal descended from a long line and sacred society known as Assassins, his ancestor being Aguilar de Nerha. In Cal's meeting with scientist Sofia (Marion Cotillard) at the Abstergo Foundation, he learns that with her invention the "Animus," he can tap into his assassin ancestor's memories and live his life in 15th century Spain.
It is through this that Sofia and her father, Alan (Jeremy Irons), decide they can use Cal and his memories to learn the location of one of the powerful Apples of Eden, which his ancestor Aguilar had found and hidden away from the enemy society of Templars, who would wield the power of the artifact for evil. 
Assassin's Creed is an action-packed adventure and sure to satisfy anyone looking for fantastic fighting scenes. Visually, the movie is excellently executed. The film's scenes are represented in a way that is similar to the video game — fans of the gameplay will surely appreciate this.
The story itself is also a very interesting and novel one, although the backstory seems to be hastily put together. Viewers not already familiar with it from the video game series may have a bit of trouble following along.
Overall though, the film is a fun ride and visually appealing. Paired with excellent performances, Assassin's Creed is a worthwhile watch.
Special Features:
*Take the Pledge: Behind the Scenes of Assassin's Creed is a five-part documentary going over nearly all the aspects of bringing the film to life. With interviews with the director, cast and crew, the documentary touches upon the popular video game franchise from which the movie is derived, the training required to become an assassin for the film, costume and weapon design, set creation and filming locations and finally, a discussion about the intense fight choreography.
*In Conversations with Justin Kurzel, the director sits down with the head of each department to discuss their ideas for the film and what they contributed; specifically in regards to the score, editing the film, developing the visual effects as well as adapting and writing the story of Assassin's Creed from the popular video game series.
*Deleted Scenes Conversation with Justin Kurzel and Christopher Tellefsen features a discussion between the film's director and editor of the deleted scenes and characters that did not make the final cut.
*For the Deleted Scenes, director Justin Kurzel and other crew members talk about forming the film into its final product.
*The Gallery contains a series of concept art, production and film stills from the making of Assassin's Creed.
*Theatrical Trailers contains the trailer releases for the film.
Have you seen Assassin's Creed? Submit your own review here!