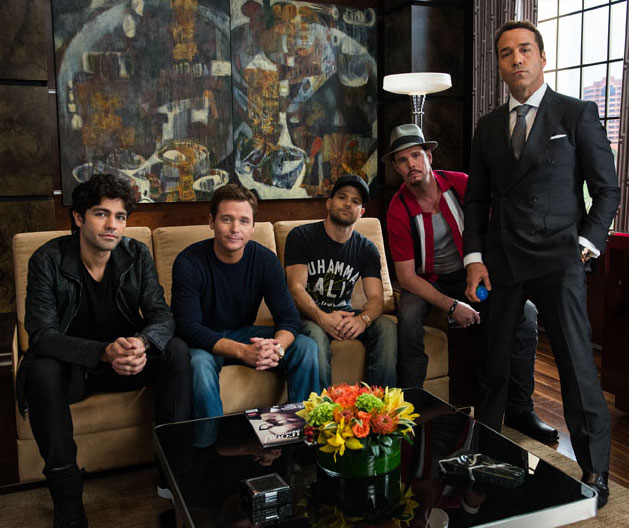 Exotic cars, luxury yachts, hot women, countless celebrity cameos, and all the drugs Lindsay Lohan could ask for. Oh, and did I mention the sex? There's plenty of it!
The boys are back and ready to set the summer on fire. HBO's acclaimed series, Entourage, is turning it up a notch in its big screen debut. If you're a fan of the show you're going to love the movie. All the main characters have returned, including a ton of series regulars.
For those of you who may be unfamiliar, allow me to bring you up to speed. Vincent Chase (Adrian Grenier) is a rising star who, with the help of his childhood friends, is learning to balance the Hollywood lifestyle. Eric Murphy (Kevin Connolly) or "E," is his best friend and manager. Maybe not the best candidate for a manager but his loyalty is unmatched.
Salvatore "Turtle" Assante (Jerry Ferrara) is officially the driver. He catches a lot of flak for being lazy but has a keen mind for business. Then there's Vinny's older half brother Johnny (Kevin Dillon), a.k.a Drama. He's a C-list actor who because of a lack of roles is Vinny's personal chef. However, Drama can be found using any opportunity to capitalize on his brother's success.
The movie opens up on the ocean somewhere off the coast of Ibiza. Newly divorced Vinny is celebrating the end of his short-lived marriage by throwing a party on a mammoth yacht. A speedboat approaches, delivering E, Turtle, and Drama. After being greeted by a throng of topless models, the gang sits down to talk business.
Vinny is looking to make a big splash with his next career move. For that he enlists the help of former manager-turned-studio head, Ari Gold (Jeremy Piven). Ari and Vince have had an interesting relationship to say the least. His abrasive approach can be hard to take, but no one can argue with the results. Vinny somehow convinces Ari to allow him to star in and direct his next movie, one that comes with a $100 million dollar price tag.
In terms of the storyline, that's pretty much all you need to know. There's a lot riding on the success of Vinny's movie and they could lose it all if it flops. That means they must do anything and everything to make sure that doesn't happen. Simple enough, right? Not quite. Each character has their own subplots, which result in a hilarious set of circumstances.
This seems like the perfect point to spill the beans and spoil it for you but I'll resist. I won't mention Turtle receiving a beating from UFC women's champion Ronda Rousey. I definitely won't reveal the fact that the once shy guy E may have some baby mama drama brewing. And at no time will I bring up Drama's sex tape. My lips are sealed.
Of course Entourage wouldn't be complete without the obligatory celebrity cameo. They do not disappoint as we get appearances from Pharrell, Emily Ratajkowski, Kelsey Grammer, Ed O'Neill, T.I., Jessica Alba, Piers Morgan, Liam Neeson, and the list goes on and on and on. The question is – who isn't in this?
As much as I enjoyed this film it wasn't all laughs and high fives. There were a few dull moments where certain scenes definitely slowed things down. Luckily it wasn't long before you got another dose of topless models to wake you up.
If your want a deep storyline filled with robust, well-rounded characters that face immense trials and tribulations feel free to look the other way. This isn't something to be taken too seriously, and that's okay. As a fan it's exactly what you expect, exaggerated fantasy with a dose of refreshing honesty.
Entourage is the perfect summertime flick, so go with a group of friends and prepare to let loose. It's a party and everyone's invited. ~Andree Rhooms