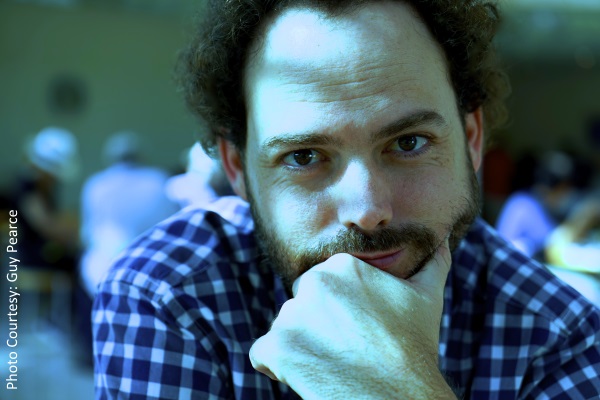 He is the man behind romance dramas Like Crazy and Breathe In. The latest film from Drake Doremus is the  Kristen Stewart and Nicholas Hoult sci-fi romance Equals. It takes place in the future where emotion is a disease and if you've tested positive for it, that's essentially a death sentence.
We chatted with Drake about his film, what working with Kristen Stewart and Nicholas Hoult was like and why his films frequently focus on love.
This film is certainly different from your past films, which dealt with love. The concept where having emotion is perceived to be a disease is unique and thought-provoking. What inspired you to write such a story?
Nathan came up with that idea. He wrote the script. I wanted to try my hand at something that was totally scary and foreign to me. He came up with the concept and I thought it was really interesting and cool. Like Crazy was about the past and confronting the past and not being able to let go of it. Breathe In was about the present and not being able to escape it. Equals is about the future, so in a sense maybe the three are connected in a past, present and future sort of way. For me it was kind of fascinating to think about what really connects us all as human beings, especially with how technology is and how we find partners. It was interesting for me to explore that further.
Kristen Stewart and Nicholas Hoult did a brilliant job of capturing the anxiety of two people in that world forced to restrain themselves from showing emotion. I felt discomfort, which is an ode to their acting. What was it like working with those two actors?
They're fantastic. They're the perfect version of not Hollywood and totally doing it for the right reasons, you know what I'm saying? They are completely and utterly about being artists and they care about doing great work and losing themselves in it and pushing themselves and taking risks. Their work in the film really demonstrates that. They really had to rely on each other and bring out the best in each other.
What was their initial reaction to the script and what were your conversations like?
We talked about our own relationships, what we've been through in life and how we could try to put that into the movie. We really personalized it. I think you have to do something in order to make it feel authentic. You have to put yourself into it. I think we all did.
Since we're talking about emotions and switching them off, what's the one emotion Kristen and Nicholas wouldn't be able to switch off in real life?
That's a great question! I think for Nicholas, it would be kindness and generosity. I don't think he can ever switch that off. For Kristen, it would be her intensity. It's what's beautiful about her. She's got an intense and competitive spirit. I don't think that could ever be squashed.
Kristen was perfect for the role. She slipped into character so easily on screen. How did you know she was the one for the part?
I agree. I think just spending time with her helped. We hung out a couple of hours when we met and I could sense that energy and strength in her. There's also a tremendous amount of vulnerability and that's what Kristen's character really needed. She's extremely vulnerable and sensitive and at the same time really very strong. So I think she was able to embody Nia [her character] because of that.
I love all these films – Like Crazy, Breathe In and Equals. What is it about the theme of love and relationships that makes you curious?
I think it's continuing work. I'm not getting any answers to my questions. The questions just get larger and more complex actually, more than anything. These are the movies I want to see. I want to see dramatic love stories. Those are the movies I love. I want to sit there and cry and feel. That's what inspires me and by virtue of that I just keep making these movies. It's not the broadest thing I could be doing, but it's the most honest thing I could be doing.
What's next for you?
I have a couple of projects that I'm working on. I have a project with Scott Free [Productions] again that I love very much and Ridley [Scott] will be executive producing that. I will be doing a venture into TV and I have this book that's coming out next year that I'm really excited about. I'll also continue making authentic love stories that resonate with me.
Looking forward to those love stories. Thank you for chatting with us and we wish you all the best!
Aw, you're such a sweetheart. Thank you so much, Marriska!
~Marriska Fernandes
Equals is now playing in Toronto and Calgary.