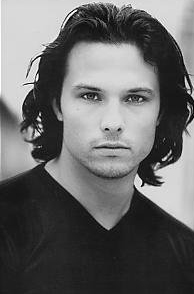 Ricardo Medina Jr., 36, best known for his role as the red Power Ranger on the TV series Power Rangers Wild Force was arrested Saturday afternoon for allegedly killing his roommate with a sword.
According to a press release issued by the Los Angeles County sheriff's department, the victim, 36-year-old Joshua Sutter and the suspect became involved in an argument that turned physical. The suspect then fled to his bedroom with his girlfriend, where they were followed by Sutter, who forced his way in.
Medina Jr. then allegedly stabbed Sutter in the abdomen with a sword that he kept in his room and called 911.
Sutter was taken to a hospital where he was pronounced dead.
Medina Jr. is currently being held at Palmdale's sheriff's station where his bail has been set at $1 million. ~Suzanne Coolen
UPDATE: Ricardo Medina Jr. has been released from jail and has not been charged with the murder of his roommate Joshua Sutter. According to reports, the L.A. County DA's office said the sheriff's department will investigate further. If additional evidence is found they will decide whether to go ahead with charges. ~Sandra D. Sukraj