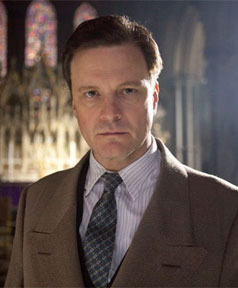 Hollywood is always buzzing with deals and casting news — here are a few upcoming productions we think you may find exciting.
Cameron Diaz has signed to star opposite Golden Globe winner Colin Firth in Gambit, a remake of the 1966 film, to be produced by Joel and Ethan Coen with Michael Hoffman directing. Firth, who's expected to walk away with the Best Actor Oscar for his work in The King's Speech, will play an art curator who comes up with an elaborate scheme involving a fake Monet painting.
Something else you might like: Oscar-winning screenwriter Steve Zallian is in talks to rewrite the new untitled Tom Clancy movie for Paramount, which will star Chris Pine — who's also busy filming Star Trek Into Darkness for release in 2012 — as young Jack Ryan.
If you like period pieces, this may interest you — Harry Potter and the Goblet of Fire director Mike Newell is preparing to work on a new film version of Charles Dickens' classic novel Great Expectations. Maybe he can convince Robert Pattinson (whom he directed in Goblet of Fire) to play the leading role of Pip? The film will be released in 2012 as part of the worldwide bicentennial celebration of Dickens' birth.
And finally, Warners has gotten the movie rights to the "Fletch" comic mystery novels by Gregory McDonald with plans to bring the investigative reporter, previously played by Chevy Chase in two films in the 1980s, back to the big screen. No word on who will be cast but we think Seth Rogen would be great in the role — do you agree? Or is there someone else who would make a great Fletch?