Exclusive interview with Hannah Montana's Emily Osment
By Alexandra Heilbron on August 26, 2009 | 7 Comments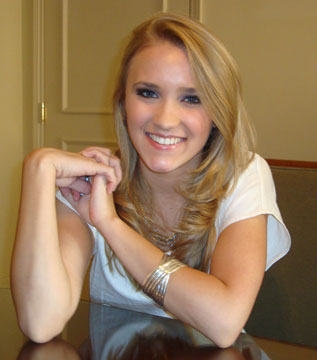 Tribute's Alexandra Heilbron sat down for an exclusive interview with Emily Osment to talk about her role as Lilly in Hannah Montana: The Movie, which was just released on DVD, and her singing career, which is just taking off.
Alexandra: Hannah Montana: The Movie was really different from Hannah Montana the series—did it require a different style of acting? The series is more comedy and slapstick but the movie had a totally different tone.
Emily: Yeah, that's really well said, I completely believe that. I don't know if I necessarily changed the way I act, I mean, it's still the same role. It's just, when you do a TV show, you have 23 minutes to make sure everything comes full circle, you introduce a story, you have the problem and then you resolve it. With the movie you get to spin it out a little bit more and drag it out farther so you really get to spend more time with the characters. And I feel like everything's sort of brought down a little bit and of course on the show, everything's very big, it's all slapstick like you said. It's more shock and funny and in the movie it just seems more real. And that's what we were trying to get across. I mean, you can see in the movie Miley and I didn't wear any makeup at all. And we brought everything down a lot, to make it feel like a real movie, like it was real.
Is there a style of acting that you prefer?
I definitely prefer movies over television. I think the process is more fun.
I was a little confused, did you do Season 3 before you did the movie, or after?
Yeah, we were a little confused too. The writers for the TV show were not the same people who wrote the movie. There were lots of different drafts for the movie and when we were just finished shooting Season 2 and then we did the movie, and in Season 2 we had Jackson going to college and he would come home and he had all the typical problems that you do in college and in the movie we had him applying to college and it came after the TV show, so it was a little tough for the writers, because we had to introduce those stories later and we had to rearrange the order of the episodes just a little bit and try and incorporate the storyline so it was in sync. It was difficult, and we kind of had to remember where we were.
Are you doing the fourth season now?
No, we don't start the fourth season until next year.
Where is the show filmed, is it on a big Disney lot?
No, everybody thinks we film on the Disney lot; we don't actually, we don't have a single other Disney show on our lot. Which is kind of funny, you just expect all the Disney kids to be running around together we're literally on the same stage as Judge Joe Brown and Judge Judy. Those are our two next door neighbors. And sometimes morning shows and that kind of thing but we're the only kid show on the lot so I mean, we've been trying for years to get a basketball hoop or something, because we're all just wandering around this lot—it's a huge lot—the stage is one of the biggest ones I've ever worked on so we're the only kids on the lot which is kind of fun.
So you don't know any of the other Disney kids?
No, we do, we just don't work with them. They work at a nearby studio but we're not on the same lot.
On Hannah Montana, you have to do some crazy stuff. Would you say it takes a certain kind of personality to be an actor?
I don't think it's as much a certain personality, you just have to be fearless. That's what it really comes down to, just being really brave, because there's a lot of different things that are thrown at you, especially with a Disney show and especially with our writers, you never know what's going to happen so you have to be ready for anything and we do everything in front of a live audience, so everything's live, which makes it so much better. We pre-shoot on Thursdays and we tape before a live audience on Fridays which makes it way more fun.
Where does the audience sit?
We literally have the biggest stage on the lot. We have a huge stage. We have two sets that are there permanently and four swing sets. So we have the great room, and then Rico's [beside it], and the audience sees both of those and the school and other sets swing in when we need them. It's huge.
Have you ever been asked to do anything really difficult and wondered, how am I going to do that?
There have been times where they come up to me and they ask like, "Do you speak any other languages? We're thinking about doing like a funny gag like this." Or "Do you know how to juggle?" They ask certain things, what you're capable of doing so they can incorporate your weird attributes into the show in some way. I did dancing when I was a kid, I did a lot of dance class and that kind of thing so they kind of portray Lilly as a dancer/skater girl. I do a lot of skating and a lot of dancing on the show.
Do you go to school?
I used to go to a regular, private high school but I was only there a week out of the month. I was out of school three weeks out of the month and so I would have everything faxed to me and e-mailed and it made it really difficult. The teachers I don't think really believed that I was actually working, that I actually had a job (laughs) or something but it didn't work with the schedule so we switched to an online school. I don't know why I didn't do it earlier, it's perfect. But I did go to a regular high school, so I've got all my friends from high school.
Don't you have a tutor on the set?
I do, it's the same one — she takes care of my online school, she's my administrator and she's my teacher and she goes everywhere with me. So I have like, one person.
When you go in public, is it difficult to do normal things?
A little bit. The other day, it was really funny, my friend Michelle, we were trying to go see the new Brad Pitt movie Inglourious Basterds and we were like "Where can we go?" And she's like, "Well…", she literally has it down. She looks at her watch and she's like, "Okay, it's 9:00 on a Friday, alright, well we can't take you to the Americana, because we're going to be mobbed, and we can't go here… okay we have to go to this movie…" She knows what time kids are around and what's the best time to go places because sometimes it's a little crazy but my friends totally understand and totally get it and work around it which is good.
Was the movie really filmed in Miley's hometown?
Yeah, it was filmed in Franklin.
Did you stay at her home?
Yeah, I stayed a few nights at her, like, giant ranch mansion, she's got so much land, so I spent a few nights there and I think they might have shot some exteriors on her ranch but we didn't actually film anything there.
Did she take you horseback riding?
No, I took her on a 4runner. Have you ever heard of a 4runner? It's like a giant go-cart and Miley didn't have her license at the time so she couldn't drive it so I would drive her around her farm and she would show me things (laughs). It was fun.
What would you like to do once the show comes to a conclusion? The fourth season is the last one, right?
We don't know. We're not really sure. Nobody wants to talk about the end of Hannah Montana. I know I don't, so we'll see.
How old were you when you did your first job and do you remember it?
Yeah, I was five and it was an FTD florist commercial.
I really like your new single, "All the Way Up."
Thank you so much! I'm so excited that it's finally out and everyone can finally hear it. It's on iTunes today and I'm premiering the music video on MuchMusic tonight.
At what point did you decide to pursue a music career? Was this something that you wanted to do prior to Hannah Montana?
Definitely prior. It was before I even got involved with the Disney Channel or The Mouse in general. I grew up with music definitely. My brother [Haley Joel Osment] and I, my whole family is musical, we all play instruments and I have opera singers in my family so we're very, very musical and I had been writing a lot when I was around 8 to 12, I wrote a lot of stuff. And then when I was a teenager we decided that maybe it was a good idea to kind of share some of this stuff so I got management and I was hooked up with some songwriters and I just started the journey and I really enjoyed it. I started writing songs professionally and now I have an EP coming out in October. It's been a really long process but it's been so much fun. I've gotten to work with some amazing people.
Can you describe your single to people who haven't heard it?
It's pop, but it's kind of got an edge to it. It's good music, just go listen to it and make your own opinion.
What's your favorite genre of music?
I like all kinds of music and it kind of comes through with the single and with the album because I listen to everything from The Dead Weather to Katy Perry, I listen to a lot of music. So the EP and the album and the single, it sort of all encompasses that.
How did you choose your band members?
That's the first time that question's been asked! That's a good question. I actually just recently did auditions. It was like a five or six hour process. We were in a very small room, it was very loud, we couldn't hear after it. We had musicians come in and audition and I would get up there and sing with them and it's actually obvious who's the best. So it was a very easy pick. The four guys we've got now, I'm so happy with them, they're like my brothers, they're really great.
What's your favorite thing to do when you get time off?
Oh gosh. Well, I live in the city that never has winter, so it's constantly summer, it's like 75 degrees constantly so I go to the beach a lot with my friends. I spend a lot of time with my friends when I have time off, which is the best.
I heard you like to surf?
I do, I'm learning. It's funny. Lucas Till (who played Travis in Hannah Montana: The Movie) is super into surfing and he's trying to get me to go out surfing with him so I'm trying not to embarrass myself so we'll see if that happens. I have some friends who are trying to get me into it and I've done it a few times, it looks like a good activity.
Are most of your friends in showbusiness or outside of it?
Actually I only really have about five close friends in the business. The rest of my friends, I have a huge group of friends from high school. I went to a big high school so I've got all my friends from that, and it's really funny, they could care less about about my day job. They root for me, but they don't really care about that, which is great, actually.
Do they watch the show?
Yeah, some of them do. Sometimes I'll be at my friend's house and I'll be like, "Why is Hannah Montana on your TIVO? And she's like, "You didn't see that! I'm not watching that!" And I'm like, "How old are you?" [laughs] It's great! I was at dinner last night and a woman came up to me and said, "My daughter's 20 and she watches the show so, it's great. We've got a big following.
Check out Emily's new music video for her single, All the Way Up by clicking here.
---
---
---
---
Similar Articles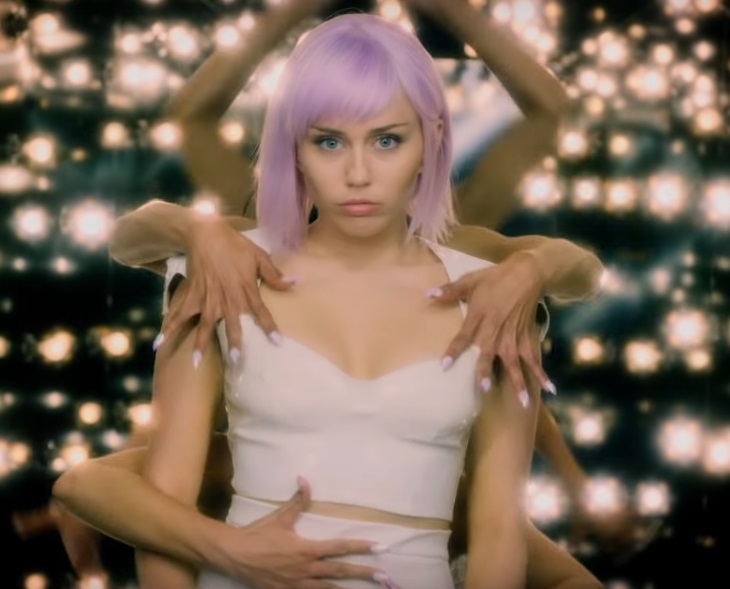 May 15, 2019 | Leave a Comment
After much anticipation, Netflix has finally dropped details on season five of Black Mirror, starring Miley Cyrus and Topher Grace. Check out the trailer.
---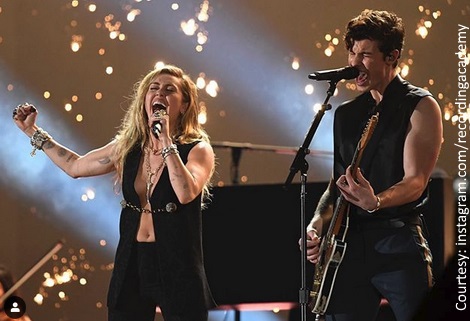 February 11, 2019 | 2 Comments
The 2019 Grammys celebrated several women last night! Cardi B, Alicia Keys, Diana Ross, Dolly Parton, Lady Gaga, Kacey Musgraves and many more were honored.
---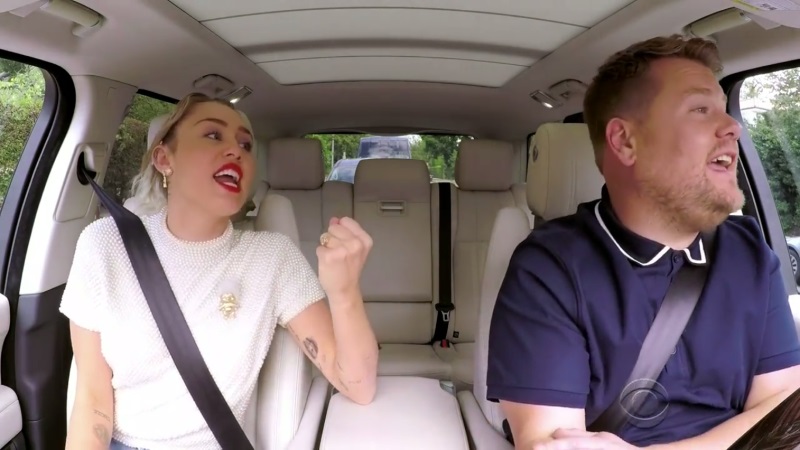 October 12, 2017 | 3 Comments
Singer and actress Miley Cyrus plays High or Not High with James Corden on his hit Carpool Karaoke segment and opens up about how she got into activism.
---