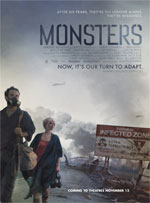 From D Films comes Monsters, director Gareth Edwards' hotly anticipated sci-fi thriller.  
Six years ago NASA discovered the possibility of alien life within our solar system. A probe was launched to collect samples, but crashed upon re-entry over Central America.  Soon after, new life forms began to appear there and half of Mexico was quarantined as an INFECTED ZONE.  Today, the American and Mexican military still struggle to contain "the creatures"…
The story begins when an American photojournalist, Andrew Kaulder, on assignment in Mexico, is instructed by his boss to find and escort his daughter, Samantha, back to the safety of the US. Their mission turns into a terrifying road trip when Kaulder and Samantha (played by real-life couple Scoot McNairy and Whitney Able) miss the last ferry and must journey overland through the Infected Zone in the care of various mercenaries and local guides, to reach the safety of the US border.
Monsters opens in major Canadian cities on November 12.  Until then, here's a clip from the film.