Extremely Loud and & Incredibly Close might not be the easiest film to watch, but it will undoubtedly be one you will never forget. Based on the bestselling novel of the same name, the film centers around a young boy named Oskar Shell. Oskar is an extremely special and gifted 11-year-old — extremely inquisitive, smart as a whip and always inventing. He is also the child of a man who died during the September 11 terrorist attacks. Dealing with the trauma of that day is one thing, but Oskar makes it his mission to honor his father's memory. Feeling disconnected from his grieving mother (Sandra Bullock) and driven by a relentlessly active mind that refuses to believe in things that can't be observed, Oskar begins searching New York City for the lock that fits a mysterious key he found in his father's closet. His journey through the five boroughs takes him beyond his own loss to a greater understanding of the observable world around him. Oskar is brilliant and heartbreaking and makes a wonderful narrator both in the book and now in the movie.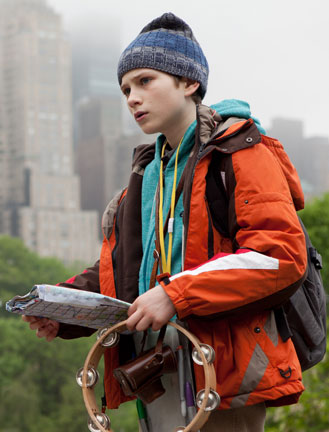 When director Stephen Daldry decided to adapt the novel for the big screen, the most important part of the process was finding the perfect young actor to play Oskar. After hundreds of auditions and casting calls, Daldry looked no further after meeting Thomas, the wiz kid who made headlines at age 12 in 2010 for winning first place on Teen Jeopardy and $31,800 in prize money!
Not only was this Thomas's feature film debut, it was his first foray into the acting world. His performance is so good it could very well land him an Oscar nomination. His director and co-stars were completely blown away by his level of professionalism and ability to not only learn his lines, but deliver them with such emotion and realism. Veteran actor Max Von Sydow, who has a number of pivotal scenes with Horn, said he was in awe of his young co-star: "He is extraordinary. It was a pleasure because he was very well prepared. He's a very intelligent young man, and there was never any reason for me to go, 'Come here young man, I'll tell you what to do.' No, he knew what to do, and he knew what the character of Oskar was thinking and feeling. And he did it, he showed it."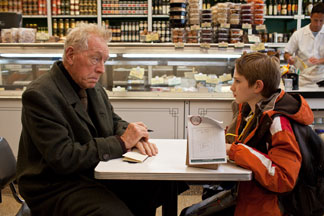 Oscar-winner Sandra Bullock agrees, and had only the highest of praise for her onscreen son. "Thomas Horn was put on this planet for a reason. That boy is extraordinary and he is going to have a huge impact on this world. He will make a difference." Whether Thomas pursues an acting career remains to be seen, but one thing that is for sure,  he delivers a brilliant performance in Extremely Loud & Incredibly Close and will undoubtedly excel at anything he sets his sights on. ~Bonnie Laufer Krebs
Click here for our interview with Thomas Horn.
Also check out our interviews with Sandra Bullock, Max Von Sydow and director Stephen Daldry.
Extremely Loud & Incredibly Close opens exclusively at the AMC Yonge and Dundas in Toronto December 25th, then opens wider across Canada on January 20, 2012.