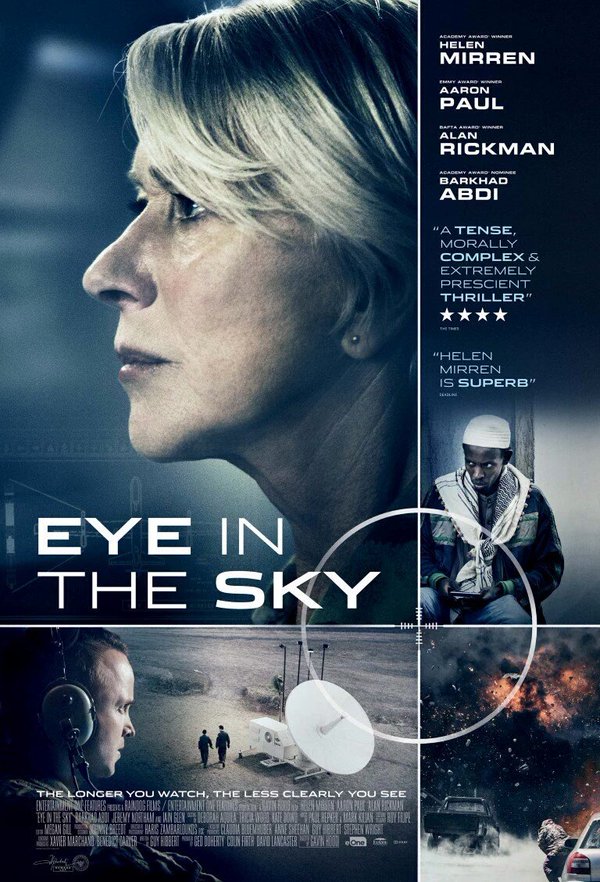 Each week, we like to guess what the most-watched trailers of the week are going to be, and each week, we're pretty wrong. This week is no different, with the trailer for political thriller Eye in the Sky, starring Dame Helen Mirren, sitting pretty as the shiny new leader of the pack.
Miracles from Heaven once again offered up the second most-watched trailer of the week, beating out the final trailer for Batman v Superman: Dawn of Justice, last week's champ and this week's second runner up.
A clear favorite among Tribute.ca's users, the trailer for sci-fi horror 10 Cloverfield Lane is in the top five for the fourth week in a row, jumping one spot forward from last week, just ahead of the trailer for Christian drama God's Not Dead 2.~Shelby Morton
Check out all the top trailers below:
1.) Eye in the Sky
2.) Miracles from Heaven
3.) Batman v Superman: Dawn of Justice
4.) 10 Cloverfield Lane
5.) God's Not Dead 2
Eye in the Sky- London-based military intelligence officer Colonel Katherine Powell (Helen Mirren) is remotely commanding a top secret drone operation to capture a group of dangerous terrorists at a safe house. The operation goes from capture to kill when cameras spot explosive suicide vests being placed on two new recruits. Knowing that many will be killed if the recruits are allowed to leave, American drone pilot Steve Watts (Aaron Paul) gets the go-ahead to drop a missile. That changes when a small girl enters the kill zone on her daily routine of setting up a stall to sell bread. Everything comes to a halt as a new decision has to be made.
Miracles from Heaven- Based on Christy Beam's memoir of the same name, this faith-based tale tells the true story of 12-year-old Annabel Beam (Kylie Rogers) who suffers from a rare incurable digestive disorder, while her mother Christy (Jennifer Garner) searches for a solution. After surviving a freak accident, Anna finds herself miraculously cured of the rare disease.
Batman v Superman: Dawn of Justice- Bruce Wayne's Batman (Ben Affleck) and Clark Kent's Superman (Henry Cavill) are pitted against one another when Batman adopts much of society's idea that Superman is a threat to humanity and the source of Earth's chaos. Even though Batman had retired his cape and mask, he dusts them off as he fears for the future of the world with such great power left uncontrolled. However, as the two square off in a vengeful war, a new dark danger arises, capable of total destruction.
10 Cloverfield Lane- A young woman (Mary Elizabeth Winstead) wakes up in a cellar after being in a car accident. The man (John Goodman) who claims to have rescued her enters the scene and informs her that a catastrophic chemical attack has left the outside world uninhabitable. She harbors her doubts, however, and comes up with a plot to escape, no matter what dangers may lurk beyond the cellar walls.
God's Not Dead 2- High school history teacher Grace Wesley's (Melissa Joan Hart) response to a student's question about Jesus lands her in big trouble, leading to an epic court case that could cost her the career she loves and expel God from the classroom—and the public square—once and for all.