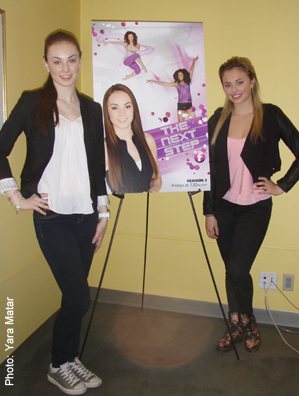 The Family Channel's hit series The Next Step is currently gearing up for its Season Two premiere on March 7, and Tribute sat down with some of the show's cast members, including Victoria Baldesarra (Michelle) and Logan Fabbro (Amanda). This dance-filled drama follows the lives of an elite group of young dancers who train at The Next Step Studio, and the show chronicles their rise to the top of the dance game.
The show's brilliant cast brings together a group of phenomenal young dancers. Victoria and Logan were both elite dancers when they were younger, having been on Team Canada's dance team in 2010, which won a bronze medal in Germany. Season One ended on a high note, with The Next Step winning regionals. Season Two will pick up following the studio's big win, where tensions begin to rise in preparation for nationals.
The team has just won regionals, and now you're going to have to gear up for nationals. How do your characters go through that new process and deal with the pressure and the frustration?
Victoria: I definitely know that my character in Season 2 is a lot different from my character in Season 1. I experience more of a romance drama, I guess you could say, on my way to nationals. It's a really emotional season for me and I face a lot of tough situations and I find myself crying – it's a lot for Michelle.
Logan: For me, Season 1 was amazing too but going into Season 2, I knew that I would have to be such a bigger character and I would have to get into my character so much more. She deals with it a lot differently than, say, Michelle does, because instead of being the one involved in all the drama, she's the one starting it. She is determined that she's going to win nationals, whether it be with one studio or the other. When she wants something, she strives to get it and she's very hard headed. She goes through a lot and finally just figures out what she wants to do and who she really is in the end.
What kind of surprises or plot twists can we expect from the new season?
Victoria: I guess you could say a lot of love triangles and love squares for me.
Logan: For Amanda, it would have to be all the drama that she starts up and she creates. She ends up auditioning for The Next Step, and that alone creates so much drama because she has created so many rough patches with everyone and she wants to find a way where she could fix those. I think everyone really sees her true colors in Season 2.
You're both professional dancers, so what is the experience like being able to do what you're really passionate about as a career now?
Victoria: It's crazy, I mean I never thought I'd actually be professionally dancing but it was always a dream of mine to do all throughout high school. It's finally happening now and I'm just so lucky that it's happening at such a young age. So many people try to get into the professional world of dance and I feel like we're almost already there with being on a TV show. People try for so long and both of us are blessed to be so young and able to be professional at this age.
Logan: It really is amazing. Everyone trains so hard and this is your goal, you want to be exposed to the real world and you want to be exposed to all this publicity and fame. But like Victoria said, we're so young and we were really lucky, and this was shocking and truly amazing.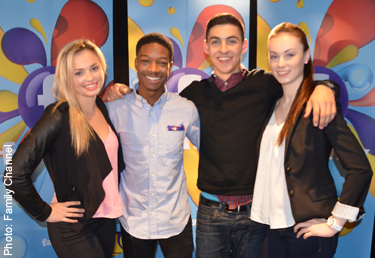 On The Next Step, you're doing two things at once: dancing and acting. Do you feel like you put in double the hours and the effort that another actor on another show would be doing?
Victoria: For sure. It's a lot different from a regular TV series. Before we actually start production, we have those two or three weeks of rehearsals, just working hard every single day and learning our routines and then on top of that we have to go through our scripts and know what our character is all about. Then when we're actually in production it's like, "Oh you have this dance that day." So you have to review the night before, but what if we don't remember our dance? We don't just have our scripts. We have a routine to remember and our acting to remember.
Logan: It's a lot mentally and physically too, remembering all those dances in such a short amount of time. We learn dances in like five hours. Usually, we learn dances during a seven-month period. It's a lot thrown at you and randomly we would be in a scene and our director will be like, "Yeah I just want to throw a dance in here so everyone do freestyle." It happens all the time! You get used to it, and doing something you love you can't really complain about it. There's nothing we would want to complain about. We love doing it, and it's a privilege.
Is it a challenge to film the show as if it's a reality show?
Victoria: I don't feel like there's a challenge personally. The only challenge would probably be the fact that in my regular studio back home there's no boys – there is, but I don't dance with them because they're younger than me – so I feel like that's something that's harder for me to act, the boy drama. It's always just been about the competitiveness behind the dance but I definitely feel like it's easy to connect with the reality of the show in the sense of becoming one and competing as a team and working hard.
Logan: I think the part that's closest to reality for me would just be working as a team and dancing together and trying to work out all our differences, no matter if it's in a relationship or with your best friend or as dance captain, you work that all out and in the end you dance together as a team. I think the hardest part would be the way my character acts because I wouldn't act like that. I think that's all just a part of acting.
About your fans, have you had any crazy encounters or anything that stands out?
Victoria: I have this one fan who tweets me every single day and she sends fan mail and I actually met her once on the mall tour. So that's kind of like my crazy fan! She's just so die-hard about the show and there's so much support behind all of her things on social media and on top of that, there's a bunch of other fans that I see on Instagram and Twitter and they're all so supportive and excited and it's amazing. It's my wildest dream that I would ever have all these fans following me. That's crazy for me.
Logan: I think the best part about it is they always say, "I look up to you. I want to be like you. You're my inspiration!" "I want to be like Logan," or "I want to be like Victoria." Having these seven and eight-year-olds looking up to you when you're only 15, it's an amazing feeling. They comment on your pictures on Instagram or they tweet you and it means something to you no matter who it is.
How do you balance school and doing the show?
Victoria: Basically, the show is a summer job, it's what we do during the summer. But then Season 2 kind of interacted with school. We kind of missed almost the whole month of September and we had a tutor. We were freaking out, I'm not going to lie. We were really stressed out and we thought, "Oh my God, we're going to fail!" I feel like competitive dance has taught us so much about balancing the two because we'll stay up until 1 a.m. to finish a project, we're just used to it. It's easy for us to find a balance.
Logan: At the beginning it was pretty shocking, the tutor for two hours on set when you think you could just lie down and have nothing to do and you just want to relax. No! You have to go to school and do your work. Being in a classroom and having your actual teacher there to teach you is so much easier. When I get confused, I get really frustrated and I feel like I don't know what I'm doing. Balancing work, dance and school was difficult.
What was the audition process like to actually get on The Next Step?
Victoria: We auditioned for the show three summers ago and we both auditioned when we were 13 – I was turning 13. We auditioned, and then the next day we were brought back to shoot a demo video and then eight months later, we auditioned again when the show was actually picked up and we both got picked.
Logan: Our dance teachers sent us and they just said, "Have eight counts of eight for freestyle or whatever style you want." I did jazz.
Victoria: We didn't even know it was for the show!
Logan: We didn't know it was picked up yet, we didn't know anything. If they liked you, they'd call you back in the room and you'd have to act. They'd give you a scenario and you'd just have to act it out. That night we both got a call and they were like, "Come back the next day for another audition." We thought it was another audition, but we were shooting the promo in the pilot.
Victoria: It was so weird, we thought it was a callback but it was actually the main cast which was crazy.
What are your future goals?
Victoria: I know that after high school, I definitely see myself gong to university. Kinesiology and health sciences are definitely a big interest of mine, but I feel like dance and acting will always be there on the side whether if it's when I'm older or if it's throughout my university years or after university. I know that I can always go take a dance class or go back to my home studio and maybe help assist or something like that. It's probably hard to balance it all but I don't want to to stop dancing or acting. It's always going to be there.
Logan: After high school, I would love to go to university. I want to go into law, I would love to be a lawyer. Like Vic said, I would love, love, love to dance on the side, but I know that's going to be a lot. In saying that, I know I can go take a class because of all this training I have in the background.
We've witnessed Michelle evolve through the season. What's the most challenging thing about playing her?
Victoria: I definitely feel like the biggest challenge about playing Michelle would have to be the fact that she's always changing, there's always something new in her life. There's always a new problem, but I feel like at the same time, as Victoria, there always is a new problem. There's always new drama with maybe a boy or with my family or something like that. I find it's almost easy to relate to and it's almost who I am as a person, so it's not that hard. At the same time, it's exactly like my life you could say. It's all over the place sometimes, but that's probably the biggest part of doing that.
Amanda has had to deal with both A-troupe and Elite. How does your character approach each studio differently?
Logan: Approaching A-troupe in Season 1, she doesn't like them. She doesn't want them to win against Elite, but they end up winning. Season 2, she goes over there and tells them about the challenge, and that she's going to audition for their team. I think in Season 2 she's nicer to them because she wants to go to nationals no matter who it's with. She wants to perform and she loves dance and she's really passionate about it. That's going to come off at both studios, so if someone's slacking off or not doing what they have to do, she's going to tell them and let them know because she has a drive to win. She's going to do what it takes to win.
The hit Canadian series will be returning to Family Channel on Friday, March 7 at 7:30 p.m. ET/PT. ~Yara Matar