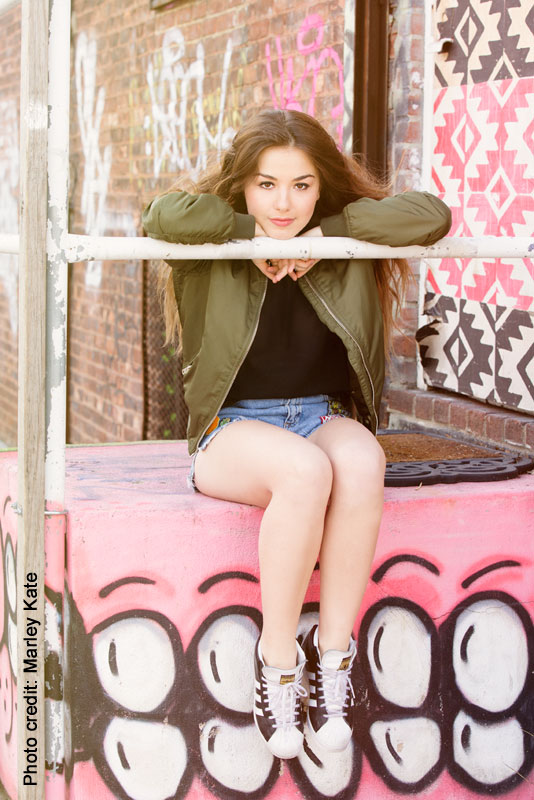 Esther Zynn plays Astral, a fairy princess who wants to experience life as a real girl and find out what it's like to attend high school in the Family Channel/Nickelodeon co-production The Other Kingdom. Once there, she has to be careful not to use her fairy powers so she can remain incognito. She's given 90 days to decide whether she wants to live in the human world or return to the fairy realm, where she'll take her rightful place on the throne.
Tribute had the opportunity to talk to the young New York actress about the show, which is filmed in Toronto.
How did you get started in acting?
I always knew I wanted to be an actress and a performer for as long as I could remember. I started performing in school musicals when I was 11 and that's also when I started writing music. When I was around 12, I convinced my parents to sign me up for this local acting class and through that I found an agent and I started auditioning and everything sort of just took off from there.
Did you have to take time off from school to come to Toronto to film The Other Kingdom?
I did have to take a semester off college.
This is your first big leading role, what's it like to suddenly be put in that position?
It was all very exciting. It all happened so fast, between getting the call that I got the part and starting to film. I mean, I got the call and three days later I had to fly out for rehearsals. So it was all very fast. I went out for a week of table reads and then I came back for two days in New York and I had basically those two days to pack everything for three months because we shot for around three, four months. It was fast and exhilarating. At some point it was a little overwhelming but the bigger part was that everyone on the set and my whole team, everyone was very supportive and attentive and if I needed anything they were super. It was really positive and amazing on set and I definitely credit that to Tommy Lynch, the creator of the show, he was always so excited to be on set. The first thing that he said to me when I got to set was, "If there's anything that you feel uncomfortable with, talk to me about it." So going into it, I never felt like I wasn't in good hands.
How long did it take to film the first season?
It's so funny, I remember the exact date we started filming. It was September 8 and then we wrapped December 17. Well, I wrapped that date.
That's fast for an entire season, isn't it?
Yeah, it was very fast. I think it was partially because we didn't have rehearsal days. The way we shot was block shooting. I'd go to set in the morning, we'd do a quick little rehearsal, take 10 minutes to block out the scene and then we'd shoot. That made the pace of shooting a lot faster.
When you were younger, what was your favorite show?
I loved all the Nickelodeon shows—I love iCarly, Drake & Josh, Victorious—I love all the shows on the network so when I found I was going to be on one, it was so surreal.
What was it like filming in Toronto?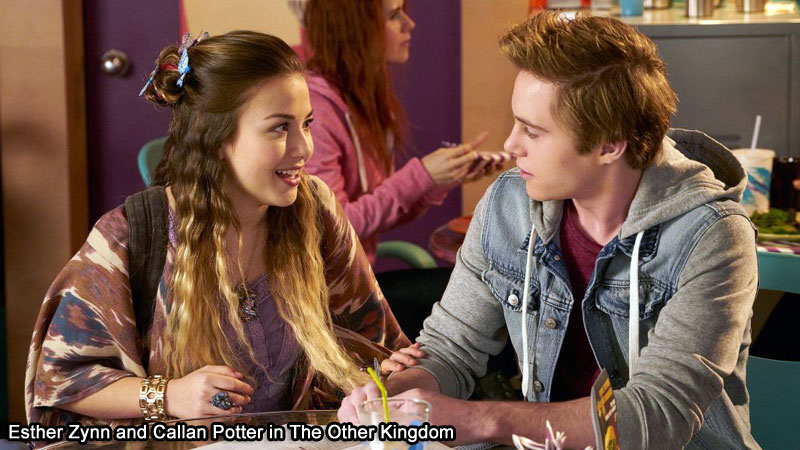 I loved it, I love Toronto.
Was that your first time in Canada?
It was. Actually my first time in Canada was my screen test. But I flew in and I got to my hotel at midnight, my audition the next day was at 10 a.m. and I flew out later that evening. So I was actually in Toronto for less than 24 hours, my first time in Canada. (laughs) I lived downtown, I absolutely loved it, it's such a cool city. When my family and friends came to visit we had so much fun, there are so many fun things to do.
What did you find different about Toronto and Torontonians as opposed to NYC and New Yorkers?
Actually, there are a lot of similarities. Being in Toronto definitely reminded me a lot of New York. New York is very bold and straight forward. You see a lot of different characters in New York. In Toronto, I think everyone is a little more laidback. Even though there is a fast pace, people really take the time to be friendly, which is amazing. I never met anyone who wasn't friendly in Toronto—everyone is so friendly and nice.
What do you like best about your character, Astral?
I love her strength and her independence. The whole show really is about her following her dreams and doing something that she's always wanted to do. She comes from Athenia, which is the fairy world and she's a princess, but she ultimately comes to the human world on her own, and she's handed all these responsibilities and I think she handles them with so much grace, which I personally look up to and I think a lot of kids watching the show can as well. That's my favorite part, definitely.
It's a lot of fun to watch, especially with all the magic involved.
Thank you! And I think that fans will be really excited to see Astral evolve. This is just the beginning. So much happens in this season and you really see parts of Astral that you wouldn't expect to see.
The full season hasn't aired here yet, so we haven't seen what happens by the end of it, but what would you like to see happen to Astral in the second season?
Oh wow. That's a good question. No one's ever asked me that. I don't know. It's funny that you ask because the entire cast, whenever we get together, we're like, "We wanna know what happens!" So, we're just as excited as the fans. Because we actually don't really know. I think I'm just excited to see her relationships with her friends grow. They change so much throughout the season. I'm just as excited to see and find out as everyone watching is.
I understand you're writing and working on your first EP — what kind of music do you perform?
I like to describe it as un-sugar-coated pop music. I love pop music but it's going to be a little more straightforward, a little more unfiltered. Ultimately my main goal is to create music that someone of any age could listen to, while still being real and preserving my own creativity. It's hard to describe — I'm releasing a single very, very soon, so I'm just excited for people to hear that and make their own kind of judgments and be able to describe it in their own words.
Will we be seeing a music video to go along with the single?
Oh, I don't want to give anything away. What I could say is that there will be a lyric video as well as different versions of the single. So there will be a lot coming from this one single.
What are your hobbies when you're not acting?
I love cooking. Also, being in the city, I'm a total foodie, there are so many good places to go and eat. I'm also kind of into fashion. I would say I love writing music, but that's become less of a hobby and more of a career. I also love fitness. I'm doing this thing called Class Pass. It's awesome. It's basically like a gym membership and you can take different classes all over the city in different studios. I did golf last week (laughs), so I'm definitely into trying new things!
Is there anything else you'd like to tell our readers?
Just that The Other Kingdom airs on Family Channel at 6:00 p.m. on Friday nights and I'm just really excited for people to watch the show and they can follow me on Twitter (@ItsEZ) and Instagram (@itsez) too, I'm always checking that and responding to people.