Fan Expo 2012: Day One recap
By Tribute on August 24, 2012 | 3 Comments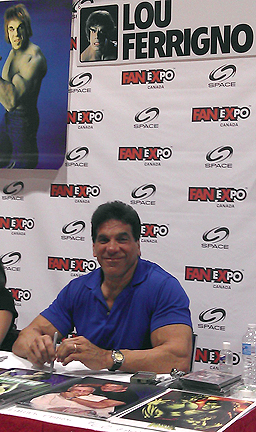 "We'd like you to take these scissors and cut the ribbon to officially start Fan Expo Canada," a representative from the massive geek-centric convention announced, handing the big scissors to none other than the original Incredible Hulk, Lou Ferrigno. Reaching down, the 60-year-old actor / bodybuilder obliged, and the crowd went crazy. With that, Fan Expo 2012 kicked off.
Thousands of people (many in costumes) lined up for hours outside of the doors of the Metro Toronto Convention Center Thursday morning to get into the massive, 18th-annual celebration of all things geeky and fun. With hundreds of exhibitors setting up shop on the huge show floor in order to sell their wares, advertise their products and spread the word about upcoming events, 80,000 attendees are expected at the convention for the duration of its weekend-long run.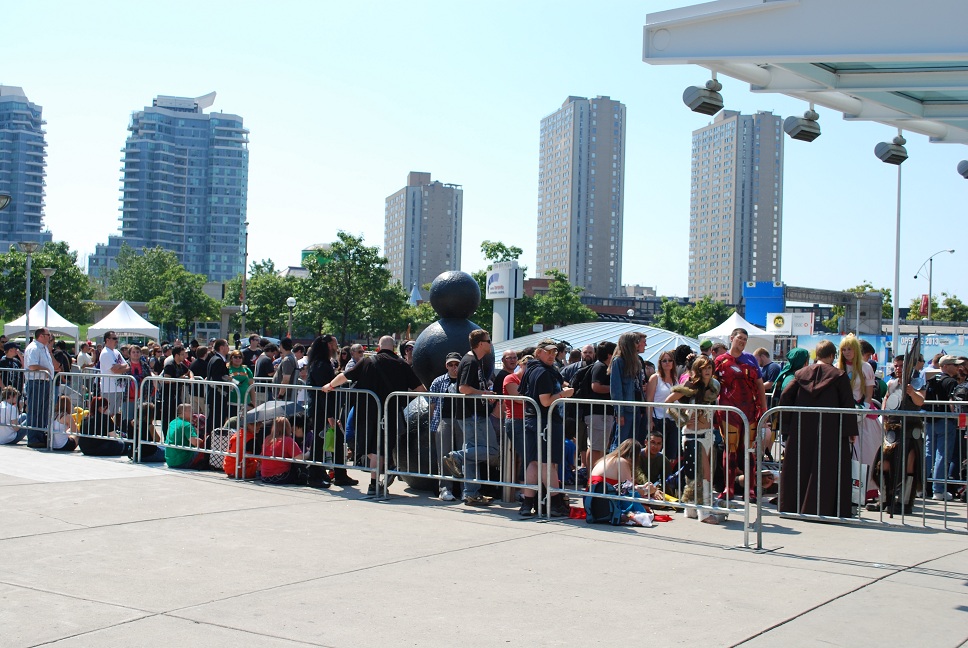 Down below on the show floor, everywhere you look, there's something amazing and unique to discover: huge, decades-old posters from cult-classic films, props and mask designs for a wide array of monsters (both original and famous), gigantic displays of every superhero imaginable, and, of course, a fake-blood-soaked Winnebago. The Expo is already teeming with activity.
When the doors open, in pour thousands and thousands of delighted fans; it's hours before the steady stream of people entering the building stops. Suddenly, the bustling floor from earlier seems like a positively calming atmosphere; things get crazy and hectic, fast. Fan Expo has hit full throttle.
The costumes are mesmerizing: everybody from Bane to Captain America and far more obscure characters pepper the massive crowd. The amount of effort that so many of these fans have put into creating these elaborate recreations of their favorite characters' costumes – all for the simple love of it – is inspiring. There is a huge depth of creativity on display here, and it makes the entire event a more imaginative affair than other conventions could hope to achieve.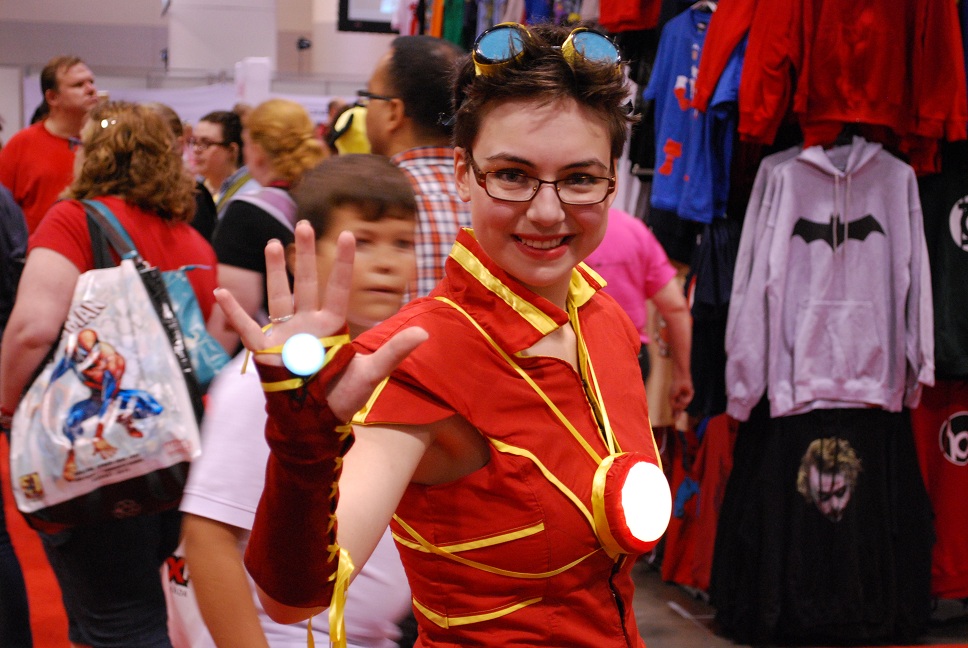 A spokesperson from LG Electronics invited me over to their booth, where they were doing a preliminary test of their brand-new "Dual Play" technology, which allows two gamers to share a single screen and see completely different images. The technology utilizes polarized glasses that are uniquely adjusted to see only one version of the screen, while the second pair views the alternate image.
After making a quick stop at the Dead Before Dawn 3D booth (the upcoming horror-comedy from Canadian filmmaking team April Mullen and Tim Doiron), it was off to the Warner Bros. Pictures Preview, which showcased a variety of trailers for new films. Then came the string of Q&As.
When 6:00 finally hit, I was sitting comfortably in a front row seat at the Julie Benz Q&A, star of shows like Dexter, Roswell, Buffy the Vampire Slayer and the upcoming Defiance. Julie was extremely accommodating to her fans, acknowledging that her career is a direct result of their help. She cites her role as Darla on Buffy as a clear example of that: if there hadn't been such a public love of her character during production, she admits Joss Whedon was planning on killing her off early on.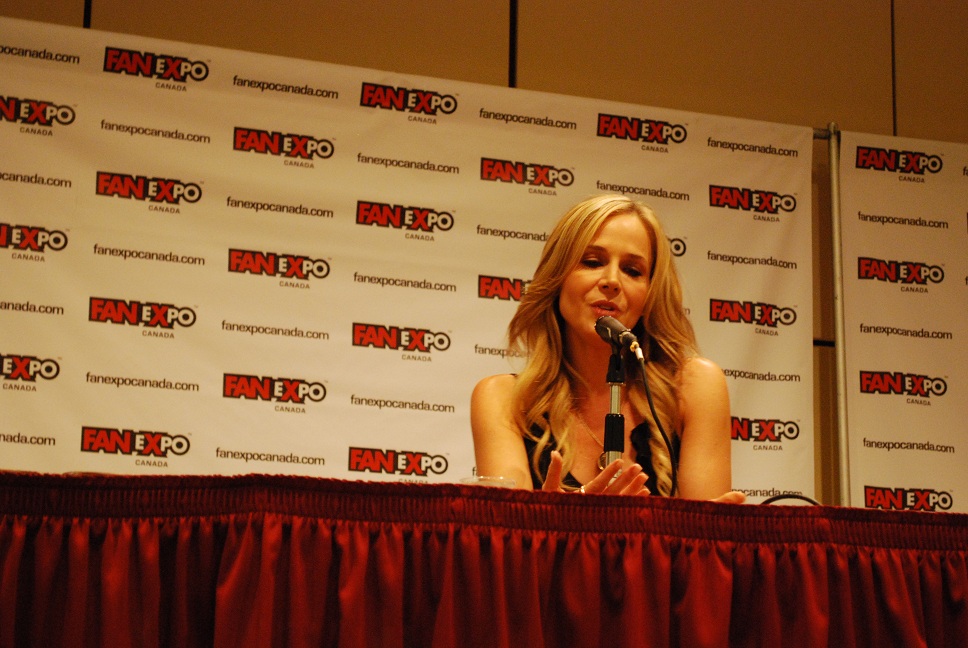 She also spoke candidly about her time working with Sylvester Stallone on Rambo and recounted amusing stories of how Stallone would insist on being called "Sly" – even though nobody had the guts to actually do it. Benz is adamant that she's left her days of romantic comedies behind her, and says she'd love to become an action star; she was anything but coy about wanting to return for another Boondock Saints sequel and to land a role in Whedon's Avengers sequel. When the crowd asked if she'd be interested in the part of The Wasp, she admitted she wasn't aware of the character, but if Whedon wanted her for it, she'd be there in a heartbeat.
After Julie had taken her bows, posed for a few photos and left the stage, it was time to rush back to Hall G to get a good spot for the Stan Lee Q&A panel. Highlights and video from his panel can be found here. Then it was back upstairs for Joe Flanigan.
Joe, who is best known for his role as Lt. Colonel John Sheppard on Stargate: Atlantis, was welcoming of his fans when he finally took the stage for his Q&A – he stayed to take questions up until the very end of his allotted hour, and was forthcoming and honest about all of his answers. A known prankster, the majority of the questions and answers dealt with his off-screen antics with his former Stargate cast. Recalling a variety of incidents involving pranks gone awry, Joe was crass, open and hilarious as a storyteller, particularly in his account of what happens when you let a cast member crash at your house.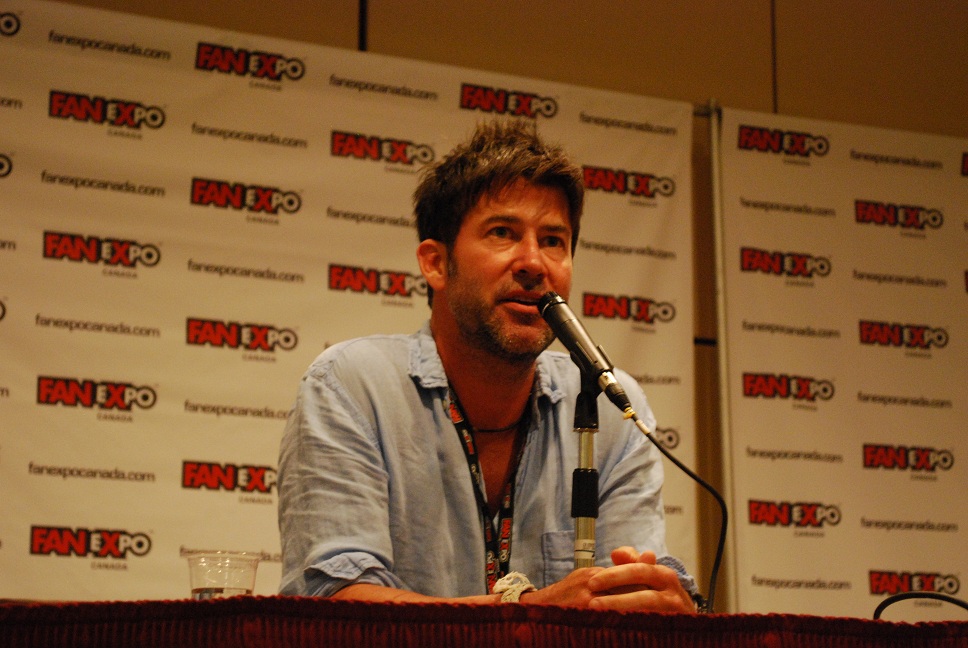 Finally, the Stargate actor thanked the crowd and took his leave at 9:00 p.m. sharp, ending the first day of Fan Expo 2012. Thousands of people poured out of the Convention Center and into the streets, promising another three days of geeky madness yet to come. Expect more coverage throughout the weekend. ~Story and Photos by Devin Garabedian (Photo of Lou Ferrigno by Aaron Markovitch)

---
---
---
---
Similar Articles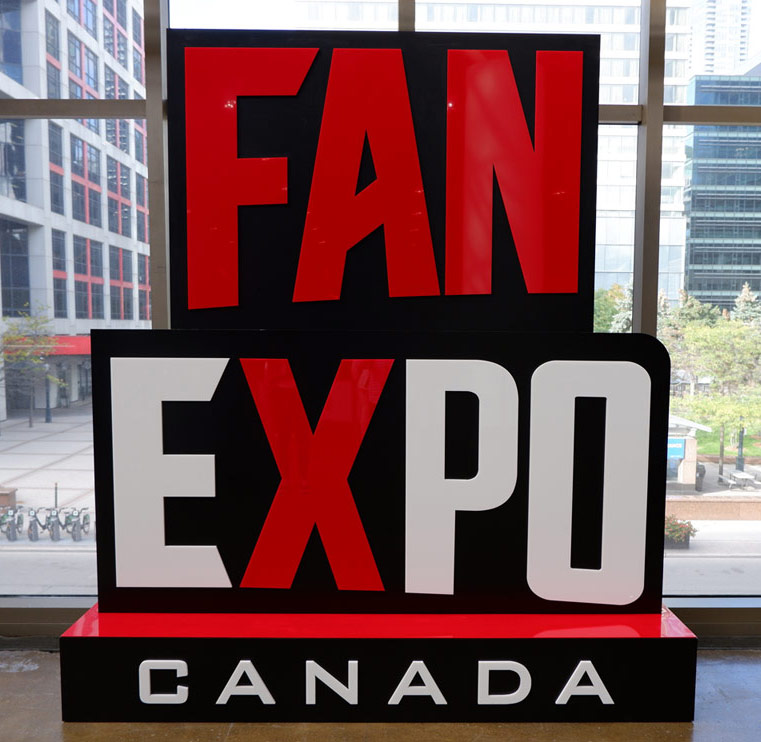 October 24, 2021 | Leave a Comment
Fan Expo Canada 2021 was a huge success, with appearances by stars such as William Shatner, Robbie Amell, Stephen Amell, Katie Cassidy, James Marsters and more!
---

October 21, 2021 | 1 Comment
Fan Expo Canada opens this weekend in Toronto, with a number of celebrity guest appearances from Trailer Park Boys, Justice League, Star Trek, and many more!
---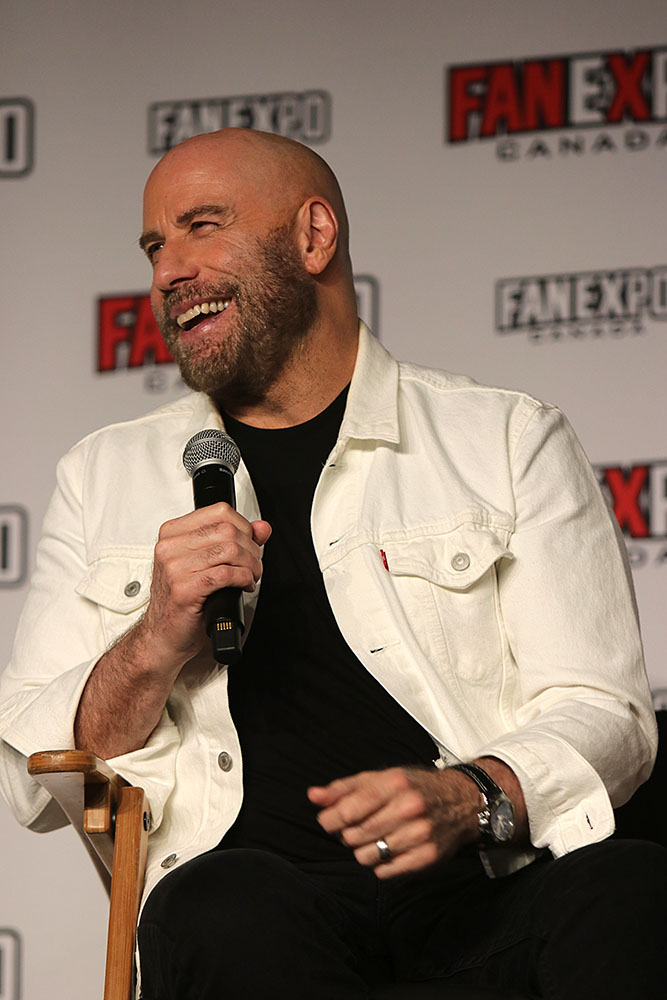 August 26, 2019 | Leave a Comment
Fan Expo Toronto came to a close on Day 4 with a flurry of Q&A panels to end off the convention including Pulp Fiction John Travolta and Twelfth Doctor Peter Capaldi.
---