Fan Expo Canada 2018 Wrap-Up
By Tribute on September 4, 2018 | Leave a Comment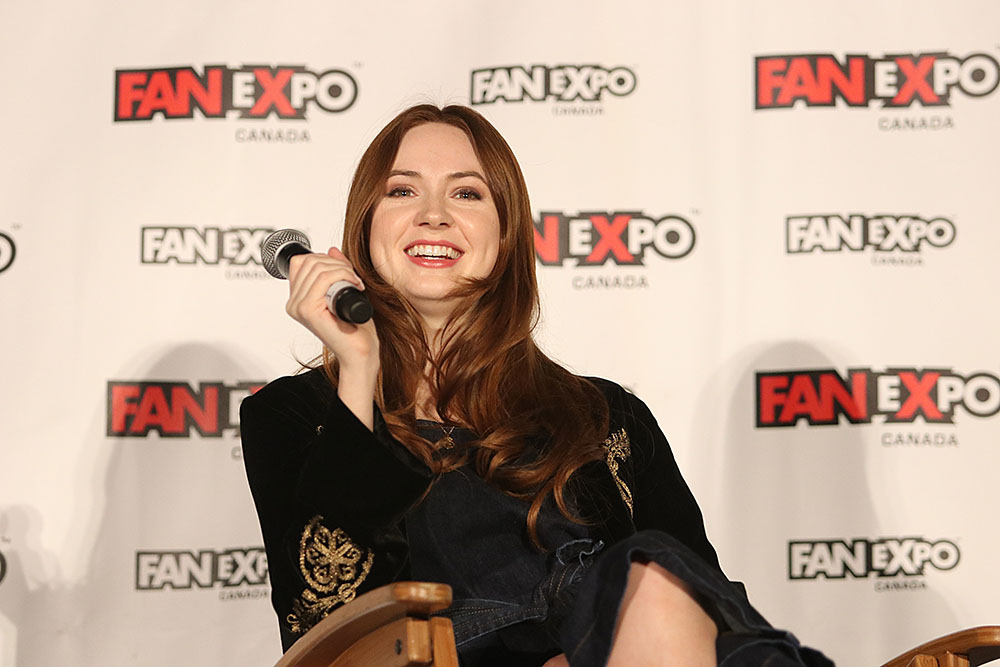 As Labor Day weekend wound down, Fan Expo came to a close and fans went home remembering happy times with their friends, new friendships made, memories with favorite celebrities and perhaps a much lighter wallet after getting that special memento from the various vendors.
On Friday, Robin Lord Taylor greeted fans of Gotham and discussed the fifth and final season. He feels that things started to come together in what made his character, Oswald Cobblepot, into the Penguin with character-driven storylines. Whenever his character interacts with another character, it changes his character and adds to what he becomes in the Batman series. He revealed that he was excited to work with Paul Reubens (a.k.a. Pee-wee Herman), who was right up there with Michael Jackson and the Pope for him.
Joe Flanigan, who is known best for his role as Lt. Colonel John Sheppard in Stargate: Atlantis, shared stories about Jason Momoa, who is one of his best friends. Jason Momoa was also at Fan Expo signing autographs and doing photo ops for fans. Joe revealed that when Jason was in Stargate, he stayed at Joe's place. Jason had told him he would just be there until he found a place for himself, but slowly ended up moving in as the weeks went by.
Karen Gillan, best known as her role as Nebula in Guardians of the Galaxy Vol. 2, has been busy promoting her movie that she directed called The Party's Just Beginning, a tale of survivor's guilt when a woman's best friend commits suicide. She said it wasn't hard to direct herself in the movie. She reminisced about her time on Doctor Who, speaking about her fondness for her co-stars Matt Smith and Arthur Darvill.
There was a behind-the-scenes look and preview of Ralph Breaks the Internet, a sequel to the popular film Wreck-It Ralph. Fans were able to see clips of how scenes were created and how they come to life, how the artists viewed the internet and a peek at the new characters that were created for the film. There was a special appearance by Jodi Benson, who voiced Ariel in The Little Mermaid and voices Ariel again in this new movie, as well as Barbie in the upcoming Toy Story 4.
Saturday had Back to the Future star Lea Thompson to start the morning on a bright note as she danced her way onto the podium. She used to be a ballerina but revealed there was no money in it. She said she had been doing Back to the Future reunions for awhile but it was only recently that Tom Wilson (Biff Tannen) joined the group. For her role as Lorraine in Back to the Future, she auditioned in front of Steven Spielberg and he made her feel very comfortable. To play an 80-year-old woman, she was told to play it like an old lady on crack. She did say she kept the prom dress, shoes and earring from the first movie. She is currently trying to pitch to Marvel to direct a Howard the Duck movie.
Evangeline Lilly was there to promote her new children's book for ages six to 10 — The Squickerwonkers with the illustrator of the book, Rodrigo Bastos Didier. Her illustrator was a fan who met her at a Comic Con in Brazil and showed her pieces of his work that he felt described her characters in the book. His persistence and his time in helping her get a publisher in Brazil brought them to work together as a team. Evangeline said she loves acting but books have always been her passion. She admitted she always had a lot of male fans but when Ant-Man and the Wasp came out, she found herself with more female fans and is thrilled about the female empowerment in the film and how fans have been responding to it.
Stars from shows that are no longer on the air but who still had fans coming out in droves included Jennifer Morrison who played Emma Swan on Disney's Once Upon a Time and Paul Wesley and Ian Somerhalder from The Vampire Diaries. Morrison has moved onto directing a series called Fabled, which Paul Wesley happens to appear in. Ian Somerhalder is also working on another series and focusing on his foundation, which educates people about animals and the environment.
Mark Sheppard started Sunday off by arriving early for his panel and then greeting people as they came in with "stop gawking and find a seat." His sarcasm and humor had everyone in stitches as he walked around the room instead of sitting at the podium to answer questions right in front of the fans. He clarified that he did not leave Supernatural and had a great time doing it, but his contract was not renewed. He felt that the show was about the relationship between the two brothers and any other characters that came into the scene were secondary. He had fans that came up who said that Supernatural saved their lives but he said that we (the fans) were just a part of their lives, it's the connection with other people who loved the show and friendships made through the show that helped them feel that they were not alone.
Back to the Future stars Christopher Lloyd (Doc Brown) and Tom Wilson were in a panel together and Christopher allowed Tom to do most of the talking. Tom explained he didn't do conventions before because he didn't know what was involved and what he was required to do. He was busy writing and doing his stand up as his full time job. He did say that he was bullied as a kid because he was so small and sick a lot. Ironically, he grew enough to be able to play the part of bully Biff Tannen in the movie franchise.
Twenty-five years ago, a TV show called Xena: Warrior Princess graced our screens and Fan Expo this year hosted a reunion of the two stars — Lucy Lawless and Renée O'Connor — who both said they were lucky to work with each other. They remembered Kevin Smith, who played Ares in the series, who died in an accident in 2002, describing him as always trying different things and being more intelligent than people gave him credit for.
Lucy spoke of her love for Toronto, noting Kensington Market and Chinatown as two places she enjoys. Renée said she was at the Renaissance Hotel (now the Toronto Marriott City Centre Hotel) at the dome and when the dome would open, the whole hotel would shake and she thought it was an earthquake. Renée said she was intimidated by Lucy Lawless at first, because she knew how to speak so many languages. Lucy's response to this was that she learned several languages but can only speak one language.
Fan Expo has come to a close for another year, but before you know it, Toronto Comicon will be here, in March 2019! Photos and article by Joanne Chu-Fook.
---
---
---
Similar Articles
---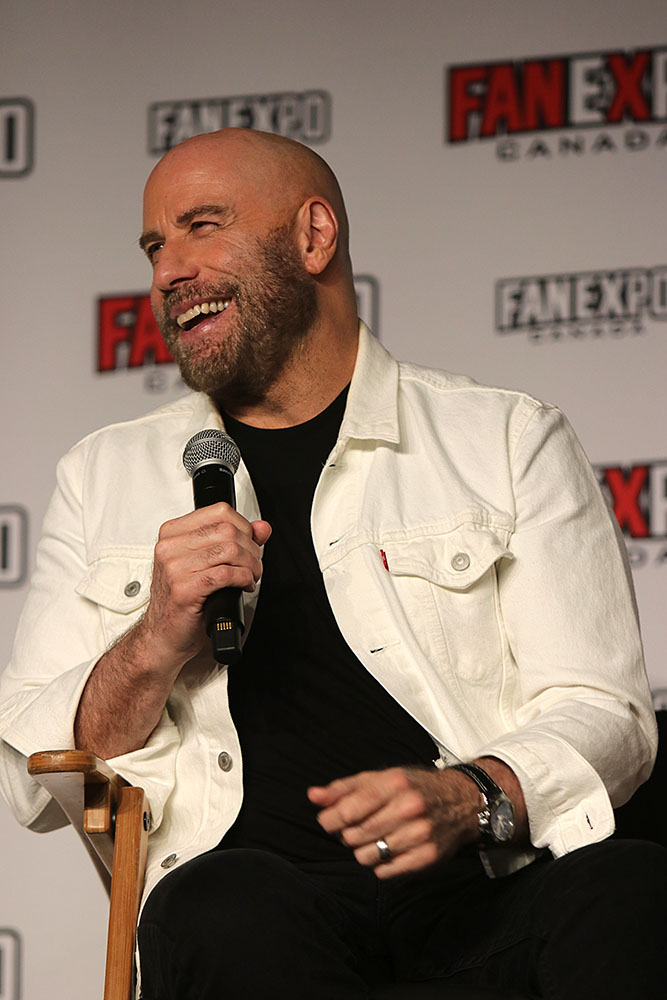 August 26, 2019 | Leave a Comment
Fan Expo Toronto came to a close on Day 4 with a flurry of Q&A panels to end off the convention including Pulp Fiction John Travolta and Twelfth Doctor Peter Capaldi.
---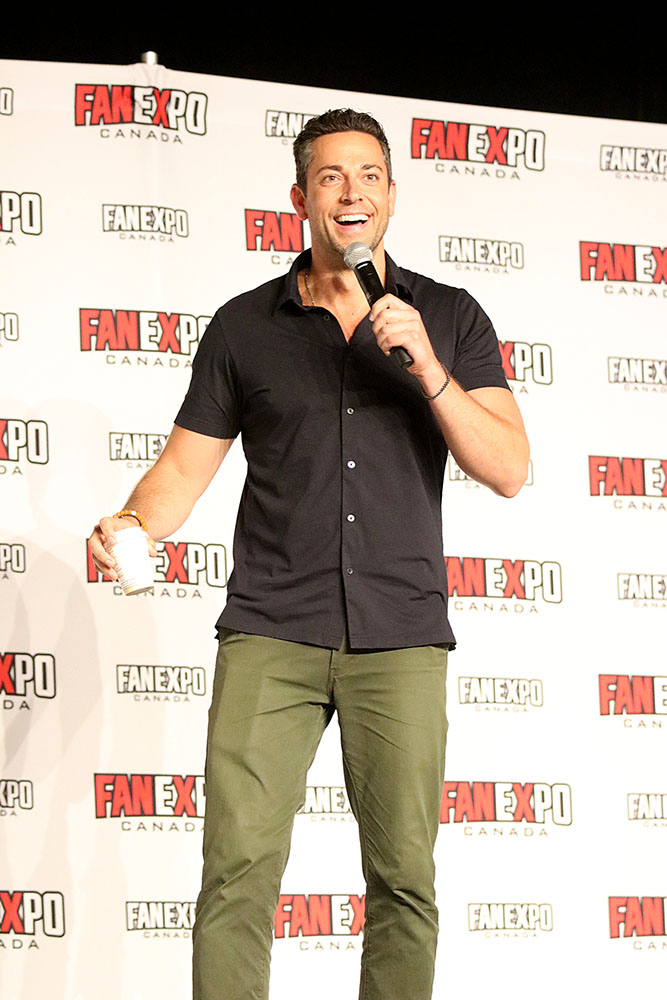 August 25, 2019 | Leave a Comment
The final Q&A panel that we covered on Saturday (Day 3) of Fan Expo Canada in Toronto was the hotly anticipated session with Shazam! and Chuck star Zachary Levi.
---