Fan Expo Day 3: Zachary Levi offers an uplifting panel
By Tribute on August 25, 2019 | Leave a Comment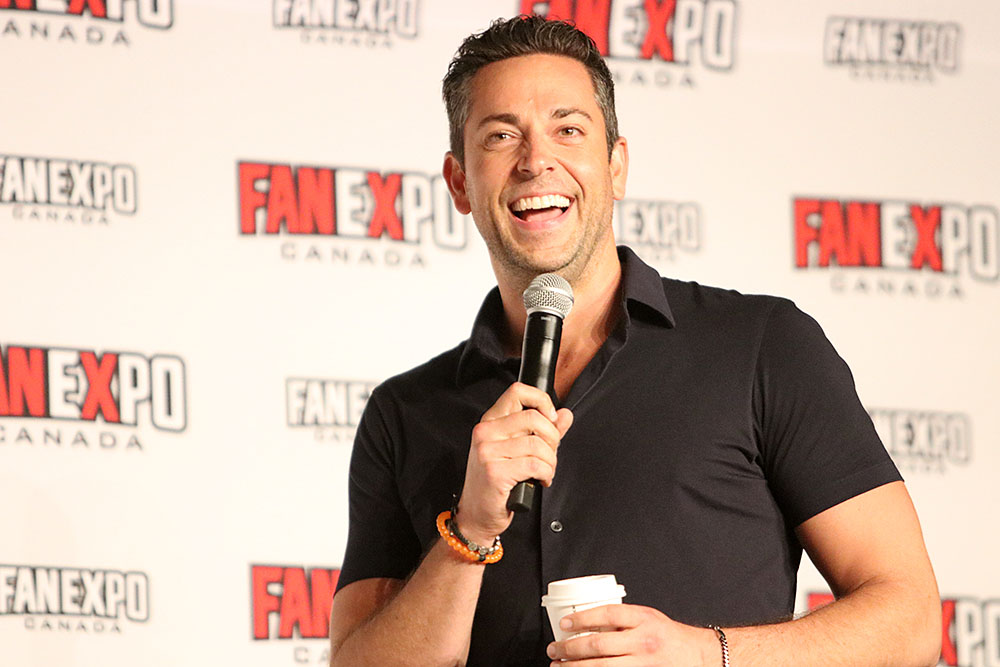 After a short break in-between Q&As we returned to the Cineplex Events Room 106 in the North Building for the highly anticipated Zachary Levi Q&A.
Returning for yet another appearance at the convention, Levi kept up his schtick of making it a self-moderated session, where he wouldn't just be relaxing in a chair.
Following his introduction by Entertainment Tonight digital reporter Morgan Hoffman, it became the Zachary Levi show, which ended up being both entertaining and quite heartfelt.
Levi opened up the Q&A panel by saying how he was excited he was to be back in Toronto after filming Shazam! here last year. He talked about how fun it was, but also lamented how cold the production was during the shoot and joked about how the suit did not help at all. Following that, he opened up the floor immediately for fan questions.
The first topic at hand was whether Levi preferred critical success over financial success, to which his answer was all about looking into the context of Shazam!'s release and understanding that given a number of factors, Shazam! was a success on many levels. The film may not have reached record-breaking levels like Avengers: Endgame, but for its character and its creative choices, Shazam! went beyond expectations in his mind.
He was then asked about how he gets himself into that youthful mentality for Shazam, or if that's just how he naturally is. Speaking truthfully, Levi says that's just how he is, but that that wasn't always the case, and the role of Shazam came to him at a great time, coming out of a darker period of his life. Levi was pretty candid in bringing up his struggles with his mental health, which would be a common through-line for his Q&A, as he stressed the importance of positivity and addressing your mental health, no matter how small or large an issue may be.
His honesty and commitment in talking about mental health definitely struck a chord with the audience as it elicited story after story from fans in line waiting to have their questions answered, as well as an endless drove of thanks and praise for bringing the topic into the light.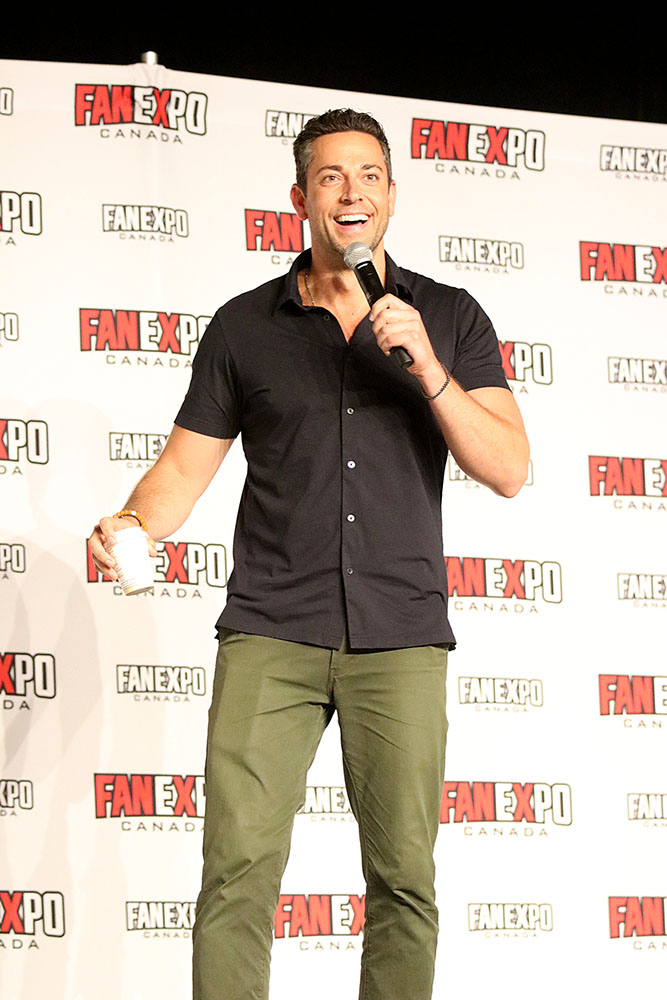 One of the more touching and heartfelt moments of the Q&A session was a father recounting the story of how watching Zachary Levi in Shazam! had such a profound impact on him and his family. The father's two children instantly became enamored with the actor, wanting to see more of him, which prompted the father to introduce his children to the action comedy series Chuck.
The children fell in love with the show and made it a point to only watch it with their father. Because of that experience, he thanked the actor once again for being who he is, and reminded him once again that he is loved and if he ever forgot it, to just think of his family, and every one of Levi's fans that he is loved by each and every one of them.
This exchange was genuinely moving, and combined with cheers from the crowd, it was evident on Levi's face that he was deeply touched by the story and the crowd's reaction.
Another fun moment with the crowd involved a local music student who asked if Levi would perform the song "I See the Light" from the Disney animated film Tangled. Though a bit shy at first, having never sung for a live audience on the spot before, Levi granted the fan's wish and together they performed the song, much to the crowd's delight. Additionally, later in the panel, a fan performed a quick magic trick for him and the crowd, in a continued display of willingness and joy to interact with his fans.
Zachary Levi's rapport with the fans made for one of the most entertaining panels in recent memory, and his desire to get as many questions answered as possible, even with time running short and much to the annoyance of his staff, showed just how much he deeply cares for the people he entertains. Time after time he would circle back to the themes of love, self-love and care, in an effort to truly embody the love, joy and enthusiasm that have come to truly define Zachary Levi as a person and actor.
With that, Levi ended off the day on quite the positive note as fans departed the hall, having experienced such an engaging and uplifting experience.
Fan Expo continues today with a few more anticipated panels to close out the event. Doors open at 10:00 AM and close at 5:00 PM. ~Paolo Maquiraya with photos by Joanne Chu-Fook
---
---
---
Similar Articles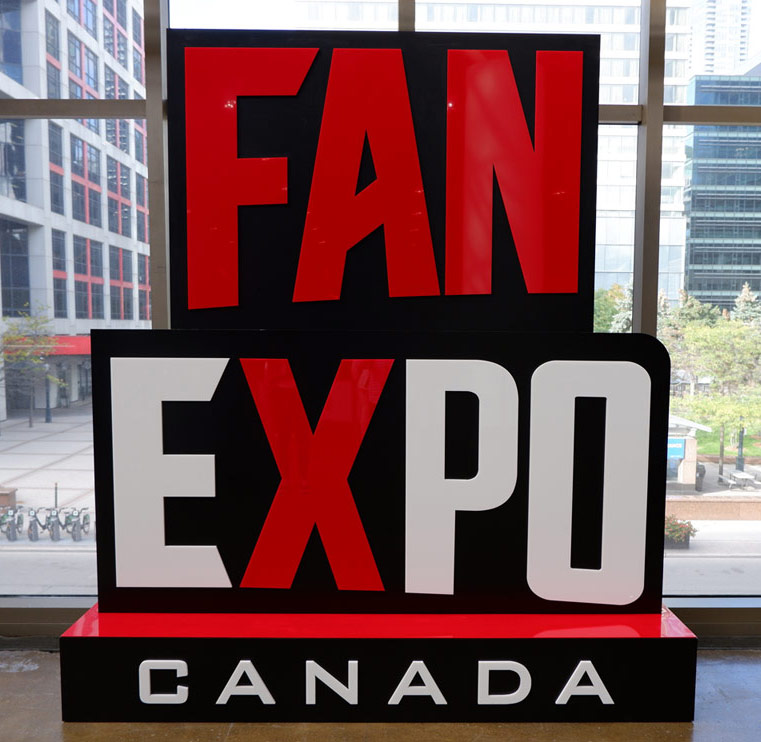 October 24, 2021 | Leave a Comment
Fan Expo Canada 2021 was a huge success, with appearances by stars such as William Shatner, Robbie Amell, Stephen Amell, Katie Cassidy, James Marsters and more!
---

October 21, 2021 | 1 Comment
Fan Expo Canada opens this weekend in Toronto, with a number of celebrity guest appearances from Trailer Park Boys, Justice League, Star Trek, and many more!
---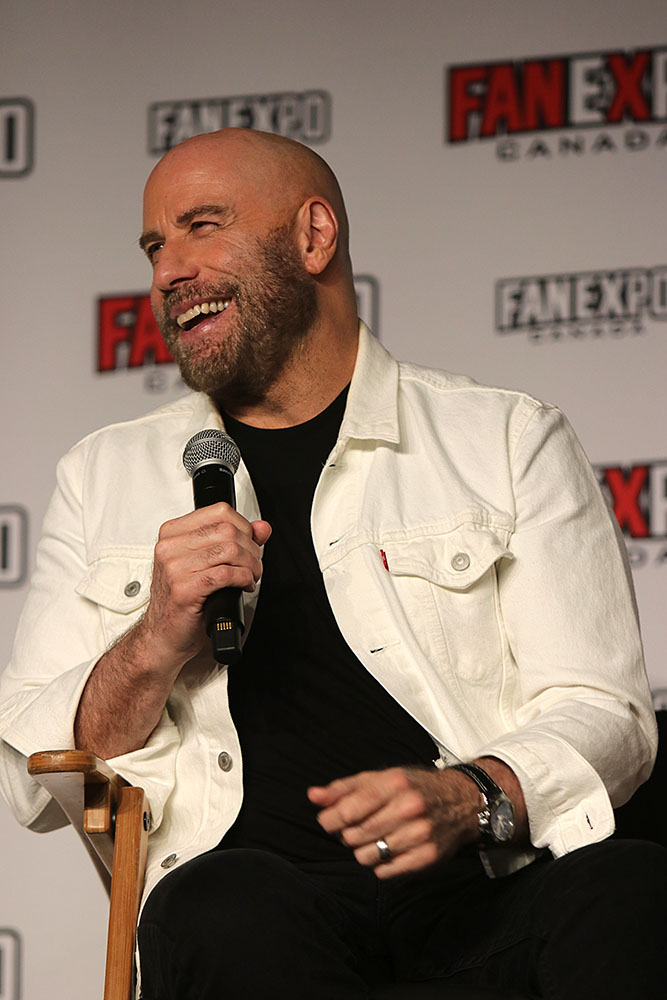 August 26, 2019 | Leave a Comment
Fan Expo Toronto came to a close on Day 4 with a flurry of Q&A panels to end off the convention including Pulp Fiction John Travolta and Twelfth Doctor Peter Capaldi.
---