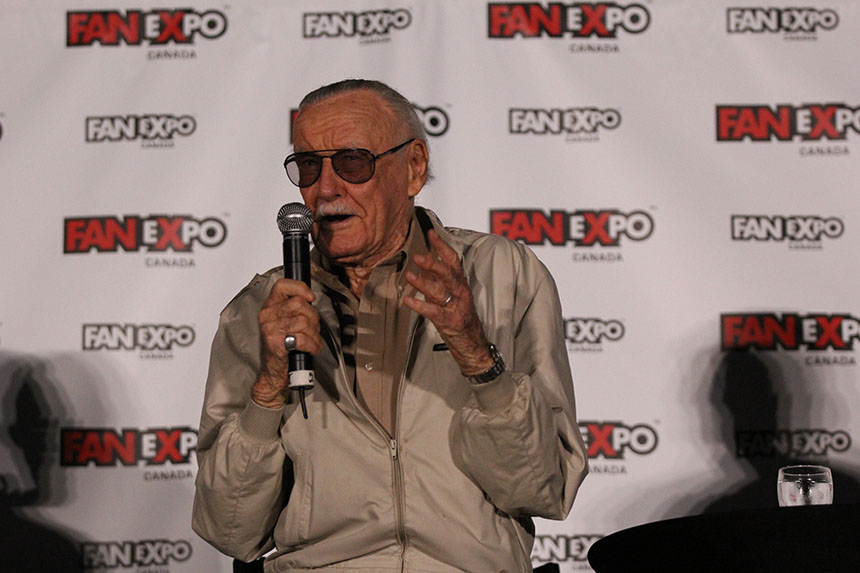 We're off to an excellent start!
Our writers Yanis Khamsi and Natalia Makarski attended Fan Expo's opening night in Toronto Thursday. The convention brings the best in the world of nerdom to the city of Toronto every year. Read on to read about The Exorcist star Linda Blair's panel, and Marvel comics legend Stan Lee's panel. Stay tuned, we'll have coverage every day of the convention, both on our site and across our social media.
Linda Blair, the actress who played the famously possessed child in the cult classic horror movie The Exorcist, held a Q&A session on Thursday. As she called her time with the audience their "private time," no photography was allowed. While the audience did not get a chance to ask questions, she did discuss how she was chosen for The Exorcist due to her being one of the few children who could withstand a year and a half of heavy makeup, harsh temperatures, and time-consuming prosthetics. However, Linda mainly came to Fan Expo to raise awareness for her true passion – her charity, Linda Blair WorldHeart Foundation. Using her status as a public figure, she is devoted to using the charity to rescue and rehabilitate abused or abandoned animals.
Stan Lee was scheduled to appear at 8 p.m., but the conference room was packed an hour beforehand. Stan himself was awed by what must have been an audience of at least a thousand. The 93-year-old former Marvel president greeted the fans with trademark "Greetings true believers!" He then admitted he didn't know what the believers believed in, but one day we would find out. Until then we're true believers, according to Lee.
The most shocking moment of the Q&A session came when Stan Lee, a man known as an optimist who likes most everything, criticized the 2005 Fantastic Four film. Lee said he was disappointed with how the film depicted Doctor Doom (Julian McMahon). In the comics, Victor Von Doom's face becomes horribly mangled and disfigured when he — along with what will eventually become the Fantastic Four — are exposed to the harshness of outer space. This leads Victor to wear a mask, and eventually become the evil Doctor Doom comic fans continue to love to the this day.
In the 2005 cinematic version, Victor only sustains a mild scar, hardly calling for a mask. When asked about the 2015 Fantastic Four movie, Lee joked the movie would not have flopped had he made a cameo.
Stan Lee has no problem with Zendaya playing Mary Jane, as he has stated previously. He reiterated his position at Fan Expo. "My only question is: what's the problem?" he asked. "She's a great actress, and she's beautiful, so what's the problem?"
Mary Jane Watson is dear to Lee's heart. He still loves the moment where Peter Parker meets Mary Jane Watson in the Spider-Man comics. Peter is set up on a blind date with Mary Jane by his Aunt May. Peter doesn't expect much, but when he opens the door, he sees a woman Stan Lee described as more beautiful than Marilyn Monroe. "Face it tiger, you could have done worse," Mary Jane tells him.
Lee spoke at length about how excited he was for Doctor Strange. He lit up when talking about the movie and the character in general — he joked that he should have played the Doctor, since he considers himself "strange enough." The jokes kept coming as Lee suggested DC should let him write their movies when a fan asked if DC would ever have a critically acclaimed movie.
Stan Lee spoke for almost an hour, graciously entertaining fans and press alike. He concluded the chat with "Excelsior" — another one of Lee's many signature catchphrases. ~Yanis Khamsi and Natalia Makarski with photos by Joanne Chu-Fook