Fan Expo: Day Three Roundup with John Barrowman and Hayley Atwell!
By Tribute on September 4, 2016 | 1 Comment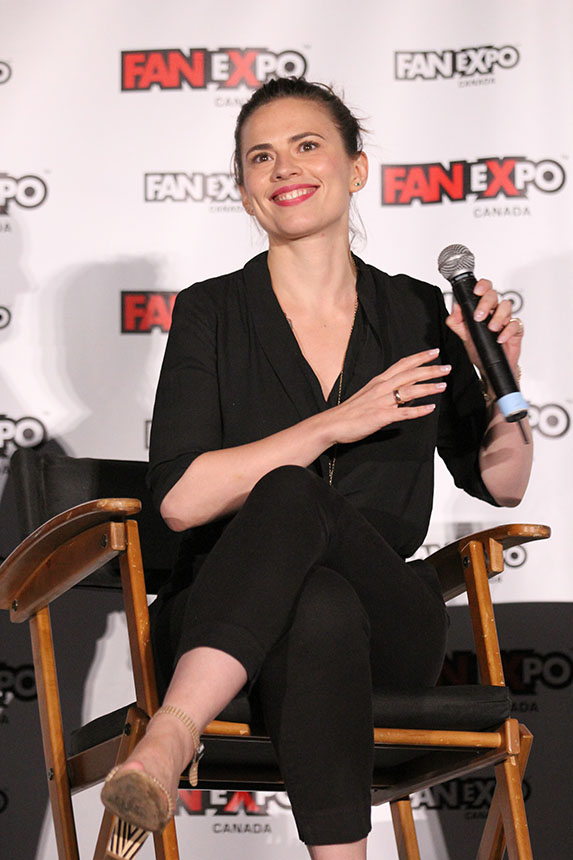 Another day, another exciting round of celebrity Q&A panels at Fan Expo in Toronto.
Our team members Yanis Khamsi and Natalia Makarski returned to the event on Saturday and covered the entire action-packed day.
Read on to see exclusive interviews, coverage, and photos from day three of Fan Expo.
John & Joan Cusack
Celebrity siblings John and Joan Cusack answered some questions and revealed some truths today, such as comedy being their preferred genre of movie to act in, Woody Allen being their favorite legend to work with (as he writes the best scripts in the world), and how working in show business is easier for Joan than parenting. We also found out that John enjoys helicopter snowboarding, and their favorite movie experience was shooting War, Inc. because it was weird to film in Bulgaria, but an honor as well.
American Horror Story: Freak Show
At the American Horror Story: Freak Show panel, Naomi Grossman (Pepper), Mat Fraser (Paul) and Erika Ervin (Amazon Eve) all offered some insight into the show. The close knit cast talked about becoming a "surrogate" family, with Kathy Bates as their mother figure. Naomi discussed her last season on the show and her process of getting into her pinhead character Pepper. She did her homework by watching Tod Browning's 1932 horror film Freaks to imitate the gestures, walk and voice of a pinhead. For Mat's favorite scene, he said it was his bed scene with Jessica Lange, because he got to show his butt. None of them know anything about the future of season 6, or if they'll be returning, but said there will be a seventh and eighth season.
John Barrowman
The hilarious John Barrowman panel felt more like a comedy show, chock-full of sexual innuendos and teasing the audience. The actor talked about how his mother-in-law discovered an Internet video about his husband Scott's penis, and said his favorite kiss scene was with David Tennant at Comic-Con. When asked if he'll return to Doctor Who, he responded that he was never asked back, and that a person in charge "may be blocking some people from coming back." But the actor showed his serious side when he gave advice to young actors. "If you really want to do it, do it. Commit to it and don't half-ass it. Get the training, study. Don't treat it as a hobby but as a job. Don't waste anyone's time," he advised.
Hayley Atwell
The line went on for miles! Feet were aching, costumes sweaty, but spirits were high — for soon the fans would meet the woman of the hour. Hayley Atwell, who plays Peggy Carter in Captain America: The First Avenger and the ABC series Agent Carter, greeted an audience of at least a thousand with a message of positivity and self-love. We asked her about her secondary school bullies, to which the Agent Carter star playfully responded, "Look at me now!" She encouraged those struggling with bullying or self-doubt to embrace self-love, saying that becoming your own best friend is the key to happiness.
As for Agent Carter, Hayley told the audience she regrets that Angie (Lyndsy Fonseca) was not more involved in the show's second season. "Peggy needs Angie because she's not afraid of friendship, she's not afraid of emotional connection…she can make Peggy feel safe," she said. Hayley teased that if there had been a third season, it would have further explored Peggy's brother Michael, and whether or not he's still alive. Still, Hayley is pleased the show ended with the presumption that Peggy's husband will be Daniel Sousa (Enver Gjokaj). She thinks they're a great fit, and that Enver is one handsome fellow. Hayley Atwell now stars in the legal drama Conviction, which premieres Monday, Oct. 3, 2016 on ABC.
Kate Mulgrew
Star Trek: Voyager and Orange is the New Black star Kate Mulgrew was outspoken, as is her style. She opened with "J'adore Toronto," telling the audience she wanted profound questions. "Talk about God, talk about sex," she said.
Kate said Star Trek: Voyager is a metaphor for the human condition. In the show, a crew is stranded in the far reaches of the galaxy. "I think it's a metaphor, I think it's that simple… I think we are all lost and we are all trying to find one another." She spoke at length about how hard she worked on the show. "I carried Voyager," she said.
Kate played Captain Janeway, the first female captain in a Star Trek series. When producers tried to get Kate to stuff her bra, she put her foot down. There would be no more. "Let me tell you something about Star Trek," she said. "What they love is someone who understands command." Kate knew the show's male fan base didn't want a captain with a stuffed chest, they wanted a great captain. She also refused to have Janeway sleep with anybody, telling producers, "I'm not sleeping with anybody… there will be no sex in my ready room!" The audience cheered.
Fans of Orange is the New Black were entertained by Kate's Russian accent. Apparently her character Red was initially supposed to have a subtle accent, but Kate had other plans and insisted it be thick.
She concluded her panel by praising Star Trek fans above all others. "I'm not stupid," Kate said. "I find the intelligence of the Star Trek audience to surpass that of any audience I have ever seen."
Alan Tudyk
Alan Tudyk, actor in the upcoming Rogue One: A Star Wars Story, woke up at 4 a.m. to get to Fan Expo, and even came wearing merchandise from his own show Con Man because his washer broke and he had nothing fancier to sport. As the writer, director, and star of the web series, he discussed the show, which is going into its second season, and now has its own game in the app store. The actor was appreciative of his fans, giving them hugs and even giving signed "gifts" to those who asked questions. Gifts ranged from his signed hotel room key to a signed bag of chocolates, and even included his ziplining brochure from Hawaii. For fans of Tucker and Dale vs. Evil, he said, "I don't think there's going to be a sequel." He confessed that he received scripts, but they didn't satisfy him.
Freema Agyeman
Fans of Dr. Who were elated when Freema Agyeman, known to Dr. Who fans as Martha Jones, took to the stage for the last Q&A panel of the day. She answered fan questions, most of them pertaining to Dr. Who, as well as her passion for the craft of acting in general. ~Yanis Khamsi and Natalia Makarski
Check out our amazing Fan Expo gallery below! (Photography by Joanne Chu-Fook)
---
---
---
---
Similar Articles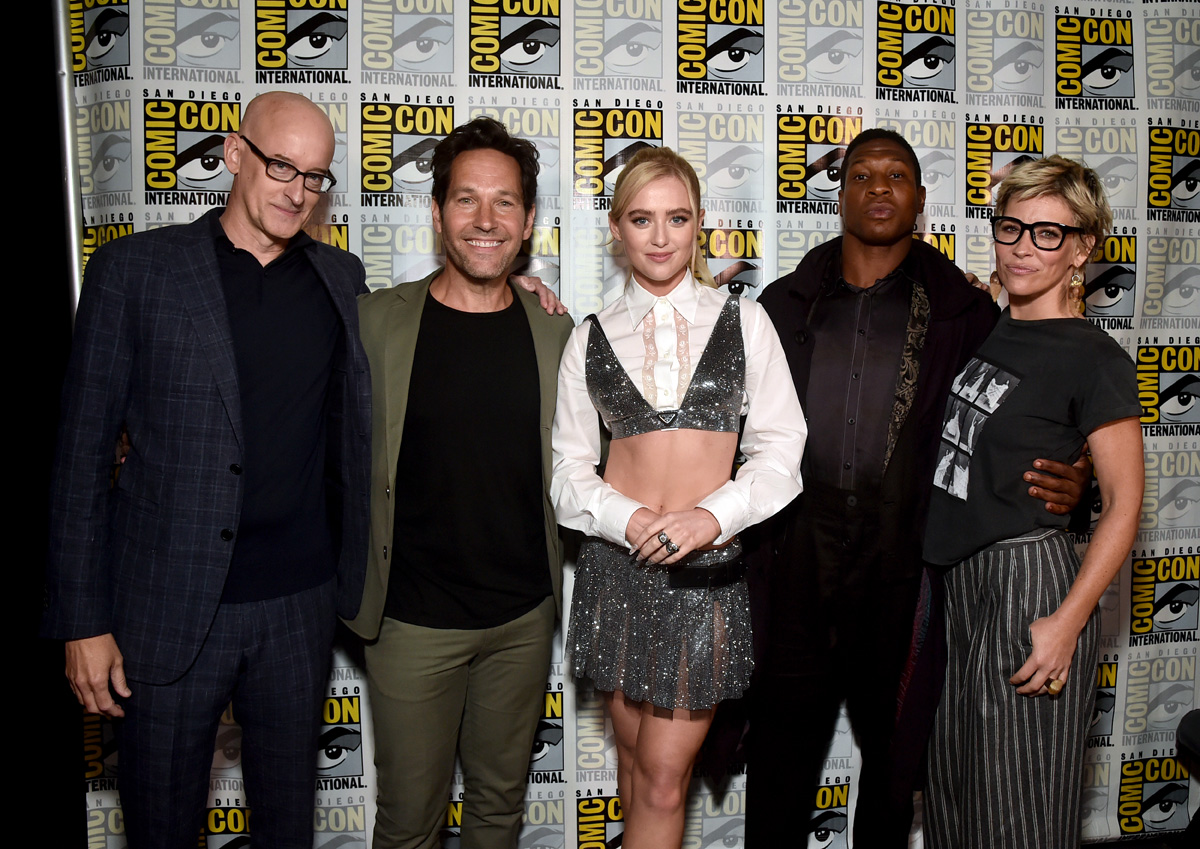 July 25, 2022 | Leave a Comment
Marvel Studios announced their upcoming movies at Comic-Con San Diego, including She-Hulk: Attorney at Law and Black Panther: Wakanda Forever. Click to see more.
---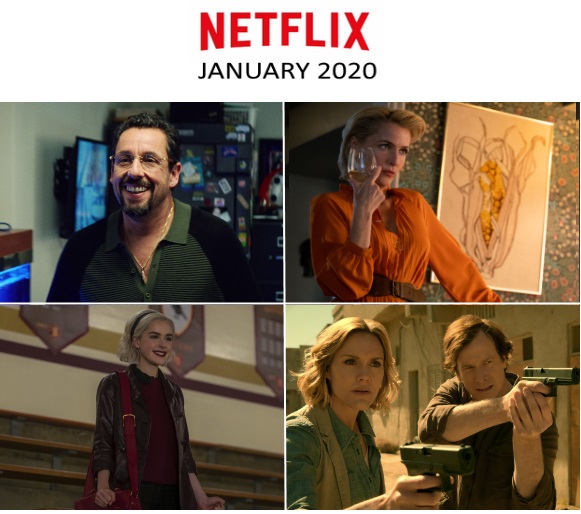 December 20, 2019 | Leave a Comment
From Uncut Gems to Chilling Adventures of Sabrina: Part 3, January 2020 has a lot of interesting films and series to watch to your heart's content. Click here for more!
---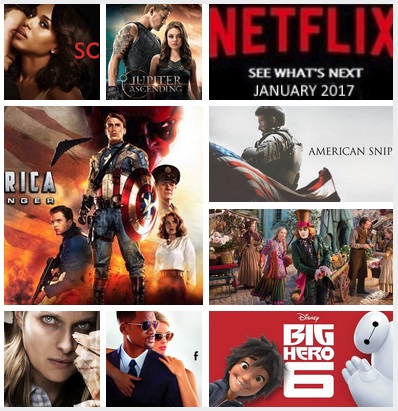 December 31, 2016 | Leave a Comment
With the new year days away, how about we plan your binge-watching schedule in January? There's new series, movies and Netflix originals to choose from!
---