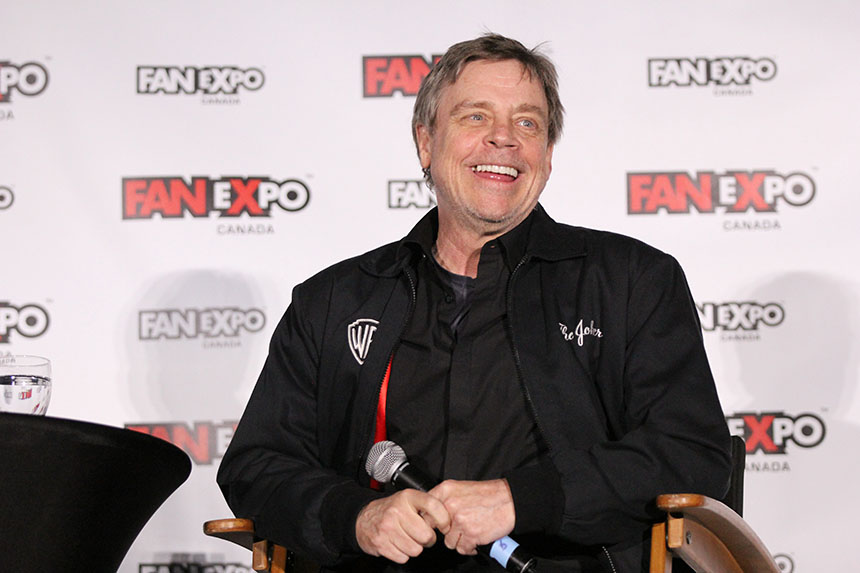 It's been an unforgettable weekend of celebrity interviews, creative cosplays and revelatory Q&A panels at Fan Expo in Toronto.
Our team members Yanis Khamsi and Natalia Makarski returned to the event on Sunday. Check out their coverage (with photos).
Vikings Screening with Clive Standen
Fans of Vikings were treated to an advance screening of the show's third season with the star Clive Standen in attendance.
Frank Miller
Famed comic book writer Frank Miller held a panel discussion Sunday morning. He first explained to his fans what made him get into the business: "I had to get into comic books because I couldn't hold down any other jobs." He was fired by his own father as a bus driver, and even as a janitor. However, it was time to break into comic books because there weren't many people in the industry. When he was growing up, his biggest influences were Jack Kirby and Steve Ditko, and the most under-appreciated is Eduardo Risso D. Frank discovered an interest in Japanese comics (manga) through a friend's father who went to Japan, and Frank was enchanted by the artwork. For what he wants to do next, he said, "Just about everything there is. Next, we'll return to Sin City." He also has an itch to explore more historical work along the lines of 300, and he's got a WWll Superman story that will reexamine Superman's Jewish origins.
Katie Cassidy
In the panel discussion for Arrow, actress Katie Cassidy told fans she had no idea the show would become so successful, but that she was very excited to play Laurel Lance a.k.a. Black Canary. Not only did Katie want to play more action roles, but she liked that Laurel was the grounding part of the show and its heart. She liked how her character was parallel to the superhero side, and that she was driven, independent, strong, and thought it was cool to turn into a superhero later on. Although she has said goodbye to Arrow, Katie has a deal to go across three other DC shows. She doesn't know if she'll be Laurel or the villain Black Siren, but said she'd be glad to come back in any way possible.
Ben McKenzie
The fans were particularly jittery lining up for this panel, especially the female fans. The knees of one young woman at the front of the line simply couldn't stop shaking. At one point she consciously tried to slow down her breathing.
When Ben McKenzie, famous for playing Ryan Atwood on The O.C. and now Jim Gordon on Gotham, took the stage, the crowd of nearly two thousand let out a deafening scream. "This is my first Fan Expo ever," he nervously admitted. Ben was noticeably intimidated by the fervor of the crowd.
Fans of The O.C. were delighted to hear that unlike Ryan, Ben loves the holidays. Thanksgiving is his favorite. He also revealed that Ryan's love of the rock band Journey was written into the show because of Ben's real-life love of Journey.
Things got awkward when a fan praised Ben's voice as being able to make women "tingle" in particular places. The ear-shattering roar from the female fans seemed to concur with the compliment. The fan then pointed out that the female moderator's legs were closed. Ben joked she should keep her legs closed. "Thank you for your flattery," Ben told the fan.
On the subject of Gotham, Ben told fans Jim Gordon comes with challenges. Ben plays a young Jim Gordon, a character never fully explored in the comics. Jim has always been known to fans as the elder police commissioner of Gotham. Ben says he was told to "just make it up as you go along."
Ben is in the middle of shooting season 3 of Gotham. He compares it to The Purge, and says there will be an election in Gotham. One candidate will run with the slogan, "Make Gotham Safe Again," an obvious allegory for Republican Presidential candidate Donald Trump's slogan.
When asked if iconic D.C. villains Bane or Harley Quinn will appear in the show, Ben appeared unsure of how to answer. He did not deny their involvement in the series.
George Takei
George Takei is so much more than Hikaru Sulu from Star Trek. He is a survivor of human rights violations and an icon in the LGBTQ community. The 79-year-old actor greeted the audience with his signature, "Oh My!" (in his stylistically elongated fashion).
George told the audience his story. When he was five years old, he and his family were put into an internment camp simply because they were Japanese-American, and America was at war with Japan. "They took our homes, our parents' business… And then they said we're free."
On the subject of Star Trek, George said he was confident in the series from the word 'go.' "Well, with this series I smell quality. I smell something that we're going to be proud of…that means we're going to last one season." He joked that all of his favorite shows were cancelled in those days.
He thanked the older Star Trek fans in the audience most of all. "Those original fans procreated like tribbles [fictional rodents from the show] and now they're bringing their grandchildren to the conventions." This year is the 50th anniversary of Star Trek, and George is humbled the fandom has been so kind to him for 50 years. "Thank you for this 50th birthday that you've given us," he said. George encouraged the younger fans to procreate so that the hundred year anniversary of Star Trek will also be celebrated.
While George was flattered Star Trek Beyond decided to honor him by making his character Sulu (now played by John Cho) gay, he felt it was the wrong decision. George thinks the 50th anniversary of Star Trek should honor Gene Roddenberry, the series' creator. While George insists Gene was an LGBTQ advocate, he adds that Gene never intended for any of the characters to be gay. George fought the decision to make Sulu gay, but he is depicted as having a husband in the film, nonetheless.
These days, George is fighting for gun control in the United States. "We've got to get some rationality into gun control," he said.
George's favorite question was about how he got started in activism. He says he read civics books as a child, and quickly learned that his experience in internment camps contradicted everything the United States stood for. The experience of being in a camp made George the activist he is today.
Morena Baccarin 
Morena Baccarin, who was recently in Deadpool, talked to us about the film, as well as answered fans' questions. One fan asked for her reaction to Wash's death in the film Serenity, and she said, "We were all shocked and appalled, but when it comes to Joss [Whedon], everyone kind of dies." When asked how she managed to succeed without being discriminated against as a woman, she thinks it "depends what roles you choose to take. You don't often choose your jobs, but you can choose what you don't do." For her weirdest fan experience, she said that since Deadpool, she's had quite a few ring pop proposals. Morena's  favorite scene in Deadpool is the bar scene where she and Ryan Reynolds are one-upping each other on terrible life events, and Ryan would make up such bizarre things that when she's laughing in the film, it's genuine. As for if she thinks more R-rated movies will be successful, she said, "Definitely. Everyone is trying to come with a formula, when there is none." She said that the film succeeded because it's honest, and it simply makes fun of itself.
Kevin Conroy & Mark Hamill
The crown jewel of the entire convention. More than three thousand fans packed into one auditorium to hear what many of them called the "voices of my childhood."
Kevin Conroy and Mark Hamill are the definitive voices of Batman and the Joker (respectively) in all animation and video games. The crowd let out the loudest scream of the entire convention when Kevin introduced himself with the iconic, "I am vengeance. I am the night. I am Batman."
"And I'm another person in the room," said Mark Hamill, most famous for playing Luke Skywalker, the main protagonist of the original Star Wars trilogy. Mark was downplaying his iconic stature and this had the audience laughing. The actor has just finished filming Star Wars Episode VIII.
Both men said they were happy with their experience in Canada. Mark called Canadians "the nicest people." He also called Prime Minister Justin Trudeau "pretty cool."
Kevin told the audience he was not familiar with Batman, and that it was Mark who was the comic book guru of the cast of Batman: The Animated Series. Mark says he didn't think he'd even get cast as the Joker, as the idea to cast Luke Skywalker as the Joker would be a "PR nightmare." When the show's producers heard Mark's iconic Joker laugh, they had found their man. Mark says his laugh came from years of playing Mozart in the Broadway production of Amadeus.
Batman: The Animated Series was mostly recorded with all of the actors in the same studio. The actors loved recording like this. Kevin said he would sometimes record inappropriate takes to make the cast laugh. Mark described Kevin's voice as being like a neck massage.
Kevin said Mark "literally embodied the Joker. He's devouring the microphone." Mark said he was embarrassed to see footage of himself recording the Joker, likening his "embodiment" to that of a psychopath.
For one reason or another, fans kept wanting to show Mark Hamill their impressions of his voices. The audience was not impressed, but Mark kept it together and thanked them anyway. "The idea of kids on the playground imitating me gives me a pleasure I cannot describe," he said. Imitating voices has been a lifelong passion for Mark, and he was happy to hear his fan's impressions regardless of their accuracy.
The two talked about the controversial Batman: The Killing Joke. The Joker does things in that movie that are horrific, hence the R-rating. When Mark finally saw the finished product, he told the audience, "It just weirded me out." Kevin added, "Not all animation is for children." He thinks the R-rating was the best way to tell the story, though he was taken aback by the film's first act. Mark also acknowledged the criticisms that the first act was misogynistic; he was noticeably uncomfortable discussing the film.
Kevin said he was a fan of Ben Affleck's performance as Batman in Batman v Superman: Dawn of Justice, though he was critical of Batman's decision to kill.
Although neither of them has seen Suicide Squad, Mark says he's never seen a Joker he didn't like.
The two ended their panel by restating their deep respect for one another. "Mark is someone who understands that the better I am, the better he will be," Kevin said.
"He's my Batman," Mark said about his co-star. "There's Kevin and then there's everybody else."
~Yanis Khamsi and Natalia Makarski/Photography by Joanne Chu-Fook.