Fan Expo Friday panels and stars
By Marriska Fernandes on September 5, 2015 | Leave a Comment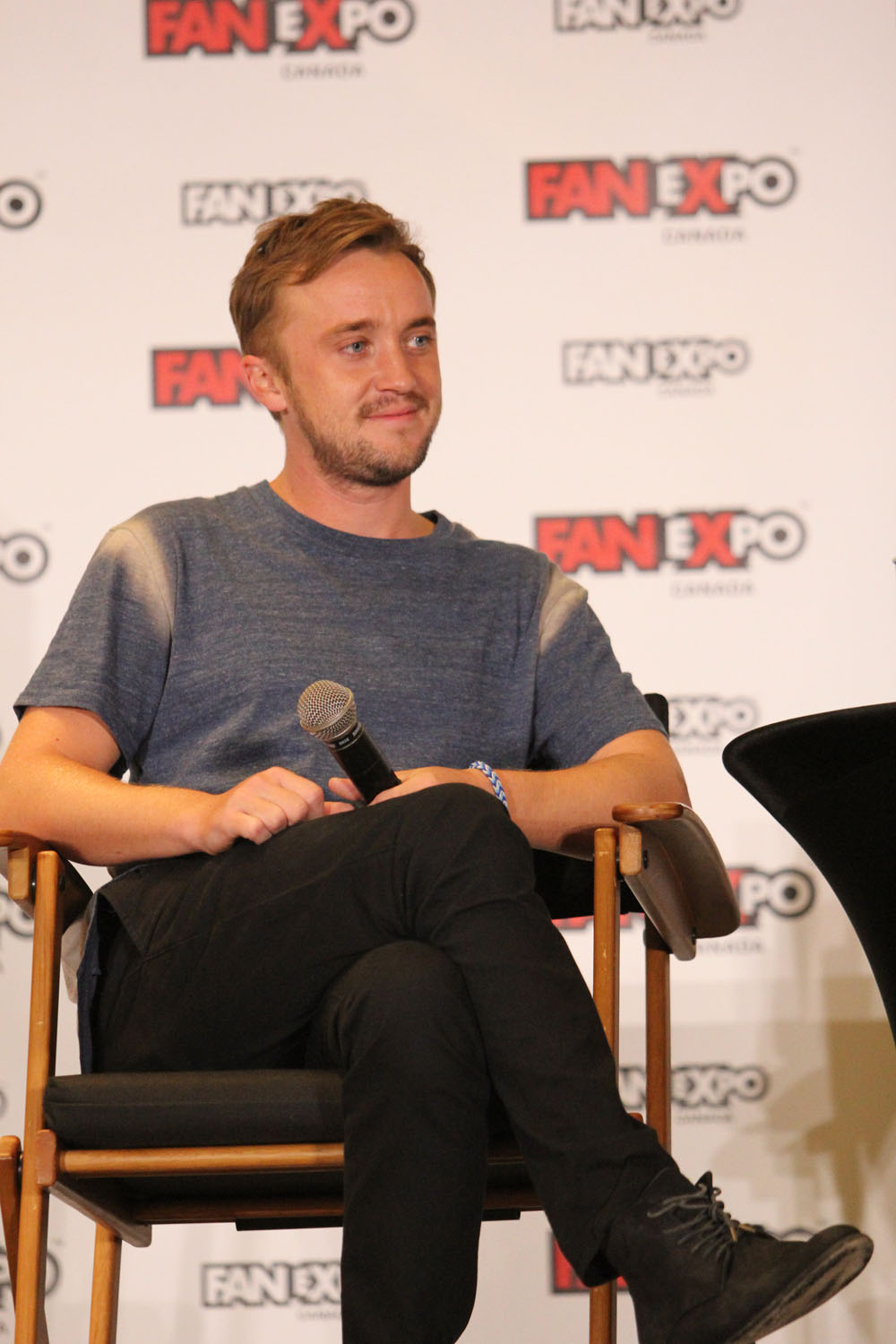 Day Two of Fan Expo proved to be full of changes. Willa Holland of Arrow cancelled her panel and photo ops; Tom Felton's panel that was scheduled for Sunday got bumped to Friday morning and Billy Dee Williams got bumped to the afternoon. Be sure to download the Fan Expo app to get your up-to-date changes on panels and guests.
Tom Felton, who is best known for playing Draco Malfoy in the Harry Potter movies, started off the day of panels. Tom spoke about his recent visit to Universal Studios in Japan where he thought it was cool to see the replica of Hogwarts. He tried the butter beer and found it very sweet and felt like he was drinking a thousand calories. He told fans he enjoyed playing Draco, saying, "There's something about playing a slimy, little git that's fun."
He said that Rupert Grint (Ron) often got a case of the giggles while filming and said that the transition from Richard Harris to Michael Gambon as Dumbledore was a smooth one. While Harris had a powerful voice, Gambon made everyone laugh and tried to keep the mood light. Fishing is still a big hobby for Felton, and he has fished by the St. Lawrence River and in Vancouver. He expressed his love for Canada.
The Queen of Cosplay, Yaya Han, came out dressed as an Assassin's Creed character, with full hood and armor. She quickly began answering questions from the audience, giving tips and tricks for creating your own costumes. She related her experience in sewing, wig making, body painting, and armor painting. She delved into issues related to heavy costumes and how to manage the bathroom breaks. Her advice about stilettos is to avoid them if possible due to balance issues in heavy costumes. Her main message to her fans and amateur cosplayers was to create their costumes their way, because there is no right or wrong way to bring a costume to life.
Karen Gillian, most famous as Amy Pond on Doctor Who and Nebula in Guardians of the Galaxy, opened up with a tidbit that although the second Guardians of the Galaxy script has not yet been started,  she is coming back and joked that she may not be bald. She said it was not hard to switch from doing Doctor Who to Guardians of the Galaxy because it was the same genre. She was nervous taking on a big film but once she was in the spaceship, she said, "Oh, I know how to do this!"
She loved David Tennant as the Doctor. While watching them film the episode "The Fires of Pompeii" where she played the Soothsayer, she thought David and his co-star, Catherine Tate, had such cool jobs, not knowing she would later be a companion to the Doctor in the future. She said Amy is a much cooler version of herself because she is sassy, sarcastic and has an attitude. She joked that if she worked with Peter Capaldi's version of the Doctor there would be a lot of "Scottish" on set.
The disappointing news was that Billy Dee Williams would not be in the new Star Wars movies. He is best known for his portrayal of Lando Calrissian, but Williams has had a career that has lasted over 50 years. He enjoyed working with George Lucas and loved the idea of playing a charming rogue.
However, he said that when he would pick up his kids from school when Star Wars: Episode V – The Empire Strikes Back first came out, the kids in the playground would surround him and shame him for betraying Han Solo. He joked that people still come up to him and shake their heads at Lando's betrayal. Lastly, he said that the Millenium Falcon was his back then and still is now. Billy Dee Williams has an art exhibit on September 6 in Yorkville at the Liss Gallery.
Nearly 20 years since the release of the first Scream film, there was a cast reunion of sorts. Neve Campbell, Skeet Ulrich, and the actual voice of the ghost-face killer, Roger Jackson, were all reminiscing about their time on set with director Wes Craven. They told stories of Craven's passion and dedication to the film, as well as his caring for the actors. When Scream was made, it was quite different than other horror films – there was no supernatural element, and it created and made fun of the established rules of horror. The films used mostly practical effects, which Neve prefers over CGI effects used in modern day horror films. Roger Jackson's voice is one you have likely heard somewhere in animated films or possibly games, but he is most well known for his lines in the Scream films.
Graham McTavish, best known for his portrayal of Dwalin in The Hobbit and Dougal in Outlander told stories of working on The Hobbit. He mentioned his costume weighed 70 pounds and he started training for The Hobbit before anyone else started training. The Hobbit was one of the most physically demanding movies he has done. He said that Peter Jackson collected a lot of things from the war – such as machine guns and tanks – that he kept in a warehouse. He even had the original car from Chitty Chitty Bang Bang and it still plays the music when you drive it around.
At 72, Malcolm MacDowell is full of energy, and has a career as long as any in the business. His film career started in the '70s with hits such as A Clockwork Orange, directed by Stanley Kubrick. He also appeared in Star Trek Generations, where he actually killed Captain Kirk. He has also starred in countless other movies of questionable quality, such as Cyborg 3. When asked why he takes such roles, he answered that he always looks forward to the next project as long as it keeps him working, so he can pay his mortgage. He, therefore, doesn't a favourite role. He enjoys them all in some way and brings life and humility to every character he plays.
With his irreverent humor, Malcolm talked about his upbringing in Liverpool, England, when the Beatles were just making it big. He talked about his "brother" Gary Oldman, who was inspired by MacDowell to become an actor after watching him in Raging Moon. He himself was inspired to act after watching Albert Finney. His television roles are long and distinguished – from his recent work on Entourage and Heroes, to the three hours he spent doing voiceover work in a South Park episode. Quite possibly the most entertaining celebrity talk of the day, he engaged and challenged the audience to ask him only smart questions, and the fans in Toronto did just that.
Orlando Jones started as a writer before he became an actor, writing for A Different World, Sinbad and MADtv. He had the fans in stitches at his panel, proving that he was an all around funny guy beyond the sketches that he writes and acts out. He came from a sports background but decided he wanted to act. His family held an intervention but he left for Hollywood and said he was incredibly blessed to be working as long as he has.
Orlando said he loved working on Evolution with David Duchvony and Julianne Moore, who were both funny. While working on The Replacements, which was filmed in Baltimore Ravens stadium, it was 102 degrees F and with the aluminum seats reflecting the heat it got even hotter, so that he got second degree burns. They had to stop filming for four days while his skin healed. Orlando said that strange things happened on the set of Sleepy Hollow – very scary things. Still a great comedian, he is doing a stand up comedian act at the Comedy Bar on Saturday night at 9:40 p.m. ~Photos and article by Aaron Marcovitch and Joanne Chu-Fook.
---
---
---
Similar Articles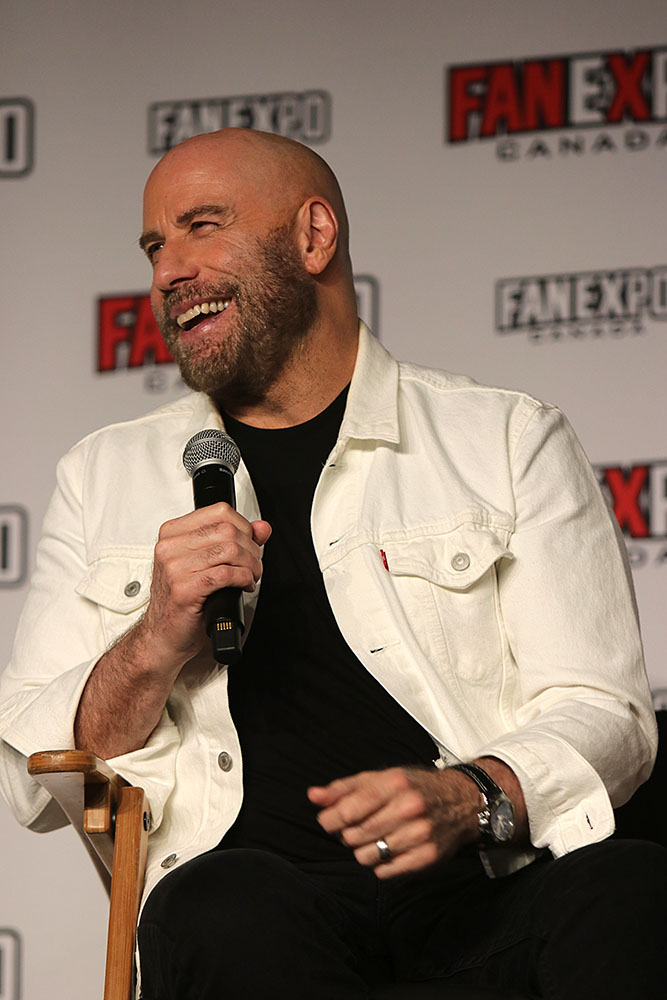 August 26, 2019 | Leave a Comment
Fan Expo Toronto came to a close on Day 4 with a flurry of Q&A panels to end off the convention including Pulp Fiction John Travolta and Twelfth Doctor Peter Capaldi.
---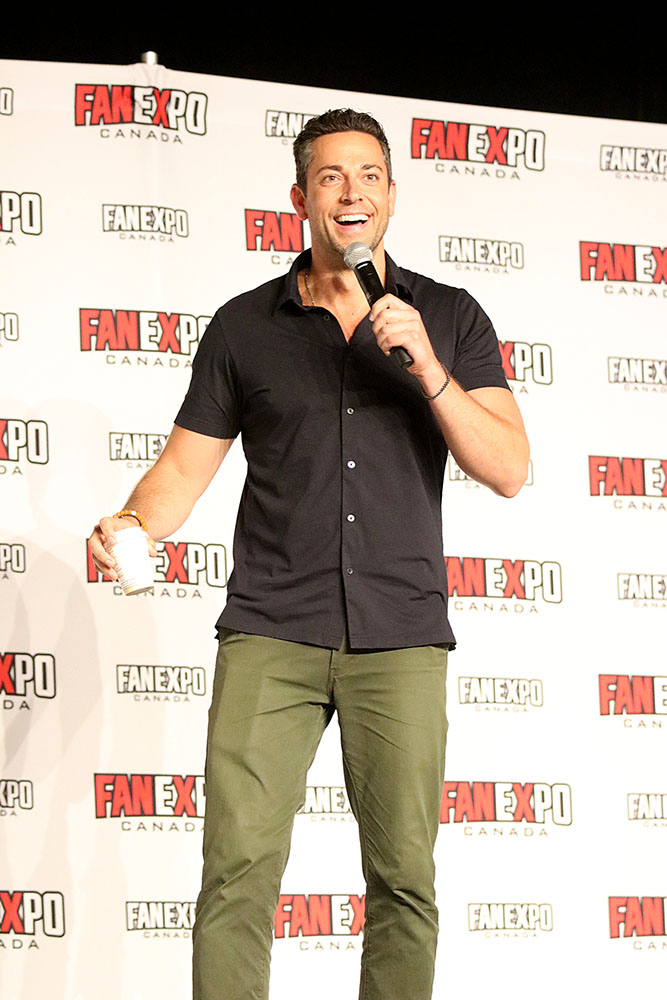 August 25, 2019 | Leave a Comment
The final Q&A panel that we covered on Saturday (Day 3) of Fan Expo Canada in Toronto was the hotly anticipated session with Shazam! and Chuck star Zachary Levi.
---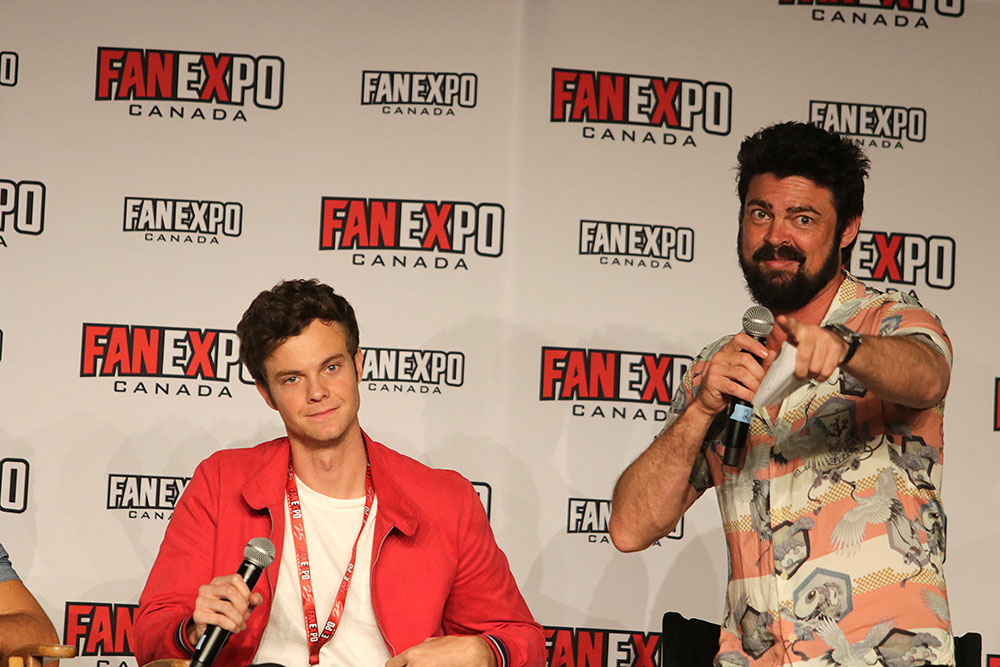 August 25, 2019 | Leave a Comment
One of the more hotly anticipated Q&A panels for this year's Fan Expo lived up to expectations with one of the more energetic and engaging rapport between stars and fans.
---