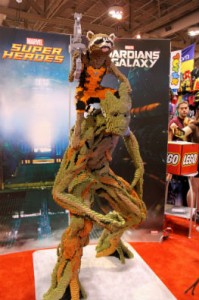 Day one kicked off in full swing on Thursday and there's more fandom to come! Running from Thursday, August 28 until Sunday, August 31, Fan Expo Canada is a convention that has grown over the years and now fills up the entire North and South buildings of The Metro Toronto Convention Centre. I hope you bought your tickets for the special events this weekend but if you didn't, you still may be able to buy tickets at the door. My recommendation is arrive early and be prepared!
San Diego Comic-Con and other conventions have grown in popularity and even created a check-list – much like you may use to plan a trip or flight. If this weekend's convention is your first, here are five basic tips.
Wear comfortable shoes and/or shoe inserts. With the convention spanning over both North and South building, you will find yourself walking a LOT!
Bring chargers for everything! Nothing is more of a buzz kill than running low on battery life on your phone or camera. You never know when a FANtastic moment will occur and you don't want to miss anything!
Actually, in general, bring more than what you think you'll need the first day (or at least be prepared with extra cash). Debit, credit card and the ATM machines may be available but again, you don't want to spend your time figuring out a payment method or waiting in line.
Courtesy will get you everywhere! Also, don't forget to ask if you're lost or unsure. Volunteers are all around the expo to help!
It's not a bad idea to plan out your day. Fan Expo provides a handy show program with times, locations and restrictions. A great referral guide AND keepsake! It's also handy as an autograph book.
Thursday may be thought by some as a quieter convention day but I found the atmosphere bustling and full of happy fans. We captured a few great moments from Thursday, including a trip to North Building's large room #105 for the Ray Park (X-Men, Star Wars Episode I: The Phantom Menace) panel. Ray started the panel by performing martial arts moves on the microphones and proceeded to interact with the audience and prompting a Q&A with hilarious results. One great moment was a glitch in his microphone, to which he blurted out, "Chewbacca must be in the room!"
Fan Expo is family friendly and offers toys and collectibles, as well as a focus on the genres: sci-fi, gaming, comics and horror to name a few. Sports has also made an impact on the expo, with several sports and entertainment guests in attendance including Dave Bautista from the summer smash hit Guardians of the Galaxy. Look out for swag and special offers around the convention and enjoy three more fandom filled days at Fan Expo Canada. I know I will!
Enjoy the photos and stay tuned for more coverage of Fan Expo Canada! Look for more photos and news from the convention on Tribute's twitter: @TributeMag
(Photos by Andrea Hodgins and Joanne Chu-Fook) ~Andrea Hodgins