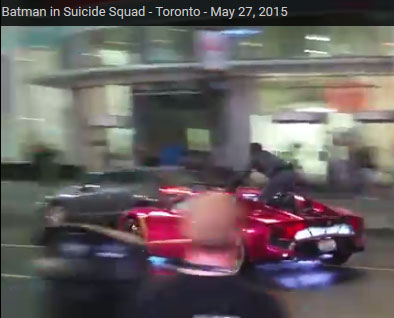 Suicide Squad is being filmed right now in Toronto in a lot of public spaces. Lucky fans of the film are actually getting to watch scenes in the process and snapping pictures of the stars.
Wednesday morning at about 2 a.m., fans were treated to an exciting shot of Batman riding on the back of the Joker's Lamborghini. Watch the video below.
Suicide Squad stars Will Smith (Deadshot), Margot Robbie (Harley Quinn), Jared Leto (The Joker), Jai Courtney (Captain Boomerang), Joel Kinnaman (Rick Flagg), Viola Davis (Amanda Waller), Ben Affleck (Batman), Cara Delevingne (Enchantress) and Adewale Akinnuoye-Agbjae (Killer Croc).
Suicide Squad will be in theaters August 5, 2016. ~Greg Chisholm