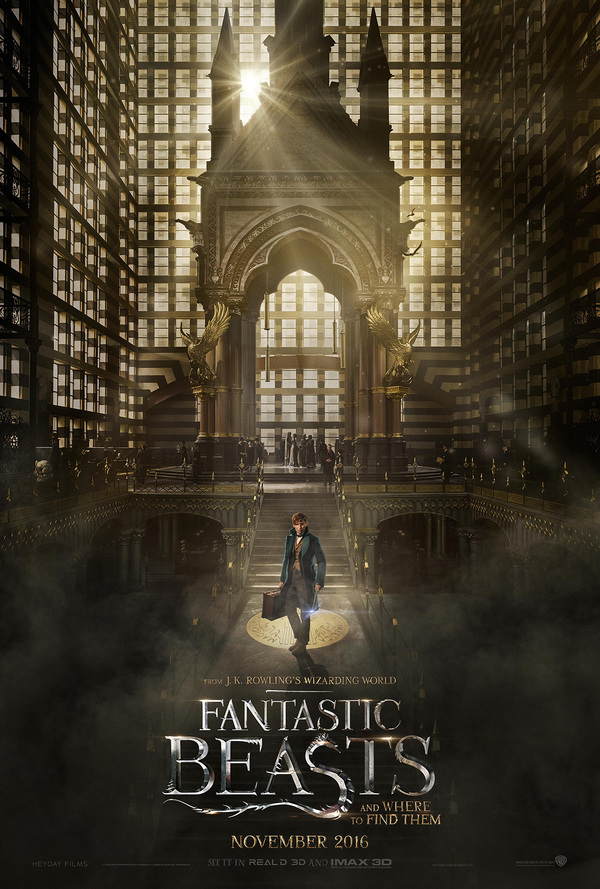 Last weekend's box office champ Fantastic Beasts and Where to Find Them and its magical final trailer has Accio'ed a top spot finish in this week's top trailers. The Harry Potter spinoff, starring Eddie Redmayne, beat out Ang Lee's war drama Billy Lynn's Long Halftime Walk, which offered up the second most-watched trailer of the week.         
In third place is the official trailer for the teen dramedy The Edge of Seventeen, while the critically acclaimed sci-fi drama Arrival (starring Amy Adams) and previous top trailer winner Hacksaw Ridge (directed by Mel Gibson) round out the top five. ~Shelby Morton
Take a look at the top trailers below:
1. Fantastic Beasts and Where to Find Them
2. Billy Lynn's Long Halftime Walk
3. The Edge of Seventeen
4. Arrival 
5. Hacksaw Ridge
Fantastic Beasts and Where to Find Them- Seventy years before Harry Potter reads writer Newt Scamander's (Eddie Redmayne) book in school, the author enjoys adventures in New York's secret community of witches and wizards. The film takes place in 1926, as Newt travels the globe to find and document magical creatures. But after arriving in New York for a brief stopover, his misplaced magical case leads to the escape of some of Newt's fantastic beasts. Based on the novel written by famed author J.K. Rowling, who wrote the Harry Potter books. She also wrote the screenplay for this movie.

Billy Lynn's Long Halftime Walk- Billy Lynn (Joe Alwyn), 19, is sent home to Texas after a heroic act in Iraq. Along with seven fellow soldiers, they go on a two week "Victory Tour" of the States. As the tour unfolds, Billy increasingly becomes more disenchanted with how war heroes are treated. Through various flashbacks, culminating at the halftime show of a Thanksgiving Day football game with a performance by Destiny's Child, we discover secrets from Billy's past and exactly what happened to him and his Bravo Squad while in Iraq. His sister Kathryn (Kristen Stewart) notices that Billy has signs of PTSD and tries to convince him to seek help, but he's torn between taking her advice, or upholding his image as a "hero," which means returning to Iraq.

The Edge of Seventeen- Nadine (Hailee Steinfeld) feels like she's all alone in the world. Her mother doesn't understand her and her popular older brother Darian (Blake Jenner) doesn't seem to have a care in the world. When she meets Krista (Haley Lu Richardson), the two become inseparable best friends. Years later, the two are juniors in high school. When Krista and Darian begin dating, Nadine, who already felt awkward and unpopular, feels more alone than ever. When her classmate Erwin (Hayden Szeto) is nice to her, it gives Nadine an unexpected friendship and a glimmer of hope that her life in high school might not turn out to be as wretched as she'd feared.

Arrival- When mysterious spaceships land in various locations around the world, the military hires an elite team consisting of linguist Louise Banks (Amy Adams), Ian Donnelly (Jeremy Renner) and Colonel Weber (Forest Whitaker) to investigate. As mankind is on the verge of a global war, Louise must learn the language of the aliens to allow communication, and the team must determine whether these alien crafts simply come in peace — or are a threat to humanity. Based on a 1998 short story by Ted Chiang called Story of Your Life.

Hacksaw Ridge- During WWII, American Desmond T. Doss (Andrew Garfield) was an Army medic who refused to bear arms. In Okinawa, during the bloodiest battle of WWll, Desmond single-handedly evacuated 75 men from behind enemy lines without firing or carrying a gun. He was the only American soldier in WWII to fight on the front lines without a weapon, and also became the first Conscientious Objector in American history to be awarded the Congressional Medal of Honor. In addition to the brutal Okinawa battle, Desmond demonstrated bravery, compassion and heroism during attacks in Guam and the Philippines.