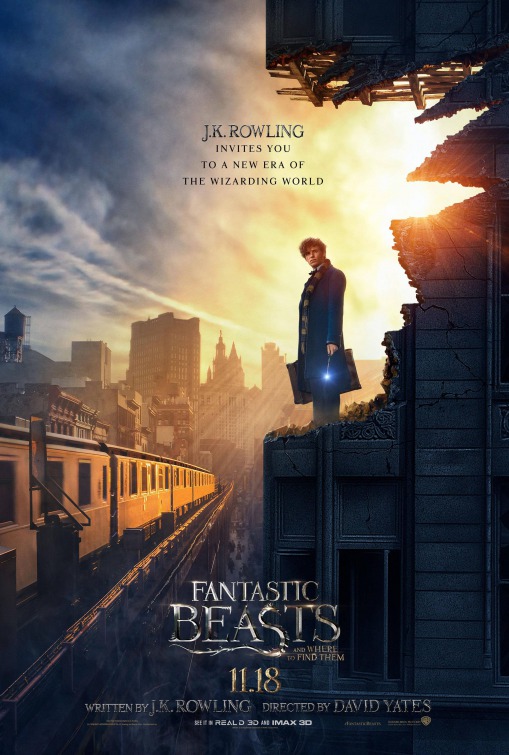 There's no stopping Fantastic Beasts and Where to Find Them, whether it's at the international box office or here at Tribute.ca. The Harry Potter spinoff, which stars Eddie Redmayne as J.K. Rowling's latest wizard creation, has once again offered up this week's most-watched trailer.
Following closely behind is the dramatic final trailer for the World War II drama Allied, as well as the adventure-filled premiere trailer for current box office champ Moana, which took home bronze.
Last week's second most-popular trailer, courtesy of the Ang Lee drama Billy Lynn's Long Halftime Walk, fell two spots to fourth, while Arrival's epic final trailer dropped only one spot to remain steady in this week's top five.~Shelby Morton
Check out all the top trailers below:
1. Fantastic Beasts and Where to Find Them
2. Allied
3. Moana
4. Billy Lynn's Long Halftime Walk
5. Arrival
Fantastic Beasts and Where to Find Them- Seventy years before Harry Potter reads writer Newt Scamander's (Eddie Redmayne) book in school, the author enjoys adventures in New York's secret community of witches and wizards. The spinoff film takes place in 1926, as Newt travels the globe to find and document magical creatures. But after completing a global excursion and arriving in New York for a brief stopover, his misplaced magical case leads to the escape of some of Newt's fantastic beasts in the No-Maj (American equivalent of "Muggle") world. Based on the novel written by famed author J.K. Rowling, who wrote the Harry Potter books. She also wrote the screenplay for this movie.

Allied- In 1942 Casablanca during WWII, Max Vatan (Brad Pitt), a French-Canadian intelligence officer, meets French Resistance fighter Marianne Beausejour (Marion Cotillard), on a deadly mission behind enemy lines. They fall in love while working together on a mission to kill a German official, and afterwards Max convinces Marianne to come with him to London to marry him. She does and the happy couple soon have a child together. However, their relationship is threatened by the pressures of war, especially when Max is told that Marianne may be a Nazi spy. He's given 72 hours to find out the truth, and if the suspicions are true, he's ordered to execute her or be hanged himself.

Moana- On a mystic island off Oceania in the South Pacific, young princess Moana Waialiki (voiced by Auli'i Cravalho) is the feisty teenage daughter of the chief of her tribe, and the only daughter in a long line of navigators. When her family needs her help, she sails off across the open Pacific ocean on an epic adventure to save her people. Joined by the energetic, less-than-humble, once-powerful demigod Maui (voiced by Dwayne Johnson), Moana is determined to prove herself a master wayfinder and to fulfill her ancestors' unfinished quest. Along the way, she discovers her own identity on the mission, which also pits her against impossible odds and enormous monsters.

Billy Lynn's Long Halftime Walk- Billy Lynn (Joe Alwyn), 19, is sent home to Texas after a heroic act in Iraq. Along with seven fellow soldiers, they go on a two week "Victory Tour" of the States. As the tour unfolds, Billy increasingly becomes more disenchanted with how war heroes are treated. Through various flashbacks, culminating at the halftime show of a Thanksgiving Day football game with a performance by Destiny's Child, we discover secrets from Billy's past and exactly what happened to Billy and his Bravo Squad while in Iraq. His sister Kathryn (Kristen Stewart) notices that Billy has signs of PTSD and tries to convince him to seek help, but he's torn between taking her advice, or upholding his image as a "hero," which means returning to Iraq.

Arrival- When mysterious spaceships land in various locations around the world, the military hires an elite team consisting of linguist Louise Banks (Amy Adams), Ian Donnelly (Jeremy Renner) and Colonel Weber (Forest Whitaker) to investigate. As mankind is on the verge of a global war, Louise must learn the language of the aliens to allow communication, and the team must determine whether these alien crafts simply come in peace — or are a threat to humanity. Based on a 1998 short story by Ted Chiang called Story of Your Life.