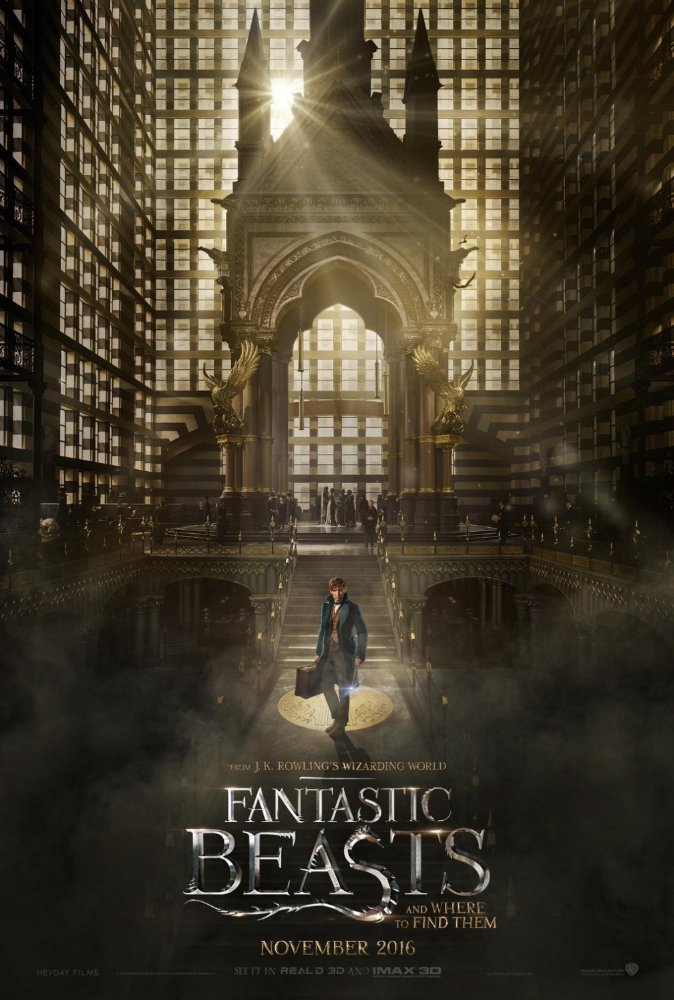 The magic of Fantastic Beasts and Where to Find Them is exceptionally enduring.
With Eddie Redmayne and Katherine Waterston at the helm, the official glimpse of the film took the trailer trophy for the third consecutive week, putting a damper on the festive plans of Office Christmas Party's third trailer, which snagged second place.
The Mummy's official trailer crept out of the tomb to claim third, while the dramatic teaser for Transformers: The Last Knight fought its way to fourth.
Rounding out the top five was the trailer for Allied, propelled by the power of Hollywood A-listers Brad Pitt and Marion Cotillard. ~Matthew Pariselli
Check out this week's top trailers below.
1. Fantastic Beasts and Where to Find Them
2. Office Christmas Party
3. The Mummy
4. Transformers: The Last Knight
5. Allied
Fantastic Beasts and Where to Find Them- Seventy years before Harry Potter reads writer Newt Scamander's (Eddie Redmayne) book in school, the author enjoys adventures in New York's secret community of witches and wizards. The spinoff film takes place in 1926, as Newt travels to New York where his misplaced magical case leads to the escape of some of Newt's fantastic beasts in the No-Maj (American equivalent of "Muggle") world. Based on the novel written by famed Harry Potter author J.K. Rowling.

Office Christmas Party- When hard-partying Chicago bank manager Clay's (T.J. Miller) CEO sister Carol Vanstone (Jennifer Aniston) threatens to shut down his branch, he decides to throw an epic Christmas party against her wishes in order to secure a huge client and save the branch. He sets up the party with help from his co-workers, including Mary (Kate McKinnon) and Tracey (Olivia Munn), as well as his Chief Technical Officer, Josh (Jason Bateman), but the party turns out to be a lot crazier than anyone had anticipated.

The Mummy- This modern adaptation of a classic tale is rooted in an ancient queen (Sofia Boutella) thought to be safely entombed in a crypt deep beneath the harsh desert. Having had her destiny wrongfully robbed from her while she was alive, the queen is awakened in contemporary times and unleashes a fury that defies human understanding and an evil that has been brewing over millennia. Her terror knows no bounds, crossing country lines throughout the Middle East and even impacting those in London. While in England, she encounters an ex-soldier (Tom Cruise), who's been enlisted to help end her cruel crusade.

Transformers: The Last Knight- This latest Transformers sequel will again be directed by Michael Bay and will feature an epic battle between humans — led by Cade Yeager (Mark Wahlberg) and Lt. Colonel William Lennox (Josh Duhamel) — and robots. Previously-assumed dead Optimus Prime steps into the role of villain as he fights on the side of the machines.

Allied- In 1942 Casablanca during WWII, Max Vatan (Brad Pitt), a French-Canadian intelligence officer, meets French Resistance fighter Marianne Beausejour (Marion Cotillard), on a deadly mission behind enemy lines. They fall in love while working together on a mission to kill a German official, and afterwards Max convinces Marianne to come with him to London to marry him. She does and the happy couple soon have a child together. However, their relationship is threatened when Max is told that Marianne may be a Nazi spy. He's given 72 hours to find out the truth, and if the suspicions are true, he's ordered to execute her or be hanged himself.