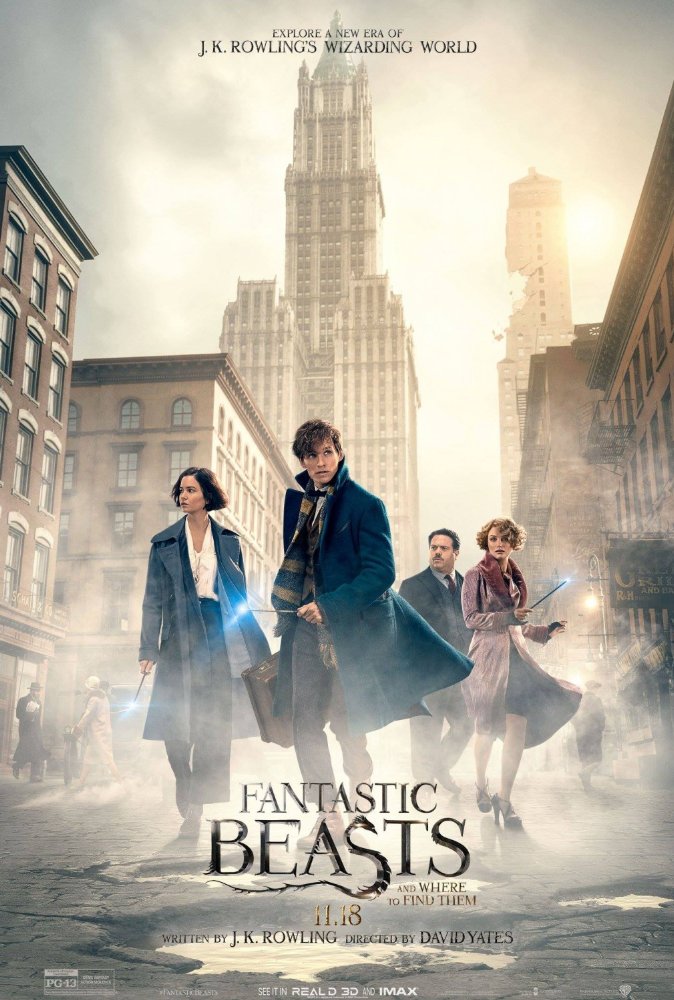 J.K. Rowling's enchanting world of witchcraft and wizardry is back on the big screen.
Fifteen years after the first Harry Potter film and five years after the franchise's last installment, Harry Potter and the Deathly Hallows: Part 2, Fantastic Beasts and Where to Find Them launched into theaters this weekend with plenty of magic. Directed by David Yates and written by J.K., it captivated audiences enough to earn $75 million. The fantasy picture cost $180 million to produce and follows Newt Scamander (Eddie Redmayne) on a manic mission to retrieve his escaped creatures in 1920s New York. Colin Farrell, Ezra Miller, Katherine Waterston and Samantha Morton costar in the 3-star rated flick.
Doctor Strange took a cut this weekend, dropping from first to second. The 4-star rated Marvel superhero film with Benedict Cumberbatch, Rachel McAdams, Tilda Swinton and Chiwetel Ejiofor crumbled to the power of Newt Scamander's wand and brought in $17.7 million. In its third weekend of release, that effort gives it a sum of $181.5 million domestically and over $570 million globally.
If nothing else, Trolls is consistent. The Anna Kendrick and Justin Timberlake animated film about a pair of mismatched trolls on a quest to save their village sat behind Doctor Strange for two consecutive weekends. It remains there this weekend, but now rests in third position thanks to Fantastic Beasts. Earning $17.5 million, it has a total profit of $116.2 million. Tribute.ca readers have stamped the movie with a 3.9-star rating.
Amy Adams and the aliens that she communicates with in the critically acclaimed Arrival snagged $11.8 million this weekend, a good enough performance for fourth. The Denis Villeneuve sci-fi film, in its second weekend of release and with 3.7 stars on Tribute.ca, now has $43.4 million in its spaceship. Jeremy Renner and Forest Whitaker costar.
Omar Epps, Danny Glover, Mo'Nique, Gabrielle Union and Jessie Usher inspired enough laughs this weekend to make the box office top five cut. Their festive film, Almost Christmas, brought back $7 million to the table in its second weekend of release. With a rating of 4 stars on Tribute.ca, it has a total profit of $25.4 million beneath its Christmas tree. ~Matthew Pariselli