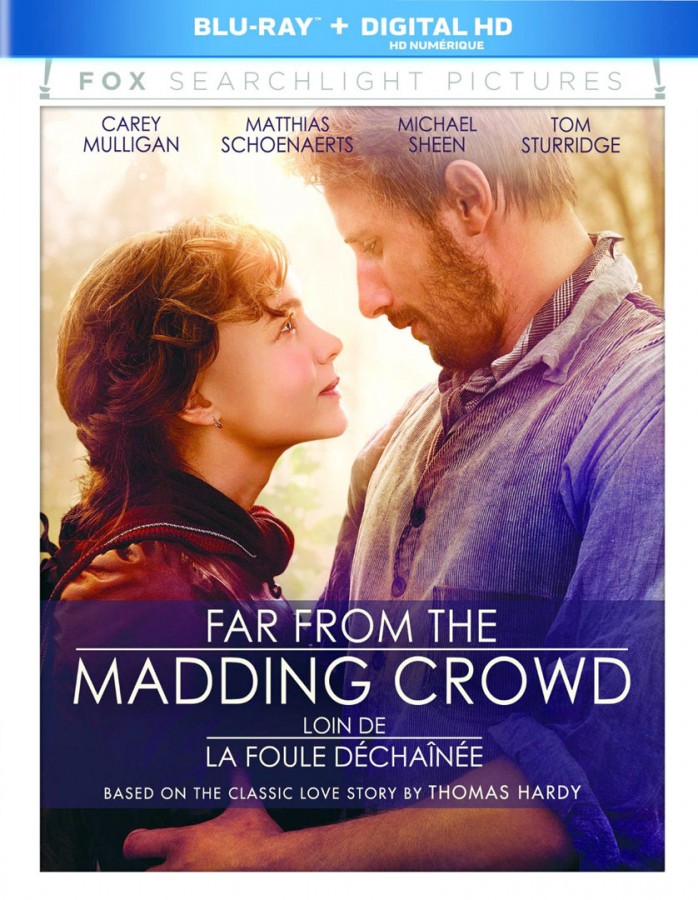 In the new Blu-ray release Far from the Madding Crowd, based on the classic novel by Thomas Hardy, Bathsheba Everdene (Carey Mulligan) is a young upper class woman who has no money. Still, she lives a comfortable and peaceful life with her aunt in the country.
In the first scene, she bridles her horse, climbs into the sidesaddle that was customarily used by upper class women who rode, then with a glint in her eye, swings her right leg over the horse's neck to sit astride while galloping across country.
She catches the eye of local shepherd farmer Gabriel Oak (Matthias Schoenaerts) when she loses her scarf during a ride and he returns it to her. He's immediately taken with the beautiful young woman and quite quickly thereafter, proposes marriage. He has a herd of 200 sheep and promises her a comfortable life. However, Bathsheba is wilful and headstrong and doesn't see the need for a husband, despite the fact that she has no money.
Soon after, a tragedy occurs and Gabriel loses everything. Meanwhile, Bathsheba receives an inheritance and she is suddenly a wealthy woman with a fancy farm and plenty of workers, including a lady in waiting. Gabriel winds up working for her and it's obvious he still has feelings, and although she values him as a worker and a friend, she does not seem to have any romantic inclinations towards him.
Soon she has not only Gabriel quietly pining for her, but wealthy landowner William Boldwood (Michael Sheen) and soldier Frank Troy (Tom Sturridge) also vying for her attention.
The film is set in 1870, and at that time, when a woman married, her property became the possession of her husband, and he became her master. All in all, it's not hard to see why Bathsheba hesitates in getting married and when she does choose one of the men, it's enough to get the audience biting their knuckles at her choice, as it quickly becomes obvious that she could not have chosen more poorly.
Far from the Madding Crowd is beautifully filmed and perfectly cast. Carey Mulligan is engaging and lively as the heroine, while Matthias Schoenaerts provides a quiet strength and dignity as Gabriel. He sticks with Bathsheba through her hardships, despite not getting any encouragement on the romantic front. Michael Sheen portrays the desperately lonely Mr. Boldwood with restraint.
The only special features are deleted scenes, but in my opinion, that's the best kind of extra feature. Several of the deleted bits explained things to me that I had been wondering about while watching the film, such as how Gabriel knew Bathsheba had sent Boldwood an anonymous Valentine, as well as a scene in which she saves Gabriel's life – it gives more credence to a speech in which she talks to Gabriel about how much they've been through together, later in the movie.
To summarize, this film is an extremely enjoyable, well-acted piece, especially for those of us who love costumed period pieces and/or romances. Far from the Madding Crowd is currently available on DVD and Blu-ray. ~Alexandra Heilbron