Father Brown star Mark Williams tells us about Season 8!
By Alexandra Heilbron on June 30, 2020 | 6 Comments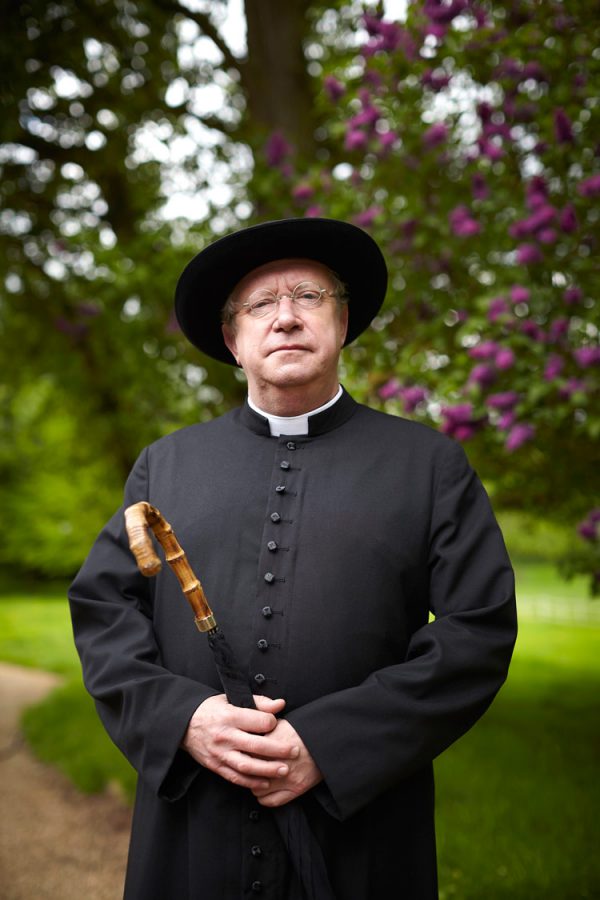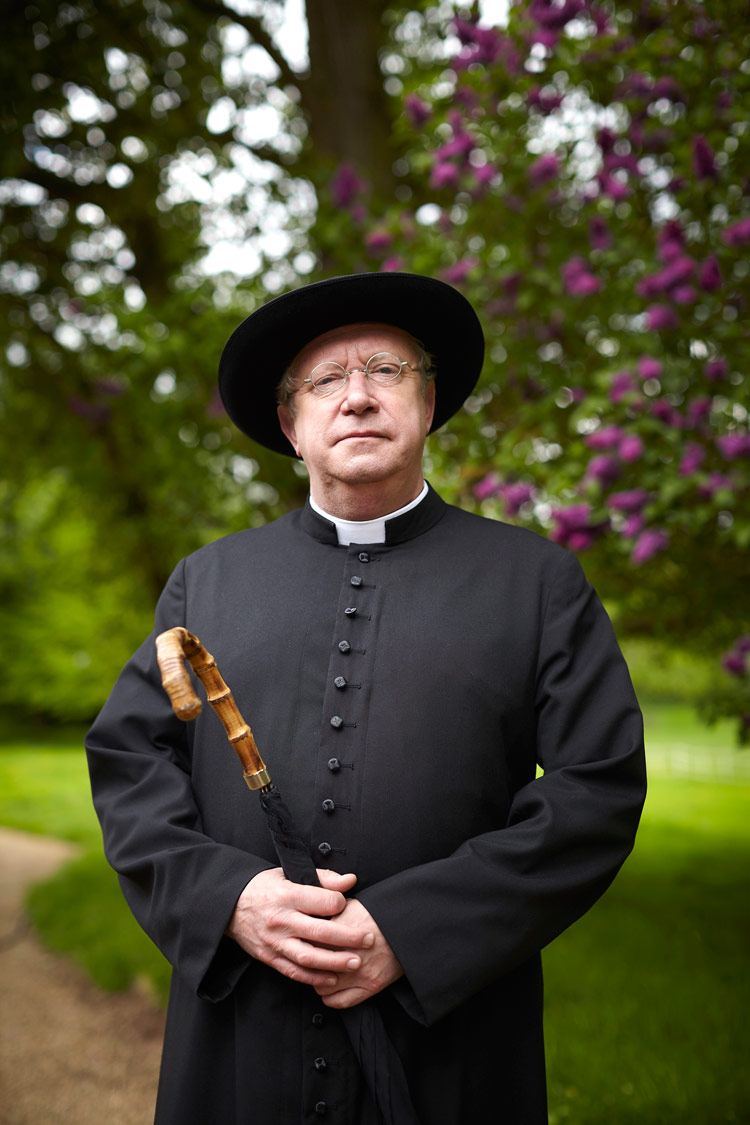 The popular British mystery series Father Brown is returning for an eighth season on the streaming service BritBox this July 1, 2020!
Based on the books by G.K. Chesterton, Father Brown is about a Catholic priest who has an inquisitive mind, which makes him a genius at solving mysteries.
I had the chance to chat by phone with the star of the series, Mark Williams, whom you also may know as Ron Weasley's father from the Harry Potter movies.
He talks about filming on location, strange fan encounters, what he feels is the best thing about Father Brown (both the series and the character), his talented co-stars and guest stars, why season 9 will be delayed a bit and so much more. ~Alexandra Heilbron
Congratulations on the enormous success of this series, at last count you have 2.5 million viewers in hundreds of countries around the world, it's an astounding number.
Yes, it is (laughs). It's amazing really.
There is a lot I love about season 8, including the return of former regulars like Sid and Lady Felicia, each for an episode. What's it like for you to have familiar faces returning?
My chief pleasure in doing the series is having these brilliant actors. I love actors. I love watching them work. It's great to have these different guest stars every week. It's also great to have people around you where you can work a different beat. It's like being in a jazz band where you've got a really good set of people and they throw things at you. It's excellent. Especially the quality of Alex (Price, who plays Sid Carter) and Sorcha (Cusack, who plays Mrs. McCarthy) and Jack (Deam, who plays Inspector Mallory) and Bunty (played by Emer Kenny), we've got a great team.
Father Brown is filmed in the Cotswolds, which looks so beautiful and I understand it's a very special place for Britons. For Canadian and American viewers, can you describe what the Cotswolds is exactly?
The Cotswolds was an upland area, it was a great sheep farming area in the middle 1800s. They've also got lots of stone, so most of their buildings are of stone. They were rich for a period – they sold their wool directly to Florence. It's a beautiful place. A lot of people go to the towns to see the architecture of the beautiful old buildings, but the Cotswolds is still a big farming area, which isn't really touched by tourism.
Is it close enough to drive out for the day from London or do you stay on location while filming?
We stay on location. And we all stay in different parts of the area, reasonably close to our base, which is Blockley, the village that stands in for the fictional village of Kembleford on the show. It's a very wonderful village. It's not on a main road; it's off the beaten path. It's actually a very beautiful place.
It definitely looks gorgeous on the screen. Is Father Brown entirely filmed in the Cotswolds or are some interiors shot in a London studio?
No, hardly anybody shoots in London anymore. We have some sets that are the interiors and they are in a studio in Stratford-Upon-Avon. Unfortunately this year we haven't been able to film because of COVID-19 — we'll be filming again in Summer 2021 for season nine, which will include our 100th episode.
Father Brown is such an endearing character and you play him to perfection, I can't imagine anyone else in the role.
Oh, thank you!
Which of his character traits do you like best?
His inquisitiveness. He's nosy. I really like that. And I like the fact that he doesn't really care what people think about him. He's his own man. I also like the fact that — not in the books but in our world, Father Brown was a soldier and sometimes you can see that in him. It makes him quite stoic. And it also makes him sometimes able to step over authority. So there are lots of things about him I like. And I also love the way that when he decides to move, he just goes. He just goes straight out and whoosh! It's fun to do, it really is. Because he goes off and it's bang! Where is he? That's fun, that's fun to do.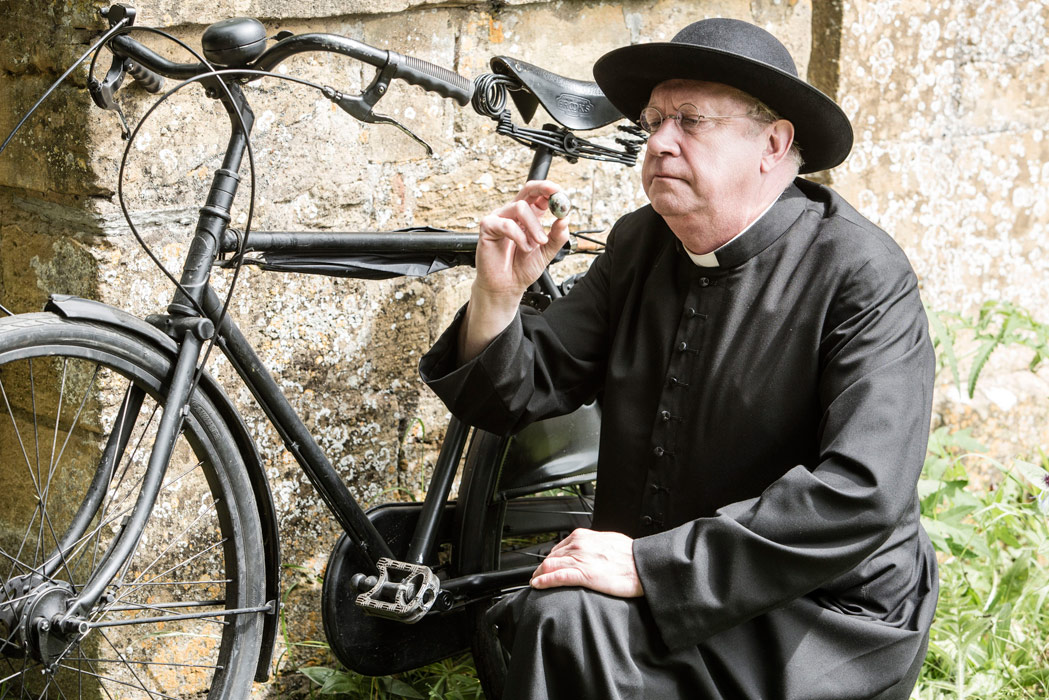 I love the episode this season where you chase a horse on your bike, you were really speeding after him. I heard you really enjoy riding the bike — is it actually from the 1950s?
Oh yeah, I was born in the '60s and that's what you did, ride bikes. Yeah, it's good. I get car envy though, because we have so many amazing period cars. The Cotswolds is quite near to Coventry, which was the center of British car production for many, many years. So a lot of the old guys who loved the cars in their youth bought them and restored them. We have this amazing selection of beautiful automobiles. I get quite envious. There's quite a lot of picture stills of me sat in the cars pretending to drive them but then I go back and get on my bike. It's made in Stratford and if anybody's interested, it's a Pashley. It hasn't got fancy gears or anything, except that it's as good uphill as most mountain bikes because it's so well geared.
How long does it take to film each episode?
Each episode takes seven full days of filming, about 12 hours per day, which is incredibly economic because we are a daytime show in the UK, so we have a very small budget relative to primetime shows. Which means we're very careful and there's not a lot of ego in our show. What we have to do at the beginning of the day is get it done. And that focuses us very much and it also helps us with storytelling, which I think is our chief strength with the show. It's storytelling and that's why people love it, I think because they sit down, and they're going to get told a story.
There are Father Brown tours for fans to see where it was filmed. Do they ever come by while you're filming?
Yeah, we get people coming up (laughs). A woman from Bulgaria came on set near to the church in Blockley last year and we [the actors] have to use the public toilet. (laughs) So I had to come out of the church wearing all my gear desperate to go to the loo and she saw me and she just burst into tears.
Awww. That must be amazing when you meet fans like that.
It's humbling.
Do you get recognized a lot? Is it tough to have privacy when you're on such a popular show?
I've been in Harry Potter and I was on a show called The Fast Show, which was a big hit in the UK, so I'm used to it, really. I respect people. But some people can be really rude when alcohol's involved. I don't drink so I'm not in those areas (laughs). But yeah, people get very enthusiastic.
I heard you were offered the role without having to audition, but then once you had the role you did a lot of research to prepare. What did that involve?
I read a lot about the Catholic Church and I reread a lot about the '50s. The show is always set in the same time. It's always summer 1953, after the coronation [of Queen Elizabeth]. Apart from the Christmas episode, but we just don't mention that (laughs). So it's a very interesting time, the '50s, because it's after the war, things are getting back to normal but there's been a big shake up in society, things were never the same again so it's an ideal time to set it.
How have the past few months been for you? Has it been a nice break for you or are you itching to get back out there? What's the first thing you want to do when the lockdown lifts?
Oh, go to a restaurant, go to a bookshop and get on a plane. Or a ship. On the one hand, as an actor, I'm used to being out of work so that wasn't difficult (laughs). As the Chinese said, people split into cat and dog people. So, actors are dog people when they're at work and cat people when they're out of work, so I was okay about that. But yeah, it's been very good for me. I've really not stopped working for many, many, many years, more than I could imagine. So it's been wonderful to see the spring happen and the summer begin. That has been very good for my soul.
Thank you so much for talking to me today and for your amazing portrayal of Father Brown.
That's very kind, thank you.
Season 8 of Father Brown begins streaming on BritBox July 1, 2020.
---
---
---
---
Similar Articles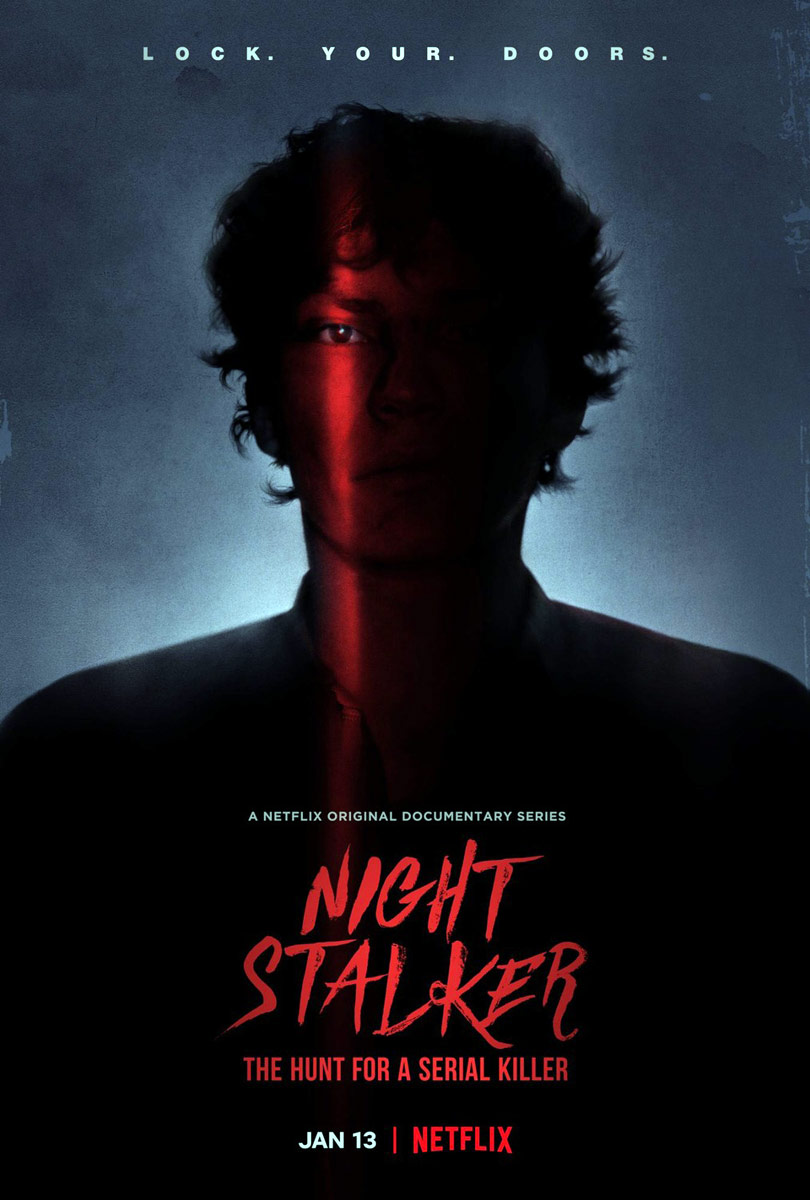 January 11, 2021 | 2 Comments
Check out the new DVDs, Blu-rays and streaming shows (Netflix, Amazon Prime Video, BritBox, Disney+, Apple TV+, Acorn TV, Sundance Now) coming out this week.
---
---
---