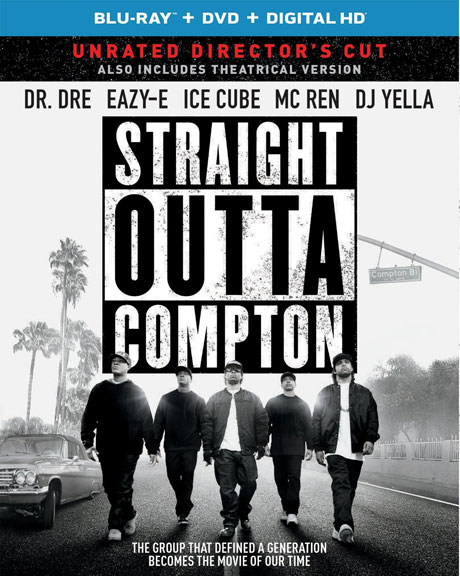 In 1986, there were five young men living in a small California city, just south of Los Angeles, called Compton.
The first, named Eric Wright, or Eazy-E, was a big-mouthed crack dealer who too often got himself into and out of trouble with the law.
Then there was Andre Young, a.k.a. Dr. Dre, a drifter and young father who dreamed of becoming a famous DJ.
The third, O'Shea Jackson, also known as Ice Cube, was a curly haired boy who always carried around a small grey notebook, the violence of his life reflected on its pages.
Add in the smooth-talking Anthony Carraby, also known as DJ Yella, and the larger-than-life Lorenzo Patterson, better known as MC Ren, and you've got five young men who would eventually form one of the most influential rap acts of all time: N.W.A.
Directed by F. Gary Gray, the biopic Straight Outta Compton is the origin story of how Eazy-E (Jason Mitchell), Dr. Dre (Corey Hawkins), Ice Cube (O'Shea Jackson Jr., son of the real Ice Cube), DJ Yella (Neil Brown, Jr.) and MC Ren (Aldis Hodge) would come together and make something big of themselves.
Frustrated with his dead-end job, Dre, with his World Class Wreckin' Cru brothers Cube and Yella, convinces Eazy-E and his pal MC Ren to create Ruthless records. To everyone's surprise, their first track "Boyz-in-the-Hood" becomes a local hit. Eazy-E is then approached by music manager James Heller (in a surprise role by Paul Giamatti) who wants to represent them. This is when N.W.A., or N*ggas With Attitude, is born.
Viewers are taken through N.W.A.'s quick ascent to fame: from getting signed to their first record label, to creating their first album, Straight Outta Compton, to their disbanding, their eventual reunion, and everything in between.
What makes Straight Outta Compton so powerful is its fearlessness when addressing important issues like poverty, the price of fame, loyalty and race. We see the instantaneous success of N.W.A., yes, but we also see the backlash, as their socially and racially charged lyrics incite anger from the "establishment." Their anthem "F*ck the Police" gets the boys into a lot of trouble – and arrested during one of their concerts.
During a press conference after that arrest, a reporter states that N.W.A.'s lyrics glamorize guns, gangs and violence. Cube astutely replies, "Our art is a reflection of our reality. What do you see when you go outside your door?" This is an important question that's explored throughout the film, which addresses the harsh realities of being a young black man in pre-social media, 1980s America.
The N.W.A. boys, before and during their success, have to deal with constant harassment from the police simply because of the way they look. In many poignant and jarring scenes (no spoilers), the movie succeeds in fearlessly highlighting the systemic and racial inequities within law enforcement. It's an issue that's, unfortunately, just as relevant today as it was then. This is why this movie is so important — it captures a revolutionary time in American history when African American teenagers finally had a relatable and outspoken voice with which to rise against the strict confines of systemic racism.
This movie was great, from start to finish, despite being about 20 minutes too long. Keep in mind this was the director's cut, but the theatrical version is only about 20 minutes shorter than the two-hour and 45-minute-long movie. For a reviewer with the attention span of a gnat, that's too long.
Because I'm a sucker for good acting, I did find some of the acting a little cheesy. But there are more than enough stellar performances to make up for a little gouda here and there, particularly by standout Jason Mitchell as Eazy-E. He created a character who was troubled yet sensitive, ruthless yet tender, severe yet goofy, and very, very charming, despite some very brutal scenes (again, no spoilers).
Minor qualms aside, Straight Outta Compton hits every other note, figuratively and literally. The music is truly excellent, including tracks from N.W.A. together and solo, to songs from acts like Funkadelic and Parliament. (Side note: loved the Tears for Fears moment).
There are funny moments, scary moments, extremely sad moments, as well as tender moments. Just because this is a movie about the beginnings of a gangster rap group doesn't make it any less nuanced or moving. Take note, Academy voters.
If for no other reason than simply because of the message it's sending, Straight Outta Compton is an extremely important movie that this reviewer strongly recommends everyone watch.~Shelby Morton
Be sure to check out my personal favorites from the Blu-ray extras: Becoming N.W.A., which focuses on the casting process; Impact, exploring the impact N.W.A. and their breakout album had on mainstream music; and The Streets: Filming in Compton, taking a closer look at the the filming process and how director F. Gary Gray achieved the very specific look of 1980s Compton.
Blu-ray Exclusives: Deleted Scenes, Becoming N.W.A. and Deleted Song Performance
Additional Features: N.W.A. The Origins, Impact, Director's Journey, The Streets: Filming in Compton, N.W.A Performs in Detroit, Feature Commentary with Director/Producer F. Gary Gray.