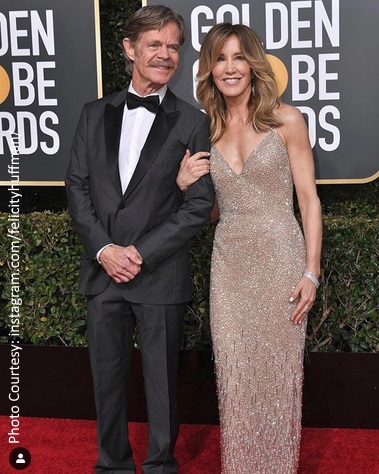 Actress Felicity Huffman, 56, was arrested at gunpoint at her home on Tuesday.
According to Deadline, she was among 46 people who were indicted in a multimillion-dollar scheme in which wealthy parents allegedly paid substantial bribes to get their children into top universities.
She and her husband, William H. Macy, 68, and their two daughters, Sofia, 18, and Georgia, 16, were asleep in their Los Angeles home when seven Federal Bureau of Investigation agents came to their house at 6 a.m. and drew their guns, ordering her to surrender.
The court documents state that she allegedly "made a purported charitable contribution of $15,000 … to participate in the college entrance exam cheating scheme on behalf of her eldest daughter." Later, she allegedly "made arrangements to pursue the scheme a second time, for her younger daughter, before deciding not to do so."
Following her indictment on Tuesday, she was released on a $250,000 bond and was ordered to surrender her passport. She's scheduled to appear on March 29 in federal court in Boston.
Also indicted was Fuller House star Lori Loughlin, who was out of town Tuesday morning when the arrests were being made. Her husband, clothing designer Mossimo Giannulli, was arrested, and appeared in court alongside Huffman.
The main facilitator of the conspiracy was William Rick Singer, an admissions consultant who allegedly helped his clients get into top universities. He was the government's primary cooperating witness and pleaded guilty to the charges in the case. ~Marriska Fernandes