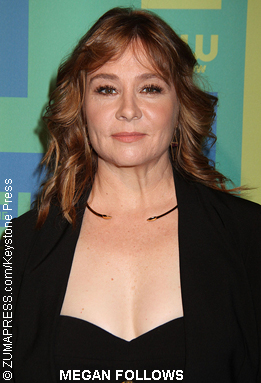 This year there are a number of activities and events focusing on promoting women. Here are a few happening today that are not to be missed!
Legends of TV Land event: Betty White answers questions about working in television. Also a sneak peek at the animated episode of her show Hot in Cleveland, which will be airing July 30th.
Why we're interested: Betty White is a woman not to be trifled with, also achieving a long career in film and television. She's an excellent role model for women in the entertainment industry.
Reign: Panel & Exclusive panel: Panel will include cast: Adelaide Kane (Teen Wolf), Megan Follows (Anne of Green Gables) and Toby Regbo (Mr. Nobody), along with executive producer Laurie McCarthy. Runs 1:15pm – 2:00pm in ballroom 20.
Why we're interested: We're excited as Reign returns for its second season this fall and it has some powerful female characters.
End of Series…or Not? panel: Authors Laini Taylor (Dreams of Gods & Monsters/Daughter of Smoke & Bone Trilogy), Leigh Bardugo (Ruin & Rising/The Grisha Trilogy), Lynn Flewelling (Shards of Time/ Nightrunner Series), Kresley Cole (Dark Skye/Immortals After Dark Series) and Mary Elizabeth Hart (Mysterious Galaxy) among others. Runs 1:30pm – 2:30pm in room 24ABC.
Why we're interested: Learning about keeping readers hooked over multinovel arcs and the behind the scenes achievements and problems from these female authors? We're there!
Beyond Clichés: Creating Awesome Female Characters for Film, TV, Comics, Video Games, and Novels panel: Moderator Michele Brittany (West Coast Bleeding Cool News correspondent), Charlotte Fullerton (My Little Pony, Ben 10 Omniverse), Clare Kramer (Buffy the Vampire Slayer, Geek Nation), Mairghread Scott (Transformers Prime, Rescue Bots) and others. Runs 2:00pm – 3:00pm in room 28DE.
Why we're interested: Open discussion about common tropes, clichés, and stereotypes in media, while also speaking about the creation of memorable and best female characters.
Just What Does an Editor do? panel: Veteran editors Barbara Randall Kesel, Bob Schreck, Joe LeFavi, Maggie Thompson, Shannon Eric Denton, and others. Runs 3:00pm – 4:00pm in room 5AB.
Why we're interested: Writing is one thing but learning to edit is a skill unto itself!
Outlander with author Diana Gabaldon discussion. Runs 3:00pm – 4:00pm at the Horton Grand Theatre
Why we're interested: Diana Gabaldon discusses her novel Outlander, the STARZ original series of the same name, and  will read from her new novel Written in My Own Heart's Blood.
The Most Dangerous Women at Comic-Con: Positive Portrayals of Women in Pop Culture discussion: Katrina Hill (Action Movie Freak), Lesley Aletter (professional stuntwoman), Jenna Busch (Legion of Leia founder), Adrienne Curry (host/model/Tolkien enthusiast), Jane Espenson (Husbands), Jennifer K. Stuller (Ink-Stained Amazon) and more. Runs 3:00pm – 4:00pm in room 7AB.
Why we're interested: Title says it all, also the people involved in the panel will provide great insights into the industry.
Breaking Barriers: Transgender Trends in Popular Culture panel: Moderator Tara Madison Avery (Dirtheads, Gooch, Prism Comics) and panelists Dylan Edwards (Transposes), Melanie Gillman (As the Crow Flies), J. D. Saxon (Mahou Shounen Fight!), Elizabeth Lain (F*** the Limits!: The 30-Day Art Project, This Is Where), Ashley Love (Trans Forming Media, journalist, transsexual advocate), and Michelle Nolan (Love on the Racks: A History of American Romance Comics). Runs 5:00pm – 6:00pm in room 28DE.
Why we're interested: Transgender is a sensitive topic explored by media and pop culture. The panel promises, "(an) exploration of a range of exciting new themes and stories for contemporary audiences." Sounds good!
Costume Designer's Guild: Costumes as a Career panel: Moderated by Chrisi Karvonides (UCLA-Theater Film & TV Costume Design Program department head, CDG Member) with panelists including Kristin Burke (Sleepy Hollow), Brigitta Romanov (Glee), Gina Dedomenico (Godzilla), Celia Sedwick Rogus (creative director, FIDM Film & TV Costume Design Advanced Study Program), and Shane Mahan (co-founder of Legacy Effects). Runs 5:00pm – 6:00pm in room 23ABC.
Why we're interested: Great way to see female talent working behind the scenes and hearing tips about costuming in the industry from the experts. Maybe they'll even help you with your COSplay!
Spotlight on: Eleanor Davis (How to be Happy). Said to be about, "Finding truth in fiction & the strange passions inside an author/reader relationship." Runs 5:00pm – 6:00pm in room 9.
Why we're interested: Interest is piqued on this autobiographical panel.
Cartoon Hangover: Bee and PuppyCat and Friends panel: Creator of Bee and PuppyCat, Natasha Allegri. Also  includes the voice of Bee, Ally Rachel, Efrain Farias (art director), character designer Becky Dreistadt and writer Madeleine Flores. Runs 5:30pm – 6:30pm in room 6A.
Why we're interested: Sounds cute and it's great to get a peek behind the curtain of the most successful crowdfunded animation series ever!
Making a Living in Manga: In Japan! panel: Includes Jamie Lynn Lano (former assistant manga-ka on The Prince of Tennis, author and artist, www.jamieism.com), Lillan Diaz-Pryzbyl (head comics editor, Sparker Monthly, former senior editor, TOKYOPOP Inc.) among others. Followed by Q&A session moderated by Deb Aoki (editor, MangaComicsManga.com). Runs 5:30pm – 6:30pm in room 26AB.
Why we're interested: Anyone wanting to make a living or just break into the Manga industry will want to hear it right from the experts!
Witches of East End teaser and audience Q&A with cast: Julia Ormond, Jenna Dewan-Tatum, Rachel Boston, Mädchen Amick, Daniel DiTomasso, and Eric Winter, plus executive producers Rich Hatem (Supernatural, Grimm) and Maggie Friedman (Eastwick). Runs 5:45pm – 6:45pm in room 6DE.
Why we're interested: The series is female driven and full of empowerment and real struggles by a female family of witches. Season two is currently running, so it'll be interesting to see what the event releases!
Bad Hat Harry and Geek & Sundry Get Spooked Again! event: Bryan Singer (X-Men: Days of Future Past), Sheri Bryant, Jason Taylor, Felicia Day,  Julian Curtis (Captured), Neil Grayston (Eureka), Ashley Johnson (The Killing), Derek Mio (Greek), and Shyloh Oostwald (In Time). Runs 6:45pm – 7:45pm in room 6A.
Why we're interested: Felicia Day is an amazing female force and it'll be great to hear about her new project!
The Scoop at Simon & Schuster event: from the Comic-Con site, "Chrissy Noh (associate marketing director), Matt Pantoliano (digital marketing), Liesa Abrams (marketing manager), Hayley Gonnason (publicist) and Christian Trimmer (publicity manager) give you the scoop on upcoming books from exciting authors, including Cassandra Clare, Scott Westerfeld, Tony DiTerlizzi, Rachel Renée Russell, and Brandon Mull." Runs 7:00pm – 8:00pm in room 9.
Why we're interested: One way to get the scoop about upcoming female friendly books!
Del Rey: Robin Hobb: Author Robin Hobb (Fool's Assassin) and Del Rey executive editor Anne Groell. According to the Comic-Con site, "Hear what's coming from Del Rey and Random House, including details on upcoming titles from authors Joe Abercrombie, Terry Brooks, Pierce Brown, George R. R. Martin, Peter F. Hamilton, and more!" Runs 8:00pm – 9:00pm in room 9.
Why we're interested: Great news about authors and what's coming up!
Stay tuned for more info about the 2014 San Diego Comic-Con! ~Andrea Hodgins