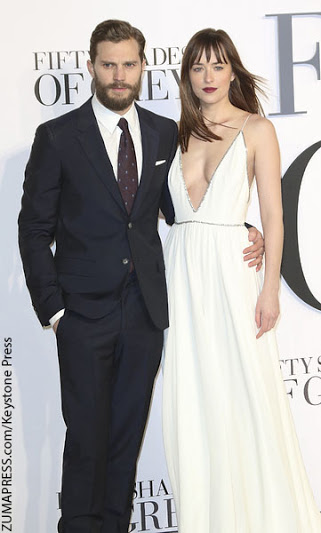 The cast and crew of the sequel to Fifty Shades of Grey are safe after filming in Nice mere hours before a truck armed with explosives plowed through a crowd celebrating Bastille Day, killing at least 84 and injuring an additional 120.
According to Academy Award-nominated producer Dana Brunetti's Facebook post late Thursday evening, no member of the Fifty Shades team was harmed during the fatal attack.
He wrote, "Production has confirmed that everyone working on location in the south of France is okay. Everyone has been accounted for and is safe and sound. Thanks for everyone's messages and concerns. Another sad day for France and the world."
Dana also took to Twitter to assure his followers of his own safety: "Back safe in my hotel room. Thanks for everyone's concern and messages."
Entertainment Weekly reports that scenes for the sequels — namely Fifty Shades Darker and Fifty Shades Freed — were filmed near sites where Bastille Day celebrations were carried out, but had wrapped before the tragic event unfolded.
Bastille Day is akin to the 4th of July in the U.S., marking the beginning of France's republican democracy and the end of its tyrannical rule.
The devastating attack is France's deadliest since ISIS brutally targeted Paris last year, killing 130 people and leaving over 100 more in critical condition.
Dakota Johnson, 26, and Jamie Dornan, 34, both stars of the films, had been seen shooting the sequels in the French Riviera earlier this week.
For one take, Dakota had her arms wrapped around Jamie's waist as the pair rode jet skis. In another scene, they were cuddling on a cabana chair and giving each other back massages.
Sources haven't confirmed yet whether production on the films will be suspended as a result of the tragedy.
Singer Rihanna, who was also in the region at the time of the attack, has cancelled her Friday night Nice concert.
Fifty Shades Darker is scheduled to hit theaters on Feb. 10, 2017, while Fifty Shades Freed will follow a year later on Feb. 9, 2018.
American actress Eloise Mumford, 29, who plays the character Kate in the adaptation of E.L. James' novels, posted an image of the French flag with a broken heart icon to Instagram. Check it out below,