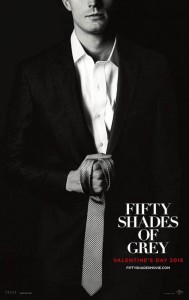 Warning: Put on your blindfold á la Christian Grey. MAJOR SPOILER AHEAD.
The drama continues on the production of Fifty Shades of Grey.
After creative clashes between E.L. James, the author of the book, and Sam Taylor-Johnson, the director of the movie, the final scene ended on the same note. But E.L. – whose real name is Erika Leonard – ultimately got the final say.
The script was written by Erika with screenwriter Kelly Marcel. Screenwriter Patrick Marber was bought in afterwards to do some fine-tuning.
In Erika's version of the script, the film ended with the word, "Stop." Sam changed the final word to "Red," the safe word used by Ana and Christian throughout the book. Erika wasn't happy with the change and stuck to her original word. A singular change that bothered others on set.
"It ended on a really smart note and Erika wouldn't allow it," an inside source said. "It's just a bummer."
Insiders also point out that movies aren't the same as books and having the perfect ending could determine the intrigue and attraction from the audience for a sequel.
"You can't just put the book on the screen," an insider said.
Which ending do you prefer? Fifty Shades of Grey heats up the big screen on February 13. ~Sandra D. Sukraj