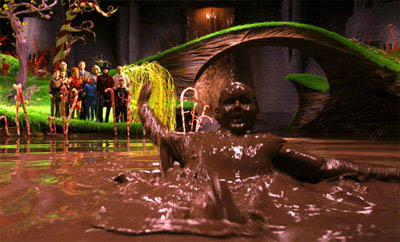 Today (July 7th) is World Chocolate Day and what goes better when watching a summer film than grabbing your favorite confection? Listed below are a few films with memorable chocolate moments you can savor. Moviegoers of any age can enjoy the film adaptations of Roald Dahl's book, Charlie and the Chocolate Factory. There are two versions: the 1971 Willy Wonka and the Chocolate Factory starring Gene Wilder. Memorable moment: Waiting to see if Charlie will find a golden ticket in the Wonka Bar will leave you sitting on the edge of your seat, and perhaps biting into a chocolate bar of your own.
In 2005, Tim Burton directed Charlie and the Chocolate Factory with his longtime associate Johnny Depp playing a childlike Willy Wonka. Memorable moment: A chocolate waterfall and river seems like a good idea, until you get a little too close, as seen in the photo above. The room where you can eat everything looks so tantalizing you better not view it on an empty stomach.
Another movie that may come to mind when chocolate is mentioned is Chocolat (2000). Directed by Lasse Hallström, the charming film about a single mother who moves into a small French village stars Juliette Binoche as Vianne, who opens up a chocolate shop. Memorable moment: Vianne is determined to guess what kind of chocolate Johnny Depp's character, the gypsy Roux, likes best. A mouth-watering scene for many reasons.
Another book-to-screen adaptation is the 2007 flick Blood and Chocolate, which stars Hugh Dancy as the artist who falls for Agnes Bruckner's mysterious character. Memorable moment: What better place for a werewolf girl to work than in a chocolate shop? Chocolate just may keep those animal instincts at bay, only one way to find out.
When the weather outside is frightful, curling up with a cup of hot chocolate is perfect when watching animated film The Polar Express. The holiday film has Tom Hanks voicing several roles, including Santa Claus. Memorable moment: Some musical numbers in the film may pull at your heart strings but the Hot Chocolate number during the children's train ride to the North Pole is sure to make you smile (and crave a creamy cuppa hot chocolate).
A few other films to whet your appetite are: Matilda (1996), Practical Magic (1998) and Down with Love (2003). ~Andrea Hodgins