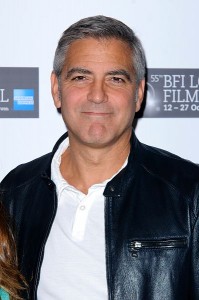 He's known for being quite the prankster on set with his co-stars, so it's no surprise that Hollywood's No. 1 hunk, George Clooney, thinks the iFart app is absolutely hilarious. "Saying the word 'fart' makes me laugh," Clooney told Rolling Stone magazine. "I have iFart on my phone. I have remote whoopee cushions. To me, there's nothing funnier!"
But that's not all Clooney is revealing. In a rare interview with the magazine he opens up about losing his virginity in high school.
According to Clooney, he was 16 and regrets not waiting longer. Clooney said he was, "young, very young, too young" when he lost his virginity as a teenager, and even dished about his first orgasm which happened during a gym session. "I believe it was while climbing a rope when I was six or seven years old. I mean, nothing came out, but all the other elements were there. I remember getting to the top of the rope, hanging off the rope, and going, 'Oh, my God, this feels great!'"
Currently, Clooney is dating former pro wrestler Stacy Keibler, and stars next in The Descendants.
What do you think? Is Clooney hilarious or giving TMI?