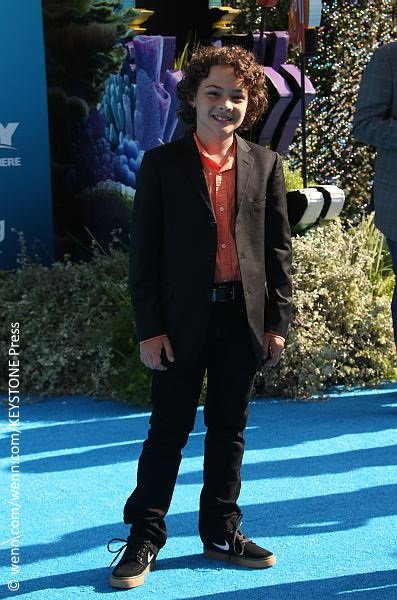 It's been 13 years since Finding Nemo won the hearts of young and old alike. The sequel, Finding Dory, needed a new kid to voice Nemo and Pixar found 12-year-old Hayden Rolence.
We chatted with the young actor to discuss what it was like voicing one of the most beloved animated fish and how he landed the role.
First of all congrats on voicing Nemo – that's a big deal and you did a great job.
Thank you!
Tell me about the audition process and how you got the role.
Pixar sent out something saying that they were looking for someone who could do a Nemo voice. So I practiced and practiced by watching the movie over and over again, and I guess I did pretty good because they sent me a second script. These were lines from the second movie so they were a bit harder and I could not just copy exactly what Nemo said from the first movie.
Finding Nemo was released 13 years ago. Did you feel any pressure to fill the shoes of Nemo?
I think I did feel a bit of pressure. At the beginning before I went out to California to film it, I felt a little bit of pressure because I was doing this really big role that anybody would love to have. As soon I got there everybody treated me amazingly and Disney Pixar made it an amazing experience for me.
What was it like in the recording studio – were you all by yourself or with other actors?
I was recording by myself, but [director] Andrew [Stanton] and a couple of people from Pixar were helping me. I did not record with any of the actors.
What was the most difficult thing for you during this experience?
Most difficult thing for me was probably… um… doing interviews. [Laughs]
Once you got the role I heard you had to keep it a secret for two years! How did you do that – that sounds like a challenge!
It was really, really hard to do. I had to keep it a secret from practically everybody except a few really close family relatives. So I just had to sort of branch off the subject. So if people would go, "Have you heard of the new movie coming out?' and I'd be like, "Nope!"
How did your friends react when you finally told them you were Nemo?
Most of them didn't believe me when I said I was Nemo. But eventually when more interviews started coming out, they actually started believing that I was the voice of Nemo and they were very proud of me.
What was your favorite moment from this whole experience?
I think my favorite moment was meeting everybody. Like not only the celebrities, but meeting Andrew and all the people at Pixar.
Did you meet Ellen DeGeneres and Albert Brooks, who play Dory and Marlin?
Yes, I did at the premiere. It was so odd because I was meeting these two actors who I really love and I really admire and I'm just a kid and I'm meeting these big actors – I couldn't believe it.
There are so many well-loved Disney characters – who would you love to play or voice in the future?
I think that people just come out with new ideas every single day so I don't really know.
Do you have a favorite Disney movie character?
My favorite character before doing this was Nemo. I loved him as a child. I loved his curiosity and I loved the movie.
Do you have a dream role?
I would like to be a superhero.
What superpower would you like to have?
Umm…flying I guess.
What's next for you?
I don't know. Back to school.
Thank you for chatting with us and wishing you all the best!
Thank you!
Finding Dory releases today on Blu-ray and Digital HD. ~Marriska Fernandes