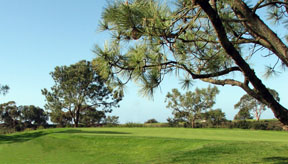 With many stars promoting to save the environment, never before has it been so cool to reduce, reuse and recycle. Many celebs are indulging in beauty products that are organic and earth-friendly.
We already know Stella McCartney as a top fashion designer. Now she's making waves in beauty. Inspired by her commitment to help protect the environment, McCartney created Care by Stella McCartney, a unique range of ethical skincare products that do not harm the environment. "Care is formulated with 100 per cent organic active ingredients and zero per cent petrochemicals and silicones and is officially eco-certified as organic and ecological," states McCartney. "The fragrance is also made from 100 per cent organic essential oils, so your skin can really benefit from nature's resources to help ease the stress that everyday life brings."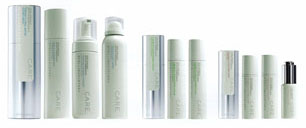 Care by Stella McCartney ranges from $40 and up, at Holt Renfrew.
For handmade cosmetic company Lush, loved by Jessica Alba, its philosophy has always been based on having the least amount of impact on the environment. One hundred per cent of Lush's products are vegetarian, 74 per cent are vegan and 65 per cent of their line is free from synthetics and preservatives. Also, 58 per cent of their products are free from wasteful packaging. "If 57 million people used Lush's solid shampoo bars, then the waste of 22 million bottles would be prevented and 6 million metric tons of preserved shampoo would be saved from entering the environment," says the company.
Lush's Seanick organic shampoo bar is made with two kinds of softening seaweed, nori and Irish moss, lemon, jasmine, orange blossom absolutes, $9.95.
Cargo Cosmetics is also on the stop Global Warming bandwagon. With their PlantLove collection, Cargo introduces the first-ever biodegradable lipstick tube made entirely from corn—which emits less greenhouse gases. The outer box is made with biodegradable flower paper infused with real flower seeds that can be planted. The lipstick comes in 12 shades, six that are named after celebrities (Cece by Courteney Cox: Berry, Lindsay by Lindsay Lohan: Sweet California Pink, Mariska by Mariska Hargitay: Nude Caramel, Maria by Maria Menounos: Vibrant Poppy, Evangeline by Evangeline Lilly: Tropical Coral, Sarah by Sarah Chalke: Petal Pink) and six after places of ecological beauty.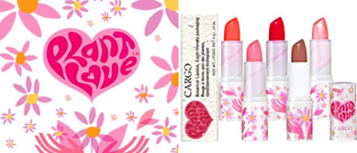 Cargo PlantLove Lipstick, $20 each.
You can also do your part by choosing companies that offer organic ingredients, recycling product packaging like Aveda, and those that offer up to 100 per cent natural ingredients like Burt's Bees.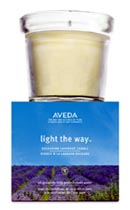 Limited edition Aveda Light the Way soy wax candle made of certified organic lavender oil. Packaging is 95 per cent recycable and the outer carton is printed with soy ink on 55 per cent recycled paper. Aveda donates 100 per cent of proceeds to its Earth Month partner, Global Greengrants Fund. $14 at Aveda salons in April or visit aveda.com.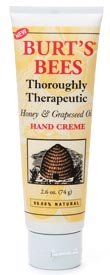 Burt's Bees Thoroughly Therapeutic Honey & Grapeseed Oil Hand Crème, $10.
Other brands:

L'Occitane En Provence Organic Lavender Body Lotion and Shower Gel are is with organic ingredients such as macadamia oil, orange blossom floral and A.O.C. lavender essential oil (to purify and relax), $36 for lotion and $20 for gel.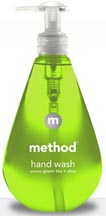 Method Green Tea + Aloe Hand Wash soaps are super gentle on your hands because they are made with naturally-derived, biodegradable ingredients and contain vitamin E and aloe.